4 Best AI Celebrity Voice Generator [July 2023]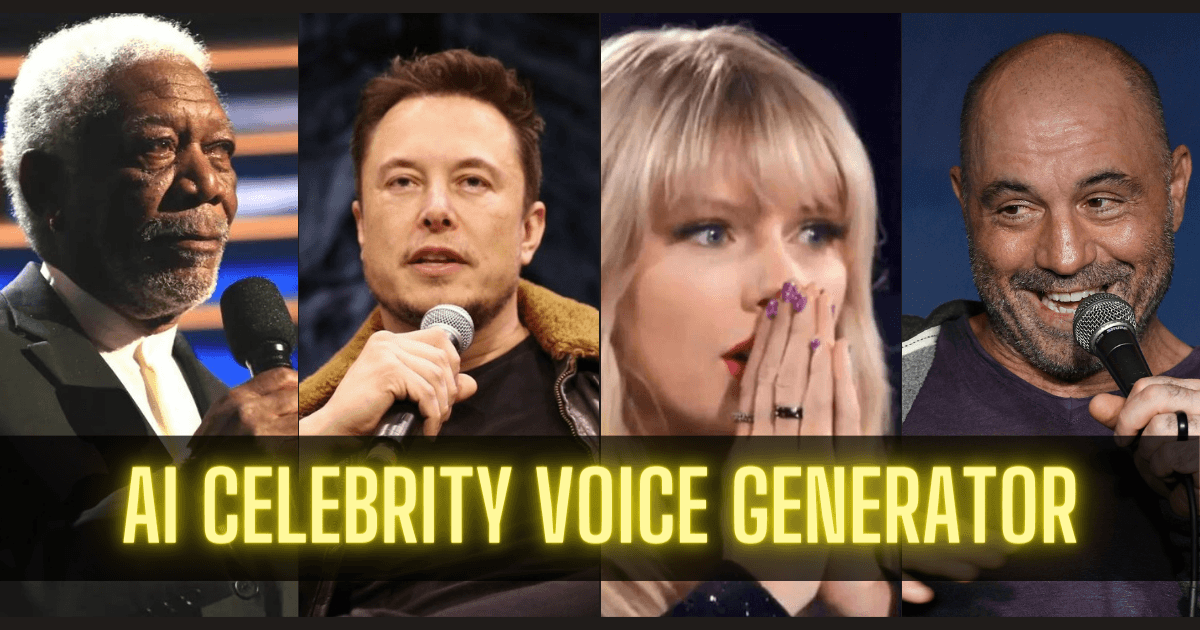 Get ready to witness a game-changing revolution in the voiceover industry! The future of voiceovers has arrived, thanks to the cutting-edge technology of AI celebrity voice generators. These powerful tools with advanced audio editing capabilities reshape how voices are brought to life, leaving traditional methods in the dust. Now, you can easily convert speech online using these AI voiceover creators and enhance your audio clips like never before.
With AI-powered voice generators, professionals can effortlessly create authentic-sounding voiceovers with realistic voices that capture the essence of famous personalities. This revolutionary technology is transforming the industry by unlocking endless possibilities for content creators and businesses, thanks to its audio editing capabilities and machine learning algorithms.
4 Best AI Celebrity Voice Generator Apps
AI celebrity voice creators utilize advanced machine learning and speech synthesis technologies to replicate the voices of famous individuals. These applications take existing audio samples of celebrities' voices and use them to create a model to generate new speech in the same voice.
They offer a variety of uses, from entertainment and prank calls to more serious applications like dubbing in films or creating personalized messages from celebrities.
Murf.ai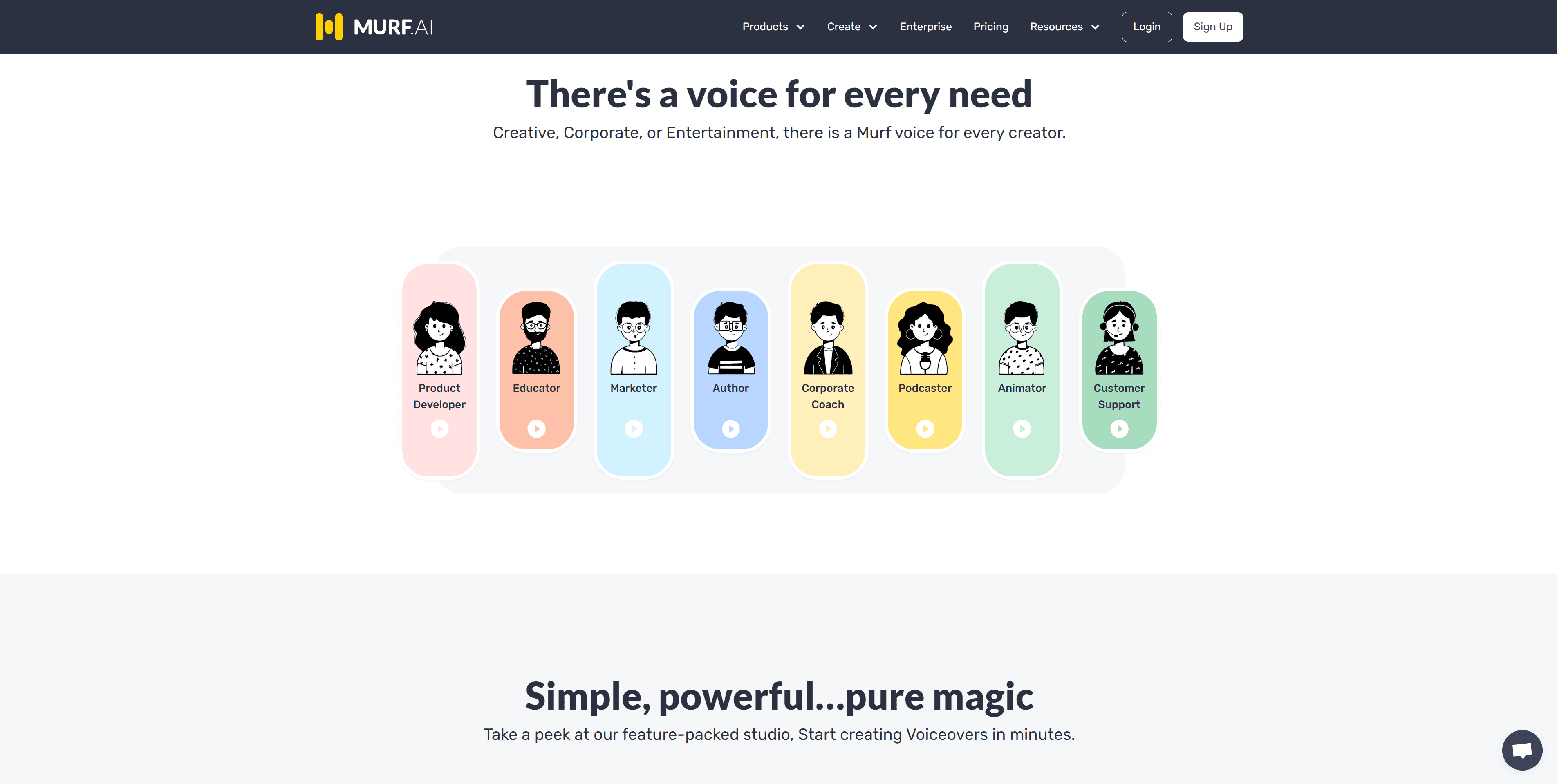 Murf AI is a versatile text-to-speech app that uses advanced AI algorithms and deep learning to generate high-quality, lifelike voiceovers in minutes. It offers over 120+ voices in 20+ languages, catering to a wide range of creative, corporate, and entertainment needs.
Murf is widely used by product developers, educators, marketers, authors, corporate coaches, podcasters, animators, and customer support professionals to create studio-quality voiceovers for various purposes. The platform allows users to play with punctuation, pitch, and emphasis to make the AI voices carry their message in the desired tone.
In addition to generating voiceovers from text, Murf allows users to convert their home recordings into professional voiceovers. The platform also offers a feature-packed studio where users can collaborate with their team on projects, add video, music, or images, and sync them with their chosen voice.
Murf's free version allows you to test the features, and the paid plan starts from $29 a month.
Play.ht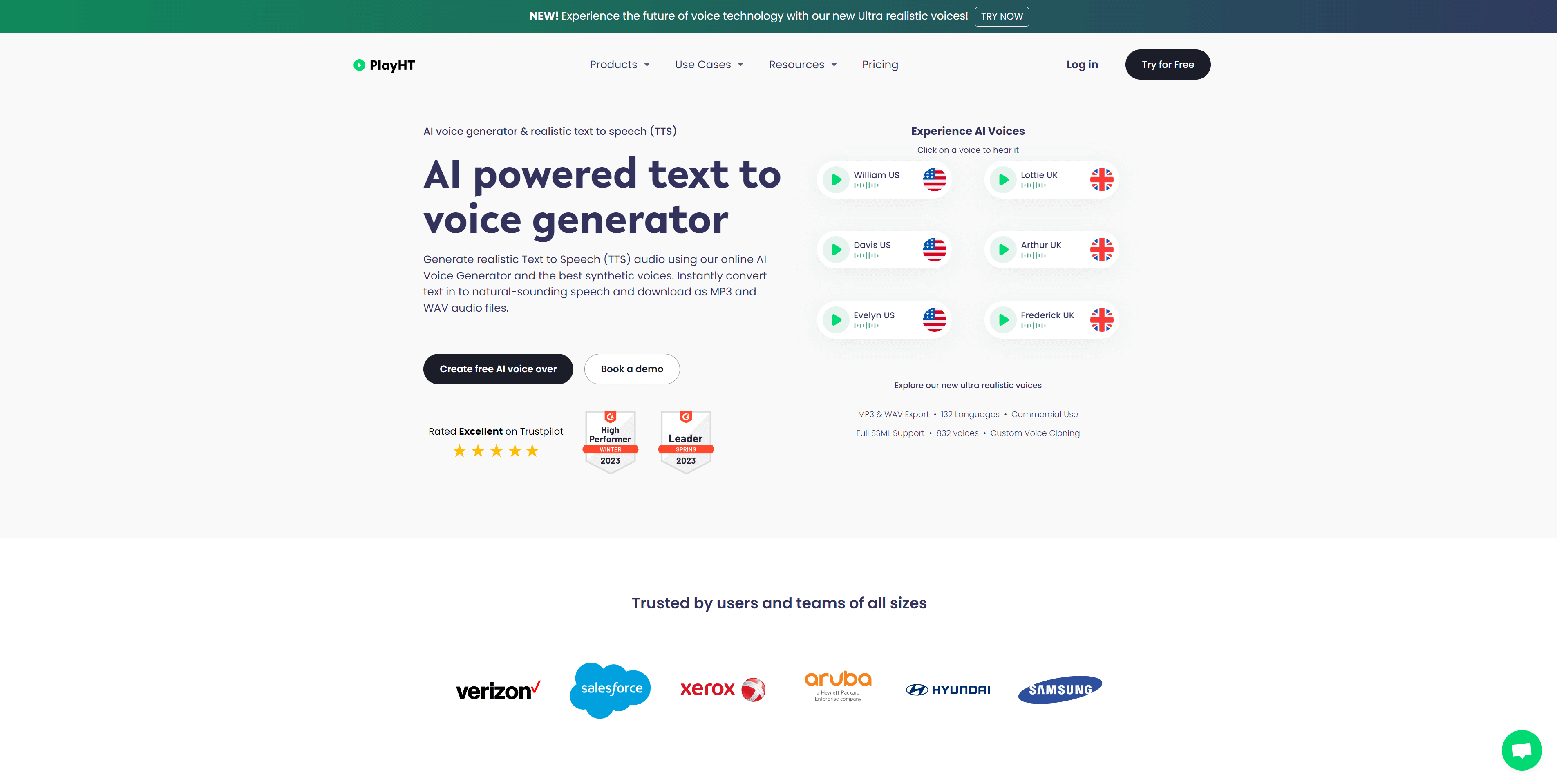 Play.ht is an AI-powered text-to-speech (TTS) platform that provides various services for generating voiceovers. It can convert text into realistic speech to download as MP3 and WAV audio files. The platform supports 132 languages and boasts a library of 832 voices, including ultra-realistic ones.
The platform caters to various use cases, such as creating celebrity voiceovers for videos, e-learning materials, IVR systems, and audio articles. It also offers an API for integrating human-like voices into devices and applications.
Play.ht's text-to-speech editor allows users to fine-tune voice inflections, use expressive emotional speaking styles, and define custom pronunciations. It also supports multi-voice features for creating conversation-like voiceovers using different voices in the same audio file.
Play.ht price starts from $9 a month.
Uberduck.ai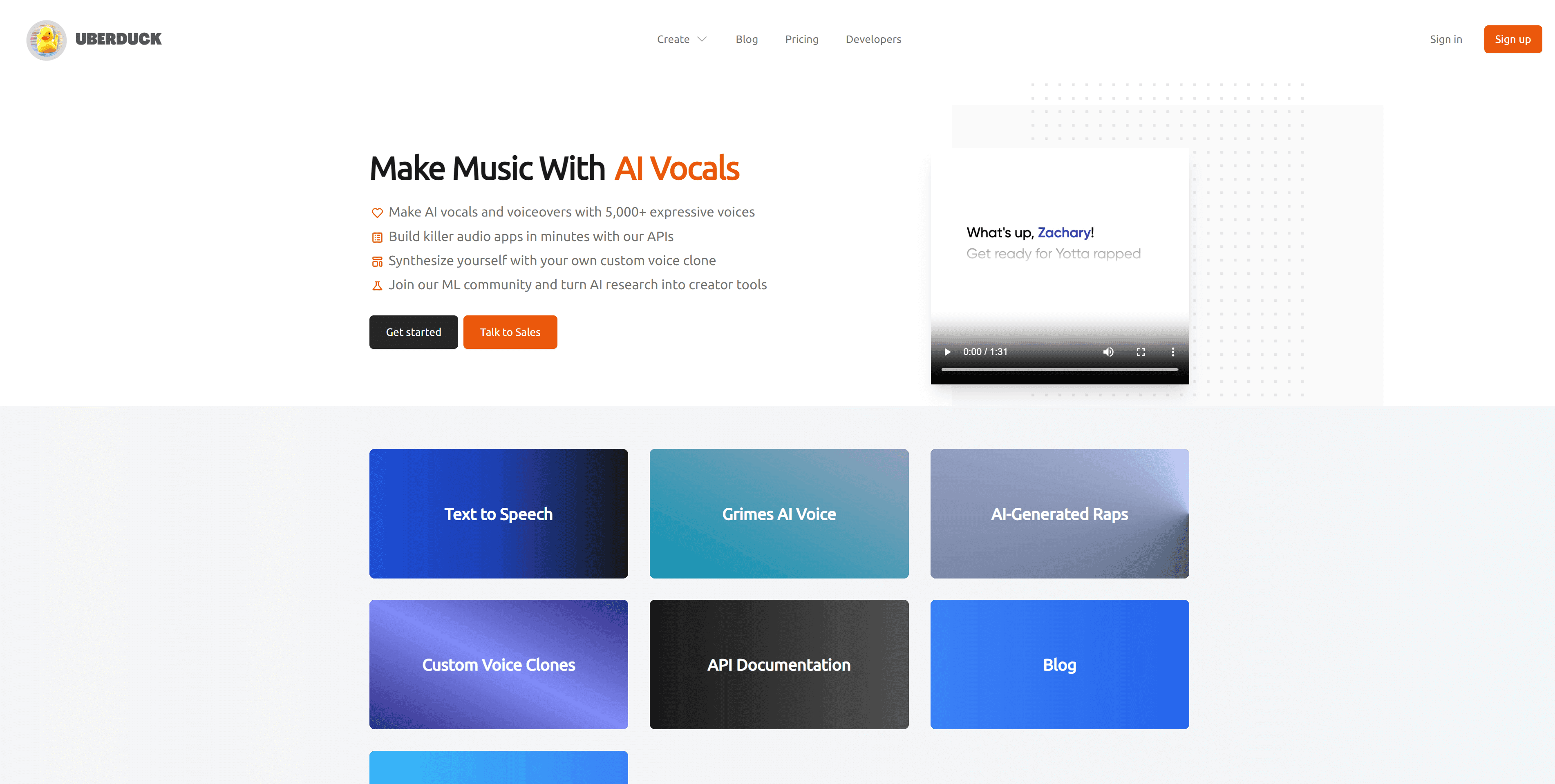 Uberduck is a platform that allows users to create AI vocals and voiceovers with over 5,000 expressive voices. It provides tools for building audio applications and enables users to synthesize their custom voice cloning. The platform is also a hub for machine learning enthusiasts, offering a community where AI research can be transformed into creator tools.
One of the main features of Uberduck is its advanced technology that converts written text into spoken words. This technology can produce AI voiceovers, including ones that mimic the voices of famous celebrities. This can be especially beneficial in the entertainment industry, where you can create voiceovers for animations, video games, and other multimedia content.
Uberduck offers a free plan with some limitations, and the paid plan starts from $9.99 a month.
Fakeyou.com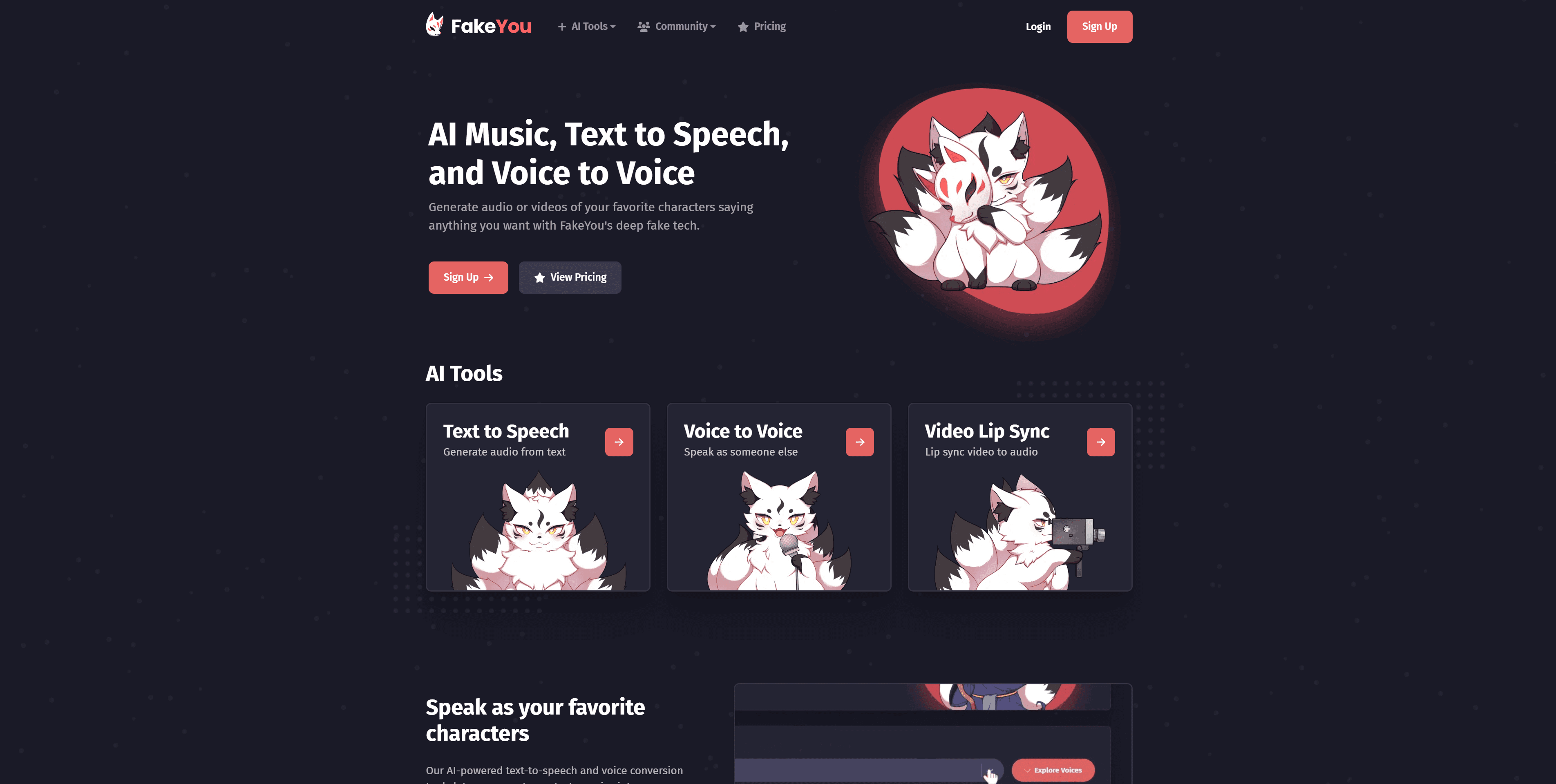 FakeYou is a website that leverages deep fake technology to generate audio or videos of your favorite characters saying anything you want. One of the features Fakeyou provides is the ability to convert text into speech. This tool allows users to input any text and have it transformed into audio, imitating the voice of a chosen character or celebrity.
With the voice-to-voice capability, you can now sound like someone else. This fantastic feature transforms your own voice into that of a beloved character or famous personality, giving your messages or content a unique and distinctive touch.
Also, the Video Lip Sync tool can lip-sync video to audio. It can take a video of a character or celebrity and sync their lip movements to any audio you provide, creating a realistic deep fake video.
The pricing starts from $7 a month for fakeyou.com voiceover creators.
Benefits of Creating Stunning Voiceovers with AI
Harness the potential of text-to-speech technology for generating celebrity voices instantly. With the help of advanced algorithms, you can now easily convert written content into lifelike speech, eliminating the need to hire expensive voice actors. Say goodbye to limitations and unlock a vast library of celebrity's voices at your fingertips.
Imagine generating any celebrity's voice with just a few clicks. This revolutionary speech synthesis technology allows you to clone famous personalities, from Kanye West to iconic actors and politicians. The possibilities are endless as you explore different voices and experiment with various speech styles.
Not only does this technology provide access to an extensive range of celebrity voices, but it also supports multiple languages. Break language barriers by converting text into speech in different languages effortlessly. Expand your reach and engage with diverse audiences globally.
Features of Celebrity Voice Changer Apps?
1. Customize Your Scripts: The celebrity AI voice generator allows you to infuse your scripts with the distinctive voices of renowned personalities. Choose various options that suit your project's requirements, from actors and musicians to public figures.
2. Voice Cloning Made Easy: Want a specific celebrity's voice? With advanced algorithms, some voiceover creators offer accurate cloning abilities that mimic famous individuals' speech patterns. This opens up a world of possibilities for impersonations and unique voice filters.
3. Bring Scripts to Life: Gone are the days of monotonous narrations. With the help of an AI voice generator for celebrity voices, you can breathe life into your scripts by giving them a unique vocal flair. Whether it's adding humor, drama, or excitement, these voices will captivate your audience.
4. Professional-Grade Audio: Say goodbye to amateurish sound quality. The artificial intelligence technology behind these tools ensures that the audio output is top-notch, rivaling that of professional studios. Enjoy crystal-clear recordings that enhance the overall impact of your projects.
5. Seamless Integration: Integrating celebrity AI voice changers into your workflow is a breeze. These tools often come with user-friendly interfaces and straightforward instructions, making the creation process effortless for beginners and seasoned professionals.
6. Unleash Creativity: You can explore new creative avenues for storytelling and content creation by leveraging speech generation capabilities. Experiment with different voices, accents, and tones to add depth and character to your work.
Conclusion:
AI celebrity voice generators offer an exciting and revolutionary way to enhance your content and captivate your audience. With these advanced tools, you can replicate the voices of top celebrities with stunning accuracy, allowing you to create professional voiceovers that sound indistinguishable from the real thing.
By utilizing text-to-speech technology, artificial intelligence voiceover tools provide a powerful solution for generating any celebrity's voice at your fingertips. Whether you're a content creator, marketer, or filmmaker, these tools open up endless possibilities for elevating your projects to new heights.
FAQs:
1. Can I use AI celebrity voice generators for commercial purposes?
Yes, most artificial intelligence celebrity voice generator platforms allow commercial usage. However, reviewing their terms and conditions is essential to ensure compliance with licensing requirements.
2. Are there any limitations in replicating specific celebrities' voices?
While these voiceover creators strive for accuracy, there may be limitations when replicating certain celebrities' voices due to data availability or copyright restrictions.
3. How easy is it to use an AI-powered celebrity voice generator?
These AI tools were developed with user-friendliness in mind. They typically offer intuitive interfaces and simple workflows, making it easy for users to generate voices without extensive technical knowledge.
4. Which celebrity voices are available?
There are many celebrities whose AI voices are available in various apps, like Morgan Freeman, James Earl Jones, Kanye, Trump, Obama, Arnold, and many others. But some apps allow you to train the AI from the existing voice of celebrities, so the possibilities are endless.
5. Can I customize the generated celebrity voices?
Many celebrity voice changer apps provide customization options such as adjusting pitch, tone, and speed to tailor the voice output according to your preferences.
6. Are these AI-generated voices suitable for all types of content?
Absolutely! Celebrity AI voice changer tools can be used for various content types, including videos, podcasts, audiobooks, advertisements, and more. They add a unique touch of professionalism and authenticity to any project.
7. How accurate are the AI-generated celebrity voices?
While the accuracy may vary slightly depending on the specific platform and voice generator used, advancements in AI technology have enabled incredibly realistic and convincing celebrity voice replications.
8. Can I use multiple celebrities' voices within a single project?
Yes, most celebrity AI voice generator apps allow you to use multiple voices within a single project. This versatility enables you to create diverse characters or incorporate different narrators seamlessly.
9. What languages are supported by voiceover creator apps?
The language support varies among different platforms. However, many popular voiceover tools offer a wide range of languages for generating voices in various accents and dialects.
10. What is the best AI that makes celebrity voices?
Play.ht is the best app to generate a celebrity's voiceover. You can train this tool with existing audio content if of celebrity voice.
Checkout other AI Celebrity Voice Generator tools for Voiceovers.
AI Celebrity Voice Generator
AI Voiceover
AI Audio Generation
AI Voice Changer
AI Celebrity Voice Changer
Rishit Patel
Sat Jul 15 2023