AI Marketing Tools You Need to Know for Growth Hack in 2023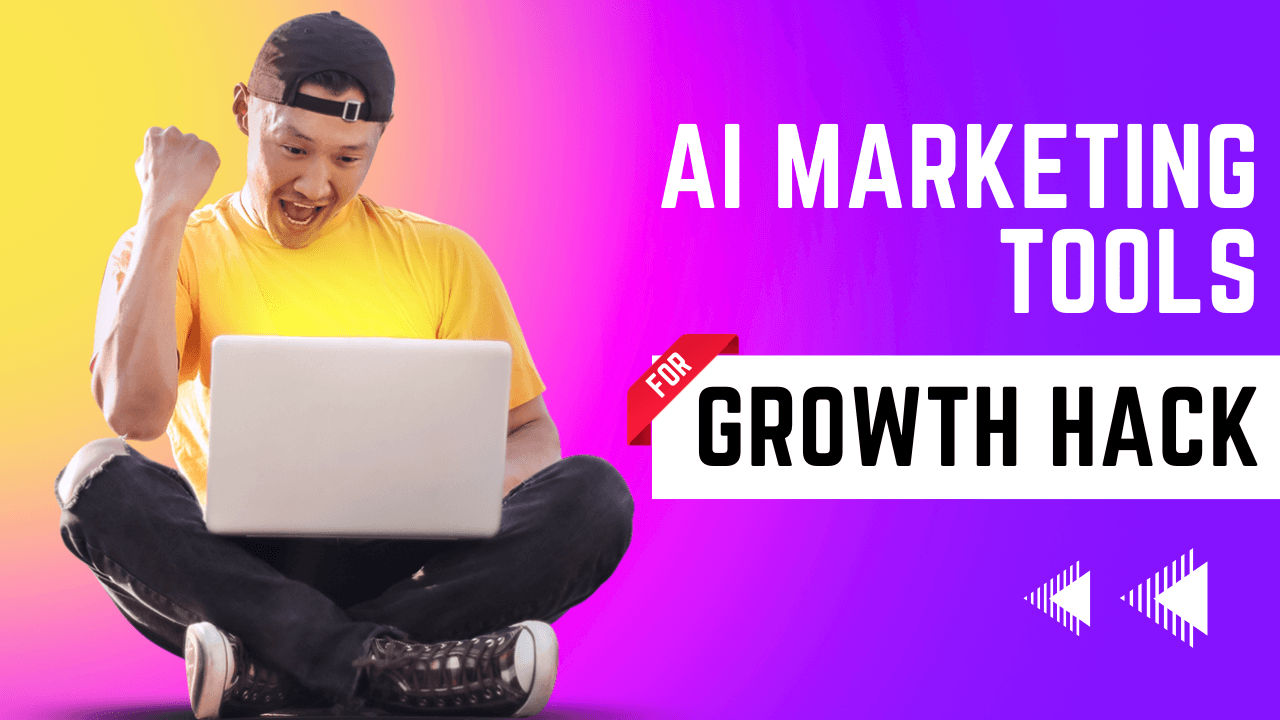 The arrival of AI marketing tools has brought about a new age of unparalleled efficiency and accuracy. Imagine a marketing world with automated tasks, instant insights, and data-driven decisions. That's exactly what Artificial Intelligence marketing tools offer.
These powerful platforms leverage AI tools to automate marketing tasks, analyze vast amounts of data, and predict customer behavior - all while learning and improving over time. They are transforming traditional online marketing strategies, making them more targeted, personal, and effective. Whether predicting trends, segmenting audiences, personalizing content, or optimizing campaigns, AI marketing tools are the secret weapon modern marketers need.
Jasper.ai
Jasper.ai is an advanced AI-driven content writing tool that enhances brand voice consistency, improves efficiency, and offers robust collaboration features. It ensures data security while providing a versatile platform for various content types and platforms.
So, you're curious about how the use of Jasper.ai can boost your content marketing strategy. It's like having a super-smart, always-on-brand marketing whiz on your team.
Jasper Key Features:
Brand Voice Consistency

Efficiency in Content Creation

Versatility in Content Types and Platforms

Collaboration Tools for Teamwork

Advanced AI Engine for Content Optimization

Security and Privacy of Data
Pricing Plan: (7-day free trial)
Creator - $49/mo - Monthly Billing or $39/mo - Yearly Billing
Teams - $125/mo - Monthly Billing or $99/mo - Yearly Billing
Brand Voice
Brand Voice is the best feature of Jasper. First, the Jasper AI tool lets you know your brand inside out. You can feed it all your company facts, product catalogs, audiences, and even your style guide.
This AI marketing tool can help you create content that's always in line with your brand's voice with the help of machine learning algorithms. It's like having your very own brand guardian!
Content Creation Efficiency
Now, let's talk about efficiency. We all know that first drafts can be time-consuming, right? Well, Jasper cuts down on that time significantly. Plus, it's been shown to increase content downloads and give a great return on investment.
Versatility
One of the coolest things about Jasper is its versatility. Whether you're crafting social media marketing posts, digital marketing campaigns, or even penning a love letter, Jasper's got your back. And with the Jasper Everywhere extension, you can have Jasper's assistance wherever you're creating online. It's like having a personal writer who's always ready to help.
Team Collaboration
It can turn a single piece of content marketing strategy into a full-blown digital marketing campaign with actionable insights in minutes and invite your whole team to make edits. It's like having a virtual brainstorming session at your fingertips.
Content Optimization
And let's not forget about Jasper's brain - its advanced Artificial Intelligence engine. It pulls from the best models out there and combines them with recent search data, your brand voice, and handy tools like SEO and grammar checks to make search engines happy. So even when the digital seas get a bit choppy, Jasper stays steady, which is this tool's best feature, along with others.
Security and Privacy
Last but not least, Jasper takes security seriously. It keeps your data safe and private and doesn't keep ownership of your outputs. So you can rest easy knowing your brand is in good hands.
ChatGPT
ChatGPT uses an advanced AI language model developed by OpenAI that can generate human-like text, facilitate conversations, and provide insightful responses. It's a versatile tool that can be used for a range of applications, including customer service, content writing, and as a valuable asset in AI-driven promotion strategies.
You can find ChatGPT by OpenAI as one of the best AI marketing tools due to its versatile use, integration possibilities, and free pricing plan.
ChatGPT Key Features:
24/7 Customer Engagement

Scalability

Consistency in Responses

Personalization of Customer Interactions

Analytics and Data Gathering

Content Creation Capabilities

Multi-lingual Capabilities

Learning and Adaptability

Cost Efficiency

Product Exploration Assistance
Pricing Plan:
Basic - Free
Plus - $20 a Month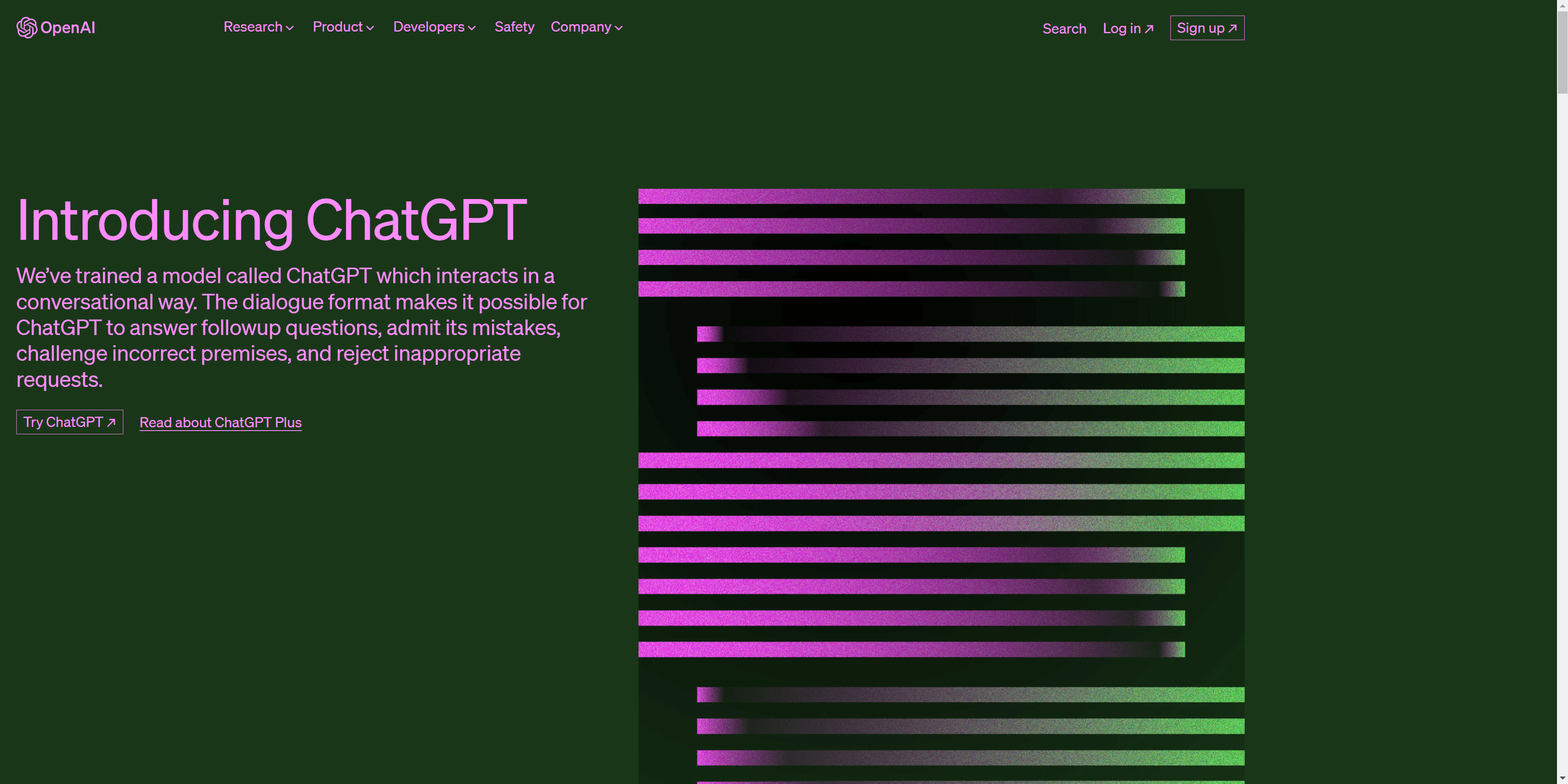 Customer Engagement
ChatGPT can provide round-the-clock customer engagement on websites, social media, and email platforms. It can handle client's inquiries, provide product information, draft online marketing campaigns, and guide users through purchasing. Out of many key features, client engagement is the best feature.
Scalable
This great artificial intelligence tool can handle multiple conversations simultaneously, allowing it to scale as your customer base grows. This is much more efficient and cost-effective than hiring additional customer representatives.
Consistent Personalized Response
Unlike human representatives, this AI writer provides consistent responses, ensuring that every customer gets the same level of service and information.
ChatGPT can be programmed to provide personalized recommendations based on customer data, preferences, and behavior, enhancing customer engagement and satisfaction. It basically works as AI chatbots.
Analysis
When combined with other old or new AI marketing tools, ChatGPT can draw actionable insights about customer behavior and preferences, which can be used to refine promotional plans further. You can compare the metrics with Google Analytics if you use Google Ads or Google Tag Manager to understand key metrics better.
Time Saver
This AI tool can be used to create SEO content strategies for blogs, social media marketing posts, landing pages, influencer marketing, and email promotion campaigns, among other things. This can save a significant amount of time and effort.
ChatGPT is one of the best AI-powered content generator tools that can communicate in multiple languages, allowing businesses to reach a wider audience through natural language processing.
Self Improvement and Automation
With continuous training and fine-tuning with machine learning algorithms, the use of ChatGPT can become more efficient and effective in its interactions, learning from past conversations and user feedback of your business.
ChatGPT can significantly reduce customer service and content generation costs by automating many tasks traditionally done by humans.
ChatGPT can help potential customers explore and understand the product range better by answering their queries in real time and suggesting relevant products based on their needs. You can find self-improvement as the best feature among all other key features.
Please note that the success of ChatGPT as an AI marketing tool also depends on how well it is implemented and integrated into your overall content strategy.
GrowthBar
GrowthBar's best feature is it's designed for anyone who wants to write content faster and get more organic traffic, including marketing agencies, in-house marketers, content creators, and editors. It is known for generating AI content with superior algorithms that practically write and optimize your landing pages, digital campaigns, and blog posts for you and also does keyword research, rank tracking, and backlink research.
GrowthBar Key Features:
AI-powered Content Generation

Collaboration Tools

2-Minute Blog Builder

Comprehensive Keyword Suggestions & Competitor Analysis

The suite of AI Writing Tools (including chat, product descriptions, and press releases)

Custom AI Models

GrowthBar Chrome Extension for WordPress integration and Google search insights.
Pricing Plan: (7-day money-back guarantee)
Standard - $48/mo - Monthly Billing or $29/mo - Yearly Billing
Pro - $99/mo - Monthly Billing or $79/mo - Yearly Billing
Agency - $199/mo - Monthly Billing or $129/mo - Yearly Billing
Multiple AI Tools for Content Creation
GrowthBar offers a suite of AI marketing tools to enable all your social media and influencer marketing channels, including chat, product descriptions, press releases, and more. The variety of AI tools support is the best feature of multiple key features.
With one click, GrowthBar scans hundreds of results in the Google Search Engine Results Page (SERP), generating an SEO-optimized outline for your blogs or website. It also offers an AI writing assistant to help write your blog post and can audit your existing blog posts too. In short, it makes the quality content creation process so easy for your business!
Collaboration
You can invite your writers, marketers, and editors to create SEO-optimized content out the door faster for search engines.
Quick Blog Writer
This feature allows you to go from an outline to a quality content strategy of a 1500-words blog post in 2 minutes for search engine optimization. You can drag and drop headlines and let GrowthBar's AI technology write your entire blog post, providing search engine optimization along the way.
Competitor Analysis
Plan your content roadmap like a Pro with 7 billion keyword suggestions, complete with difficulty scores and estimated revenue metrics with the help of machine learning. You can also see your competitor's keywords, Google Ads, and backlinks in dashboards, making it the best feature of this great product.
Custom AI Model Training
You can upload your best quality content, and GrowthBar will create a custom AI model for your business, allowing you to write in your brand language style and voice.
The GrowthBar Chrome Extension, which is included with every subscription, allows you to write with AI tools in WordPress and get keyword and competitive insights while you Google search.
Multilingual and Unique Content
GrowthBar works in about 20 languages and 25 countries, allowing you to write in most languages and optimize your content for the country you care about ranking in.
GrowthBar artificial intelligence growth tool can be used on client sites and is used by almost half of the customers who are agencies.
The information used by GrowthBar is aggregated from proprietary algorithms and trusted data providers, including the industry-leading Google Ads tool, SpyFu, and OpenAI's natural language model, GPT-3.
The content generated with the use of GrowthBar is 100% unique and not plagiarized to improve your search engine rankings.
Brand24
Brand24 provides a variety of key features amongst many other AI-powered tools. The platform enables businesses to protect their reputation and measure brand awareness by providing instant access to online mentions across various platforms, including social media presence, news, blogs, videos, forums, podcasts, reviews, and more. It ensures complete access to online mentions, allowing businesses to stay ahead of the narrative and respond to critical mentions promptly.
Brand24 Key Features:
Comprehensive Online Mentions

Advanced Sentiment Analysis

Hashtag Tracking

Data-Driven insights

Collaboration and Reporting
Pricing Plan: (14-day free trial)
Individual - $79/mo - Monthly Billing or $69/mo - Yearly Billing
Team - $149/mo - Monthly Billing or $129/mo - Yearly Billing
Pro - $199/mo - Monthly Billing or $179/mo - Yearly Billing
Enterprise - $399/mo - Monthly Billing or $349/mo - Yearly Billing
Social Media Tracking
Brand24 tracks over 25 million online sources in real time, offering metrics about any mentions of brands and helping organizations monitor their brand and competitors effectively. Additionally, it offers advanced sentiment analysis that leverages AI technology to segment brand mentions into positive, negative, or neutral categories, providing a nuanced understanding of public sentiment toward the brand. And so, social media tracking is considerably the best feature of Brand24.
Data-driven Insights
The use of this AI-powered platform also provides powerful metrics to measure brand awareness, presence, reach, and engagement, and it allows businesses to track the reach of their digital marketing efforts and benchmark against competitors. Brand24 identifies the reach and importance of mentions, enabling businesses to filter out the noise and focus on the target audience.
Brand24's best feature is businesses can automate their reporting processes to share statistics with their digital teams more efficiently. The platform also enables businesses to learn from online conversations about their company and gain access to honest consumer feedback, providing valuable insights from customer information. These metrics can be used to make informed business decisions that resonate with the target audience, ensuring data-driven decision-making.
Strategic Planning
Brand24 facilitates collaboration by allowing the sharing of insights across the business, enhancing teamwork and alignment in strategic planning. The platform also provides comprehensive hashtag tracking capabilities, enabling businesses to track various hashtags, find influencers, and measure the effects of a hashtag campaign, including reach and engagement. It also measures the reach and volume of hashtags, offering access to important hashtag metrics.
Multi-Language Support
This AI marketing tool's capabilities are noteworthy, helping users to understand the information, save time, and detect languages across 108 different languages to track mentions that matter. Lastly, Brand24 distills numerous brand mentions into an actionable and easily digestible word cloud, aiding in understanding the context of discussions. Multi-language is the best feature of all key features.
AdCreative.ai
AdCreative.ai is an artificial intelligence tool designed to swiftly generate conversion-focused ad creatives and social media posts. It aims to enhance conversion by up to 14x and offers valuable insights into the best performing creatives. AdCreative.ai is scalable, integrates with major platforms, and supports collaborative work, making it a versatile solution for online marketing needs.
AdCreative Key Features:
AI-Powered Creatives

Improved Conversion Rate

Creative Insights

Scalability

Platform Integrations
Pricing Plan: (7-day free trial)
Starter - $29/mo - Monthly Billing or $290/Yearly Billing
Premium - $59/mo - Monthly Billing or $590/Yearly Billing
Ultimate - $99/mo - Monthly Billing or $990/Yearly Billing
Scale Up - $149/mo - Monthly Billing or $1490/Yearly Billing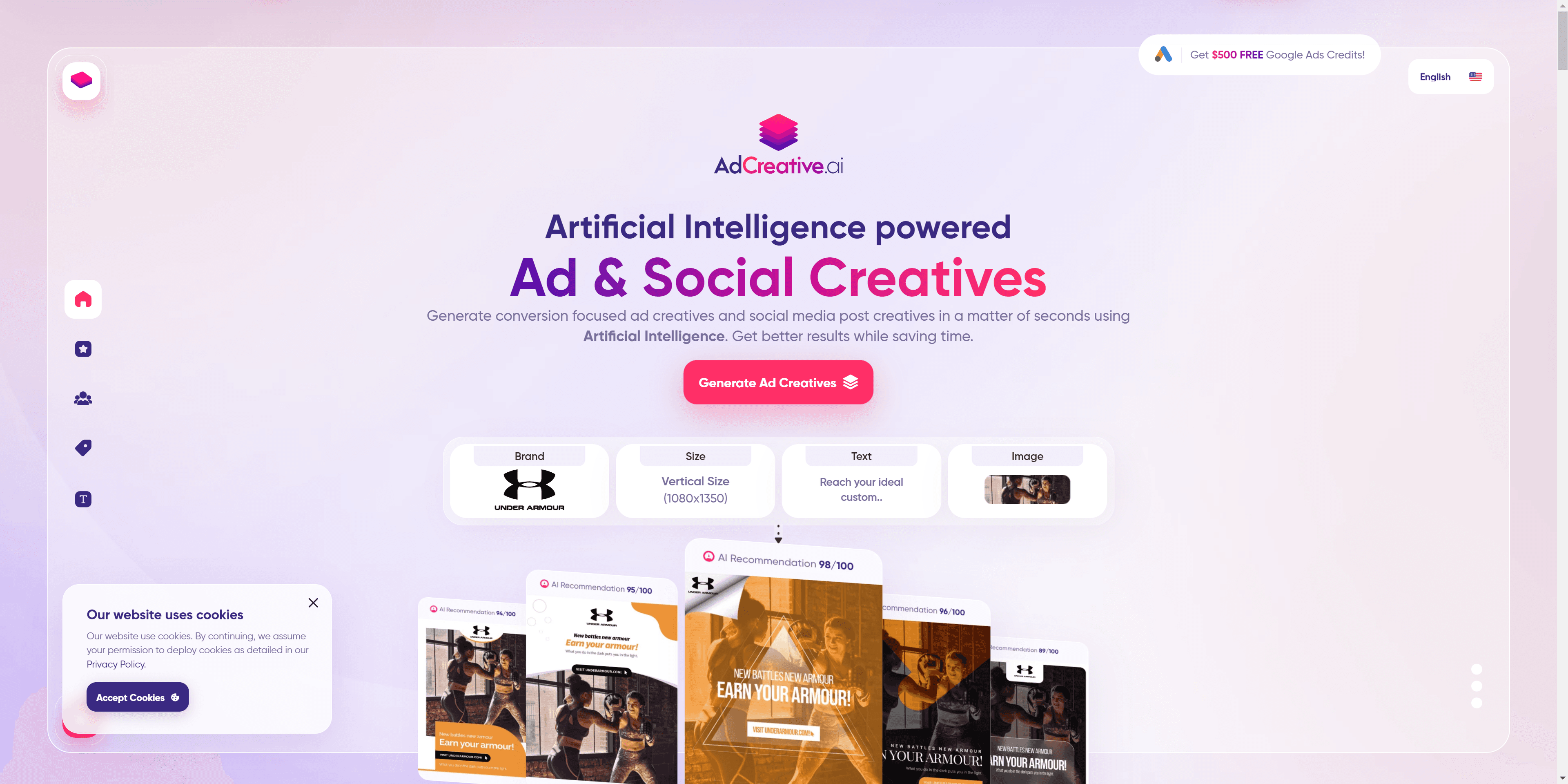 AI-Powered Ad Creatives
AdCreative.ai uses artificial intelligence to generate conversion-focused ad creatives and social media posts in seconds, unlikely other creative AI marketing tools.
Improved Conversion Rate
The tool claims to provide up to 14x higher conversion rates compared to creatives that are not data-backed. Over 95% of users reportedly improved CTR in their first month of using AdCreative.ai creatives.
User-Friendly
Users simply specify their target audience and the platform they are creating the ads on, and artificial intelligence selects the best tone and length for the platform while focusing on the audience's pain points. The AI natural language processing can also be used as a copywriter, generating sales-focused texts and headlines tailored to your advertising platform.
Creative Insights
The best feature of this tool is users can see which creatives perform the best in their ad accounts and get inspiration from their best performing creatives for digital marketing trends.
This artificial intelligence tool can generate engagement-focused social media post creatives for platforms like Facebook, Instagram, LinkedIn, Pinterest, Twitter, and more. AdCreative.ai can be used for generating 1 creative or 10,000 creatives a month, making it adaptable to user needs. It's a great social media management tool.
Integration and Collaboration
The tool can integrate with Google Analytics, Facebook, ADYOUNEED, and Zapier to maximize its utility. You can invite up to 25 social media team members under one main account. Users can change the logo and URL of AdCreative.ai, making the tool truly theirs.
Trained Artificial Intelligence tools
The best feature of this tool is machine learning model learns daily and provides up-to-date creatives focusing on conversion.
6Sense
6sense is an AI-driven tool designed to optimize revenue growth by identifying potential buyers, understanding their behaviors, and guiding engagement with the most likely prospects. It leverages predictive data analytics and intent metrics to better align marketing and sales efforts. Ultimately leading to an increased pipeline, improved conversion rate, and reduced go-to-market waste. All these features put 6Sense in one of the best AI marketing tools categories.
6Sense Key Features:
Pinpointing high-value accounts

Understanding buyer behavior

Intelligence over information

Predictive analytics

Integration with an existing tech stack

Data-driven strategy
Pricing Plan:
Free version available
Paid plans available by request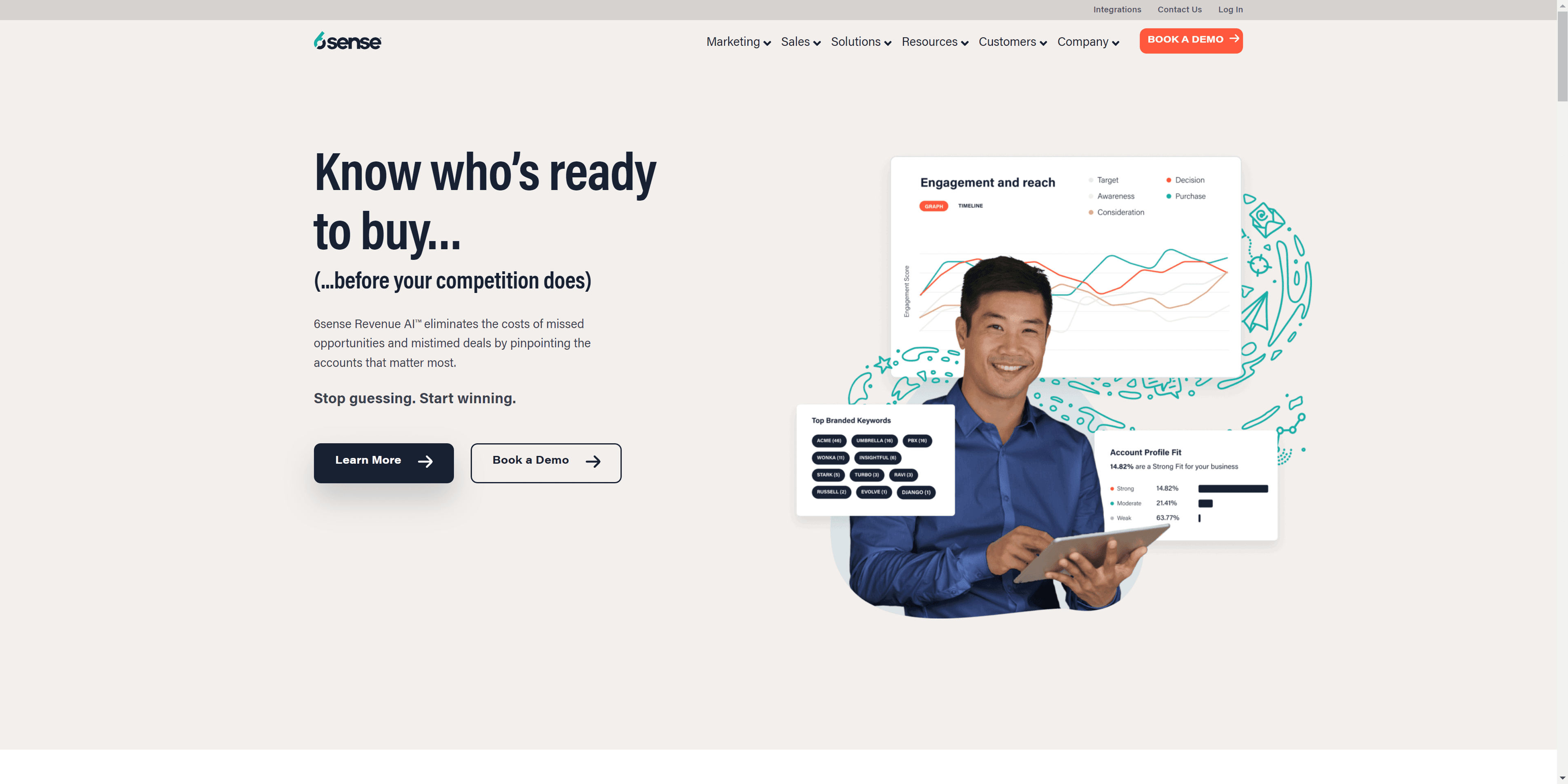 Improve Conversation
6sense Revenue AI™ is a sophisticated, AI-powered revenue growth tool that focuses on identifying the most promising accounts, understanding their behavior, and providing guidance on engaging with the most likely to make a purchase. It is designed to help businesses increase their sales pipeline, improve conversion ratio, and reduce go-to-market waste by providing insights that allow for a more targeted and efficient approach. It's the best feature out of many other key features.
Reveal Hidden Sales Possibilities
One of the key features of 6sense is its ability to track and interpret the digital "breadcrumb trails" left by potential buyers as they conduct online research. These signals, often unseen and referred to as the "Dark Funnel™," can be difficult to interpret with traditional marketing technology systems, but 6sense is equipped to uncover and understand them. Doing so, it helps your team find and close deals more effectively, even when buyers prefer to conduct their research without direct engagement.
Data Analysis
6sense is designed to handle the vast amounts of information available in today's digital world. Instead of overwhelming revenue teams with information, it curates the most relevant B2B dataset available through artificial intelligence. This allows teams to engage with the right accounts, send the right messages, and do so at precisely the right time, adding an element of relevance to the process with one of these great AI marketing tools.
The tool's predictive analytics capabilities are also worth noting. It provides world-class intent metrics, accurate buying stages and fit predictions, and recommendations for the next best actions. This continuous delivery of intelligence is crucial for revenue teams to stay one step ahead. It sounds like the best feature of this artificial intelligence tool.
Integration with other AI-powered tools
6sense also integrates with the existing technology stack, adding convenience to its list of benefits. Teams can utilize the full depth and breadth of 6sense data in the applications they use every day, such as Salesforce, Hubspot, Outreach, SalesLoft, and other AI tools. This allows for a seamless workflow and the creation of an insight-driven strategy that can lead to increased win rates, opportunity volume, deal sizes, and a decrease in opportunity-related costs. You can also integrate it with Google Analytics to track the ads performance.
Seventh Sense
Seventh Sense is a sophisticated email delivery optimization system designed for HubSpot and Marketo. The best feature is it leverages artificial intelligence to personalize email delivery times and frequencies based on individual recipient engagement. These outcomes in improved email deliverability, heightened engagement, and increased conversion rates, thereby maximizing the return on investment from your email campaign efforts.
Seventh Sense Key Features:
Send Time Optimization

Email Throttling

Increase Deliverability

Email Frequency Optimization

Knowledge Transfer

Increase Conversions

ROI Calculator
Pricing Plan:
Business (HubSpot) - $80/mo - Monthly Billing or $64/mo - Yearly Billing
Enterprise (HubSpot) - Pricing plan available by request
Business (Market) - $450/mo - Monthly Billing or $360/mo - Yearly Billing
Enterprise (Market) - Pricing plan available by request
Better Email Delivery Rate
Seventh Sense is a great AI email marketing tool that delivers emails to each recipient at their most optimal engagement time is the best feature. It does increases deliverability and allows for campaign pauses, modifications, and load spreading across systems. This AI-powered tool enhances the sender's reputation with major email providers by boosting engagement.
Segmentation
This AI software provides engagement-based segmentation to potential customers at their preferred frequency. And allows sales and digital teams to share information on when individual customers or prospects interact with the organization.
Time Management
This great AI tool optimizes send time and frequency, resulting in happier customers, shorter sales cycles, and high conversion. It analyzes client data, computes the financial return from your email marketing investments, and understands your average cost and return per subscriber.
A/B Testing
The best feature is the A/B test, also known as split testing, which compares two versions of a webpage, email, or other marketing assets to determine which one performs better. It's a way to test changes to your page against the current design and determine which one produces better results.
The 7th Sense A/B testing feature is very useful to test and analyze your potential customer's information. It can help you to determine what works for you from metrics of targeted marketing analytics.
Protect Domain Reputation
Domain reputation is very important when you run an email marketing campaign. This AI tool can get deeper insights of your email program and manage it to achieve the highest inbox delivery rate.
Every Corner Covered
Using Ai marketing tools, you can cover every corner of your presence for your audience. 7th Sense is your companion to cover your B2C, B2B, and E-Commerce email marketing.
You can send scheduled emails, manage outgoing frequency, track and manage open rates, and more with this great AI tool with its competitive intelligence. It will make the customer journey smooth in this digital advertising era.
Conclusion:
AI marketing tools can drive business growth through advanced data analysis, personalized marketing, enhanced customer experience with chatbots, and accurate sales forecasting. They also aid in monitoring social media trends, generating content, optimizing SEO/SEM strategies, improving email marketing, fine-tuning pricing strategies, and effectively targeting ads.
These tools can increase efficiency, boost customer satisfaction, and enhance sales and loyalty, making them essential for modern businesses.
Frequently Asked Questions (FAQs):
What is an AI marketing tool?
An AI marketing tool refers to any software or platform that uses artificial intelligence (AI) to enhance and automate marketing tasks and decisions. These tools are designed to analyze all key information more thoroughly and make predictions more accurately than a human could do alone.
Why use AI marketing tools?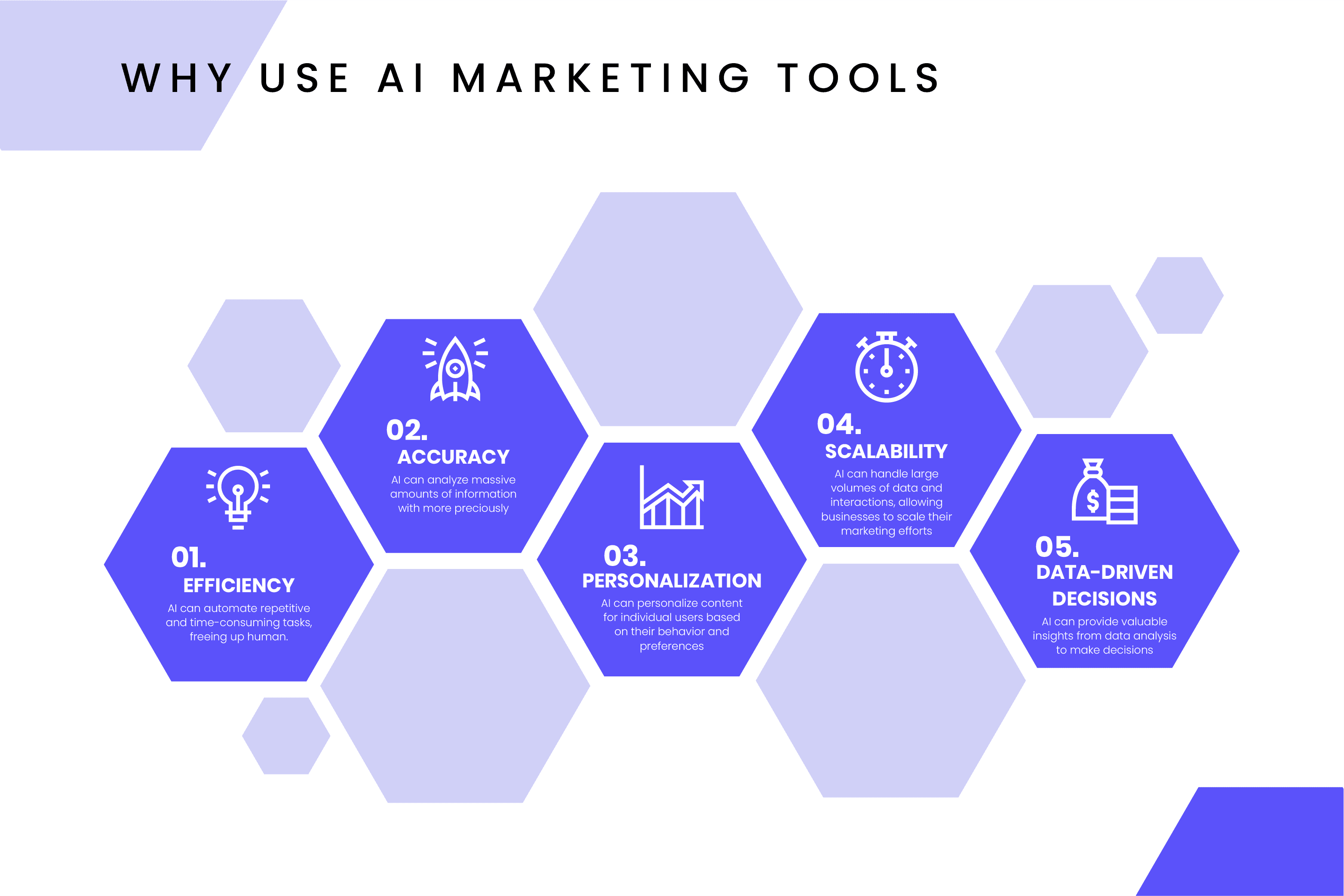 Efficiency: AI can automate repetitive and time-consuming tasks, freeing up human resources for more strategic activities.
Accuracy: AI can analyze massive amounts of information with more precision than humans, reducing the likelihood of errors in data analysis.
Personalization: AI can personalize content for individual users based on their behavior and preferences, leading to high engagement and conversion.
Scalability: AI can handle large volumes of data and interactions, allowing businesses to scale their marketing efforts without proportionally increasing their workload or resources.
Data-Driven Decisions: AI can provide valuable insights from data analysis, enabling businesses to make more informed, data-driven decisions.
Improved Service Experience: AI-powered chatbots can provide 24/7 customer service, leading to increased client satisfaction.
Predictive Analysis: AI can predict future trends based on historical data, allowing businesses to be proactive and strategic in their marketing campaigns.
Optimized Marketing Spend: AI can identify the most effective marketing channels and strategies, helping businesses optimize their marketing spend for better ROI.
Real-Time Updates: AI can provide real-time updates and feedback, allowing businesses to make quick adjustments to their marketing strategies when necessary.
Competitive Advantage: Companies that leverage AI in their marketing strategies often gain a competitive advantage, as they can engage with their customers more effectively, personalize their offerings, and respond more quickly to changes in the market.
What are some examples of AI in marketing today?
Here are some examples of AI in marketing.
AI can create blog posts, social media content, and marketing campaigns to save lots of time.

With the help of AI, various information can be analyzed to make data-driven decisions for marketing.

AI in marketing can improves overall customer experience and ROI.
Which is the best AI tool for marketing for newbies?
ChatGPT is the best tool for marketing for newbies, as it's free. But you need to learn how to use it correctly.
Best AI Marketing Tools
AI Email Marketing Tools
AI Content Writer
AI for Marketing Campaigns
AI for Search Engine Optimization
Rishit Patel
Mon May 22 2023
Join thousands of AI enthusiasts in the World of AI!