B12: How AI Elevates the Way We Build Websites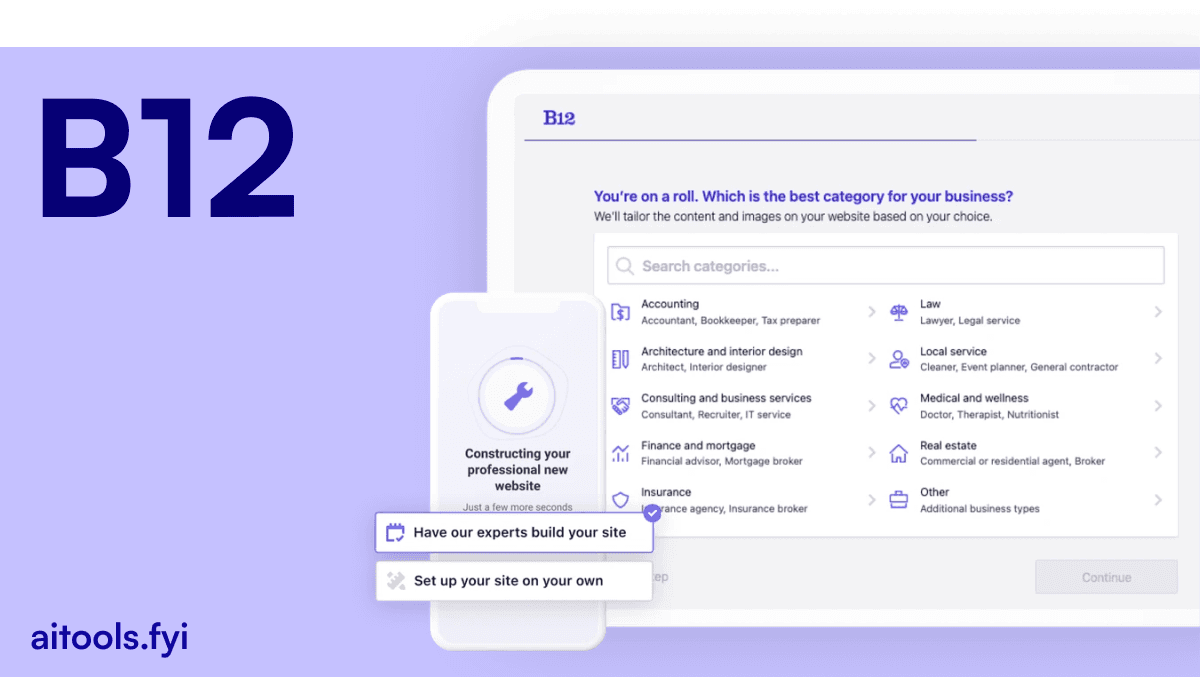 AI is the driving force revolutionizing web development, meaning now, just about anyone can launch a website fairly quickly and easily. With AI website builders, you no longer need to build everything yourself from scratch or hire an expensive designer. What used to take weeks or months now takes a matter of hours. 

But that doesn't mean all AI web platforms are built equally. With the wrong one, you can feel overwhelmed, have trouble nailing the details, or end up with something that looks completely generic. Luckily, B12 is an AI website builder that helps you get the professional site you deserve, fill it with quality content in seconds, and use built-in tools like online scheduling, invoicing, eSignatures, and email marketing to grow your business and work more efficiently.
With B12, you don't have to sacrifice a quick launch or quality. You get it all: a user-friendly AI website editor for control when you need it, plus a team of professional designers and copywriters when you need help with updates. 
Here are a few ways B12 uses AI for more efficient and effective web development. 
How B12 uses AI for better website launches 
1. Gets you up and running sooner  
More traditional web design methods, like hiring an agency or freelancer, can take months, cost you thousands, and demand too much of your time. 
​​Save hours of work (and money) by getting a jumpstart from B12's AI-powered design engine. It automatically creates your industry-specific site in 60 seconds with all the relevant pages, sections, copy, images, and icons. All you have to do is answer a few brief questions about your business. The result is a beautiful website that highlights your company's offerings and includes what visitors expect to see, such as sections for appointment scheduling, events, and contact forms. 
2. Drafts full pages, posts, and emails in seconds
You can't have an engaging site without the right pages and content, and filling up an entire website often holds people back. B12's AI Assist tool can help. It drafts whatever you need in less than a minute with very minimal input. AI Assist is available everywhere in B12 to bring drafts of new pages, blog posts, and emails to life in seconds, so you can add, publish, and send in a fraction of the time it takes you to compose from scratch.  
So whether you want to update a section of your site, publish on your blog more regularly, or send your first email marketing campaign, AI Assist provides a draft almost instantly that only needs some proofreading and personalizing. It even takes care of SEO metadata and text snippets for new pages while incorporating any SEO keywords you tell it to include.
3. Automatically creates a cohesive experience  
When building a site yourself and integrating several separate tools, your online presence — including website, emails, forms, and online scheduler — can start to look disjointed. If you're using Mailchimp for emails, QuickBooks for invoices, and Calendly for appointments, chances are, they won't all play well together and reflect your visual identity. 
Instead, within B12, all client touchpoints are set up to automatically match your website and brand assets. That means every form, email template, and invoice is cohesive and consistent, so your business looks credible at every step. 
4. Lets human expertise shine
Collaboration between AI and experts is what sets B12 apart, producing better web pages faster. AI-generated designs are the foundation for B12 designers, copywriters, and SEO specialists to fine-tune and elevate. 
At B12, AI isn't meant to replace anyone. This synergy between technology and people finishes time-consuming setup work quickly, giving you a high-quality starting point sooner. With B12, you always have the option to update your site using AI, with help from on-platform experts, or by doing it manually yourself. Even after launching your site, get support with your design, copy, and SEO.
Launch your professional website fast with B12
With AI, creating a professional and user-friendly website is no longer daunting, even for busy, resource-strapped businesses. B12 goes beyond your basic AI website tool. It ensures your business has everything it needs to attract, win, and serve clients online, including digital contracts, payments & invoicing, intake forms, scheduling, and more. 

Launch your site for free in less than an hour using B12, then get back to what you do best — running your business. 
AI-powered website
B12 website builder
Efficient web development
AI Website Builder
AI Websites
Rishit Patel
Wed Aug 09 2023