As technology continues to advance, Artificial Intelligence (AI) has become an integral part of our daily lives. One area that has witnessed significant progress is content creation with AI tools. With the best AI essay writer tool revolutionizing the way we create content. In this brief, we'll explore the features, benefits, and drawbacks of the leading AI for writing essays, helping you make an informed decision for your writing needs.
Key Features of the Best AI Essay Writer [Nov 2023]:
Advanced Language Models: The best AI essay writers utilize advanced language models like OpenAI's GPT-4, which has an extensive understanding of grammar, context, and syntax to generate human-like content.
Customization: Top AI essay writing tools allow users to set parameters such as academic tone, style, and target audience, resulting in a personalized writing experience.
Research Capabilities: The leading Artificial Intelligence essay writers can gather relevant information from various sources like research papers and synthesize it to produce well-researched, coherent essays.
Plagiarism Prevention: With built-in plagiarism detection, it ensures the creation of unique and original content.
Real-time Editing: These kinds of tools offer suggestions and corrections as you go, helping users improve their writing skills and avoid common mistakes.
OpenAI - ChatGPT
With the rapid advancements in Artificial Intelligence (AI) technology and Machine Learning Algorithms, we are witnessing a paradigm shift in various industries, and the world of writing is no exception. Today, we are going to introduce you to one of the most popular AI tools available for writers with just a few clicks, ChatGPT. It does gain a lot of traction in a short period. Let's delve into the ChatGPT features, pros and cons, and pricing options of this one of the best AI essay writers, so you can decide if it's the right fit for your writing needs.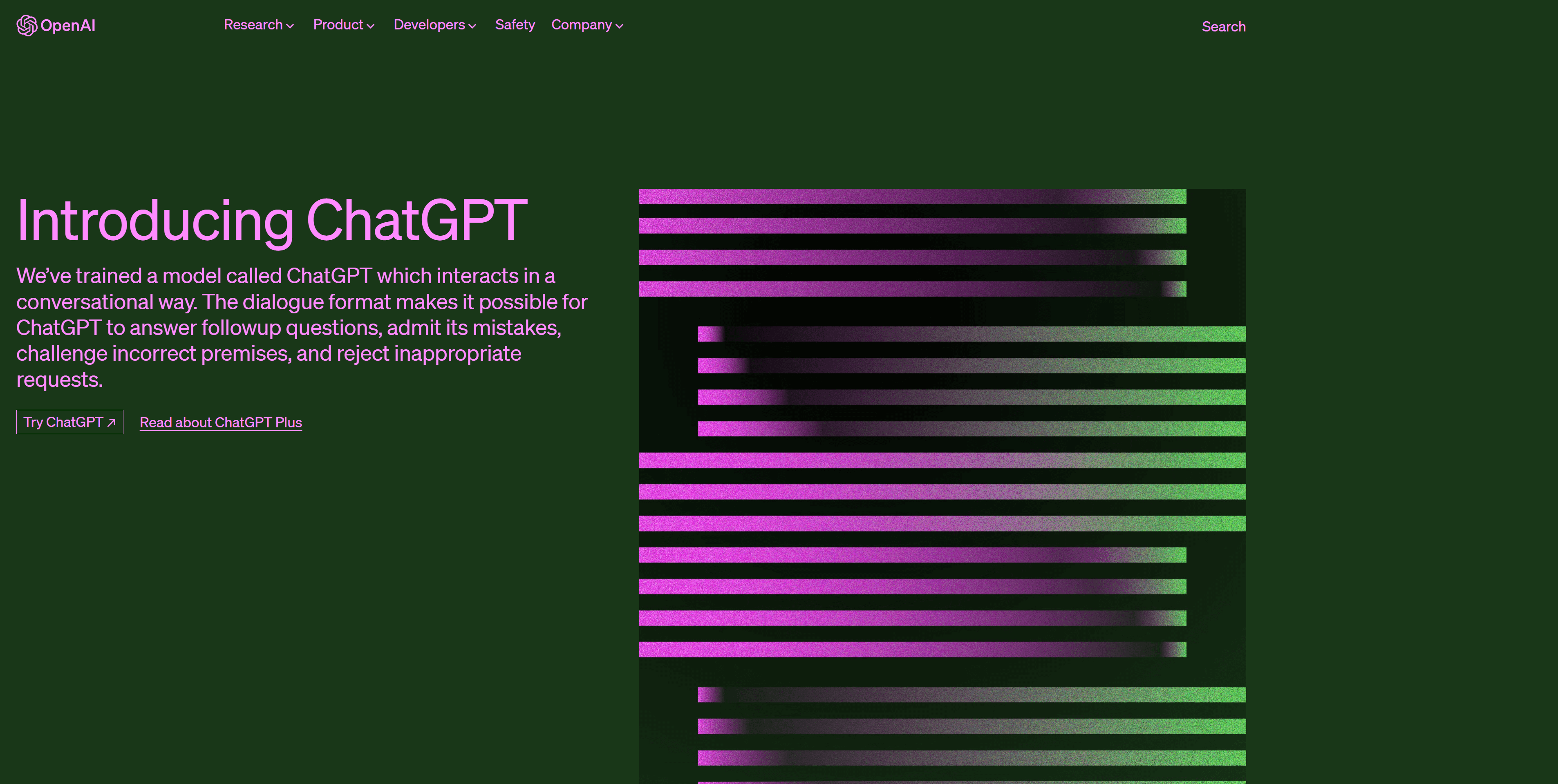 ChatGPT Features:
AI-Powered Assistance: ChatGPT is driven by OpenAI's GPT-4 architecture, which means this AI writer offers highly advanced language capabilities that can generate content like humans.
Customization: ChatGPT allows users to set specific guidelines for the right direction, such as academic tone, style, and topic focus, to write essays tailored to their requirements.
Writing Prompts: If you are struggling to find an essay topic or need some inspiration, ChatGPT offers writing prompts to get your creative juices flowing using AI.
Multi-Lingual Support: ChatGPT supports a broad range of languages, making it an excellent tool for people from different linguistic backgrounds.
Grammar and Style Suggestions: The platform not only generates essays but also offers grammar and style suggestions to help you refine your essay writing.
ChatGPT Pros:
Time-Saving: ChatGPT can significantly reduce the time spent on researching and writing, allowing users to focus on other important tasks.
Enhanced Productivity: With AI-generated content, you can quickly create multiple drafts or versions of better essays, making it easier to produce high-quality work.
Learning Tool: ChatGPT can serve as an educational resource, helping users improve their writing skills and understanding of various topics.
Accessibility: As an online tool, ChatGPT can be accessed from anywhere, as long as you have an internet connection.
ChatGPT Cons:
Potential for Plagiarism: As AI-written content becomes more widespread, there is an increased risk of plagiarism. Users must be vigilant about ensuring the originality of their work.
Limitations in Creativity: While ChatGPT generates human-like text, it may not be able to capture the unique voice or style of the writer, which is an essential aspect of creative writing.
AI Ethical Concerns: Some users may have ethical concerns about relying on AI writing tools, particularly regarding data privacy and the potential loss of human touch in the creative process.
ChatGPT Pricing:
Here's a quick comparison of ChatGPT Prices:
Free: Free version has limited access to the tool with a slow writing speed.
Plus ($20/month): GPT-4, Unlimited AI writing assistant, Fast writing speed.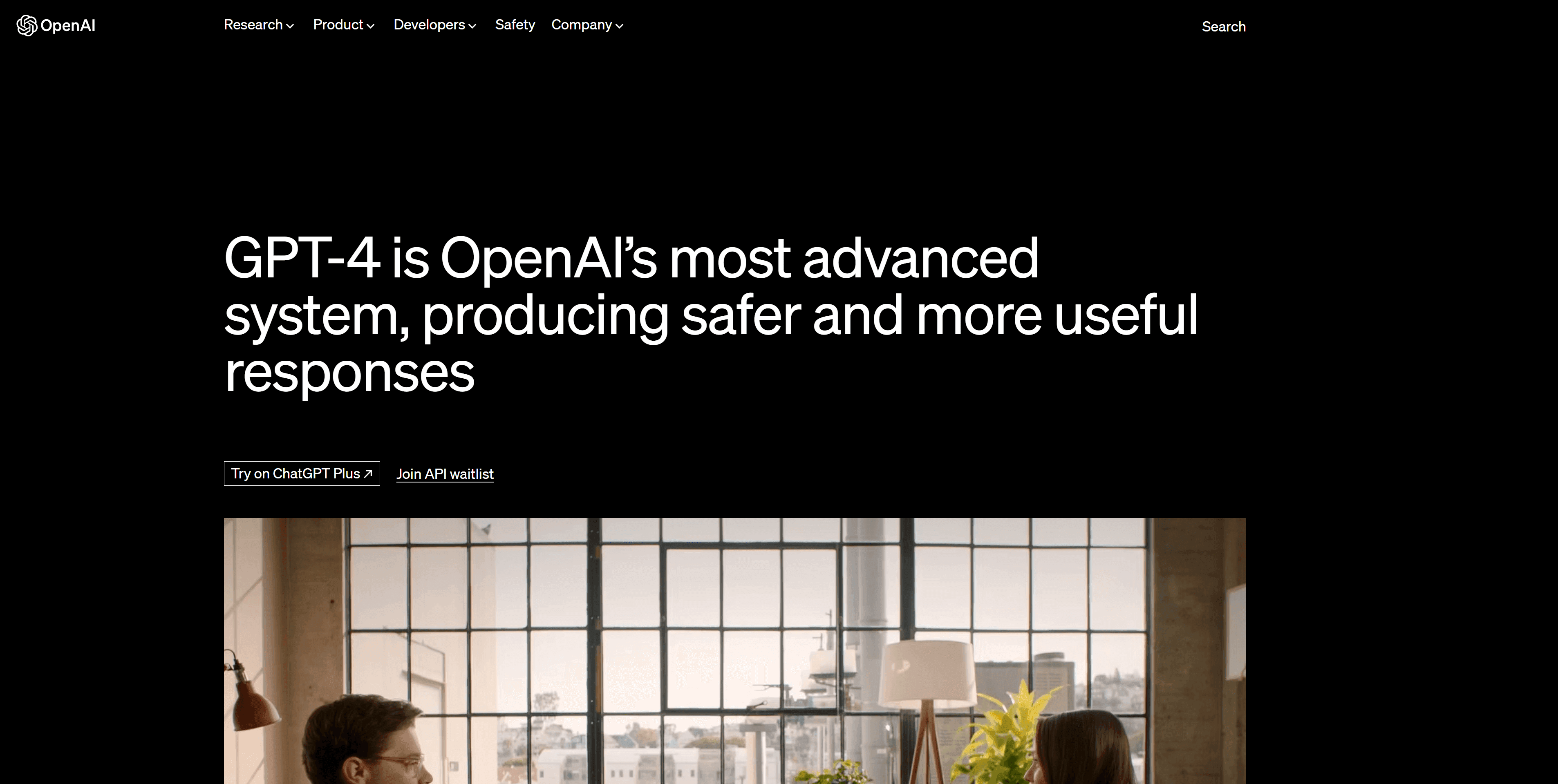 ChatGPT Conclusion:
You can convert ChatGPT into a great AI Essay Writing tool. It is an innovative natural language processing and powerful AI writing tool that can be a game-changer for students and professionals alike. While this perfect essay writer has its drawbacks, such as potential plagiarism issues and limitations in creativity, its numerous benefits make it an attractive option for those looking to enhance their writing process with AI technologies. You can save all the data as you like in Google Sheets, Word Docx or HTML format, and more. By offering different pricing plans, ChatGPT can cater to various requirements, making it a versatile artificial intelligence and valuable resource in today's fast-paced world. And making it one of the top picks. If you haven't already, start today with ChatGPT's free basic plan.
Jasper Ai
Artificial intelligence (AI) has been transforming industries across the globe, and generating content is no exception. Jasper AI, a generative AI platform for businesses, has been making waves in the content generation space, providing teams with a powerful tool to streamline their creative workflows. We'll dive into Jasper's newly announced business features, discuss its pros and cons, and compare pricing to help you decide if this AI-driven essay writing platform is the right fit for your business.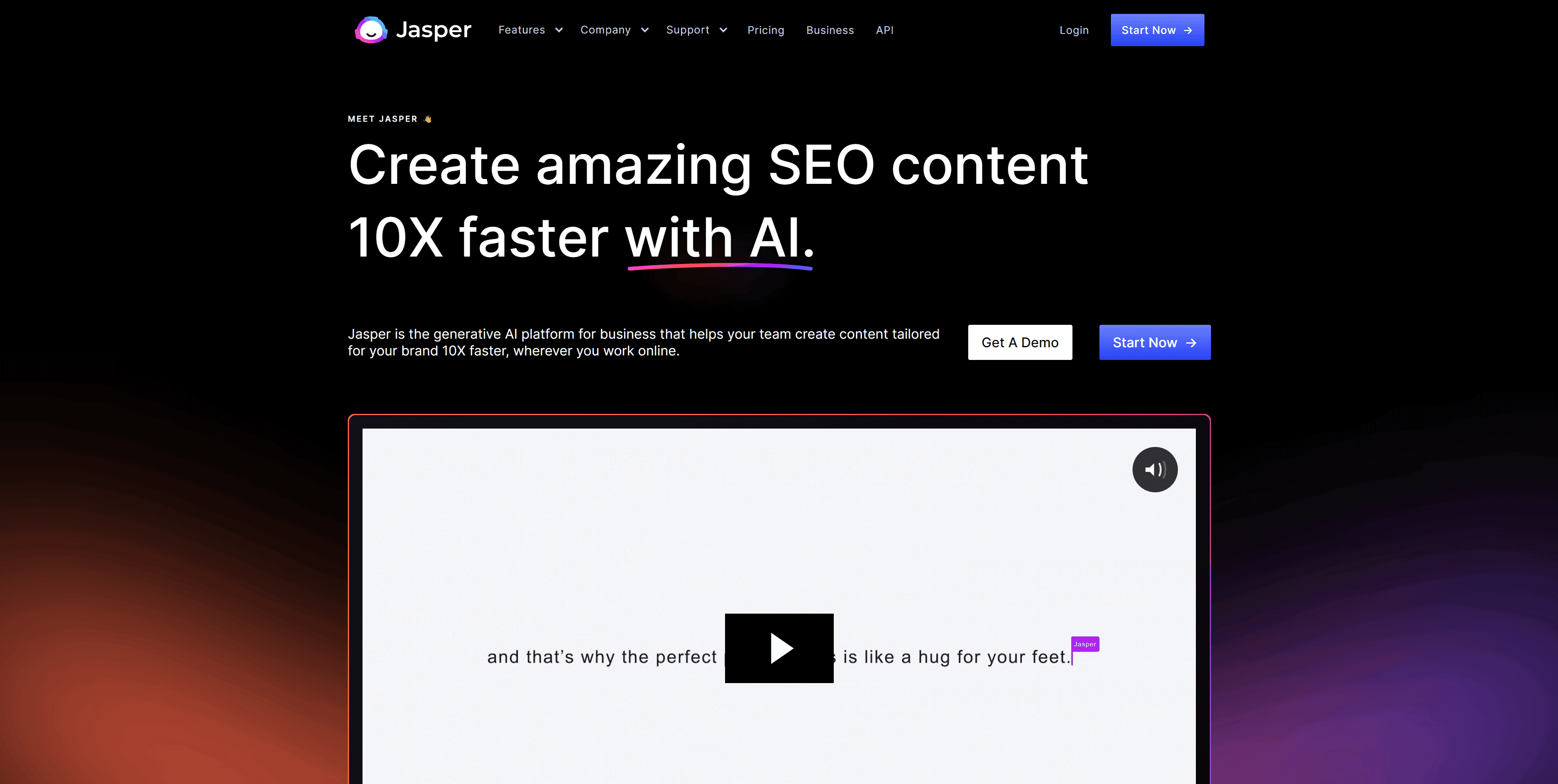 Jasper Ai Features:
Jasper's 2023 event unveiled some exciting new attributes specifically designed for businesses.
Tailor AI for your brand voice: Jasper AI writer can now be customized to match your brand's unique voice, ensuring that all data produced is consistent and on-brand.
Team collaboration: Collaborate with your team members as you create content, making it easier to share ideas and edits.
API access and extensions: Access Jasper's API to integrate the platform with your existing tools and workflows. Moreover, use browser extensions (available for Chrome and Edge) to create essays on the go, directly on your preferred platform.
Image by Freepik
Jasper Pros:
Time-saving: Jasper helps you create content 10 times faster, allowing you to focus on other important aspects of your business.
Versatility: The platform is a one-stop shop for creating a wide range of content, including essay writing, blog posts, social media captions, marketing copy, sales emails, SEO content, YouTube video titles, and generating ideas for any topic.
Multilingual support: Jasper AI supports 30+ languages, making it easier to create content for a global audience.
Real-time collaboration: Work with team members from around the world, ensuring that everyone stays updated and involved.
Fun and engaging: With Jasper, essay writing becomes an enjoyable process, unlocking your team's creativity and imagination.
Jasper Cons:
AI limitations: As an AI-driven platform, Jasper may occasionally produce data that is not up to par, requiring human intervention for editing and refinement.
Learning curve: While Jasper AI is designed to be user-friendly, it may take a bit for users to familiarize themselves with the platform and its elements. But it definitely performs time-consuming writing tasks within seconds.
Jasper Pricing:
For smaller businesses or individuals, Jasper pricing plans may seem expensive, particularly if they require access to advanced features.
Starter Plan ($49/month): 20,000 Words Per Month, Chat, 50+ Templates, Browser Extension
Boss Mode Plan ($99/month): 50,000 Words Per Month, Automated Workflow, Google Docs Style Editor, Compose & Command Features in Boss Mode plan.
Business Plan (Custom Pricing): All Pro options, plus API access, preferential support, custom branding, and a dedicated account manager.
Jasper Conclusion:
Jasper is a powerful tool to generate high-quality essays that can save hours and effort while unlocking their creative potential. Its tailored AI, team collaboration, and API access make it an even more valuable tool for businesses of all sizes. Also, you have a choice of various pricing plans like Starter, Boss Mode or Business. However, it's essential to weigh the benefits and drawbacks and consider your budget before deciding if Jasper is the right solution for your essay composing needs.
Rytr Ai
In the world of AI writing software, writer's block can be a significant obstacle for many professionals like essay writing. Enter Rytr, an AI writing assistant designed to help you generate high-quality content in just a few minutes at a fraction of the cost. With components like a rich-text editor, powerful project management tools, and an extensive range of use cases, Rytr aims to streamline the writing process and make it easier than ever to generate stunning copy. We'll explore the features of Rytr, its benefits, and how it compares to other essay generators available in the market.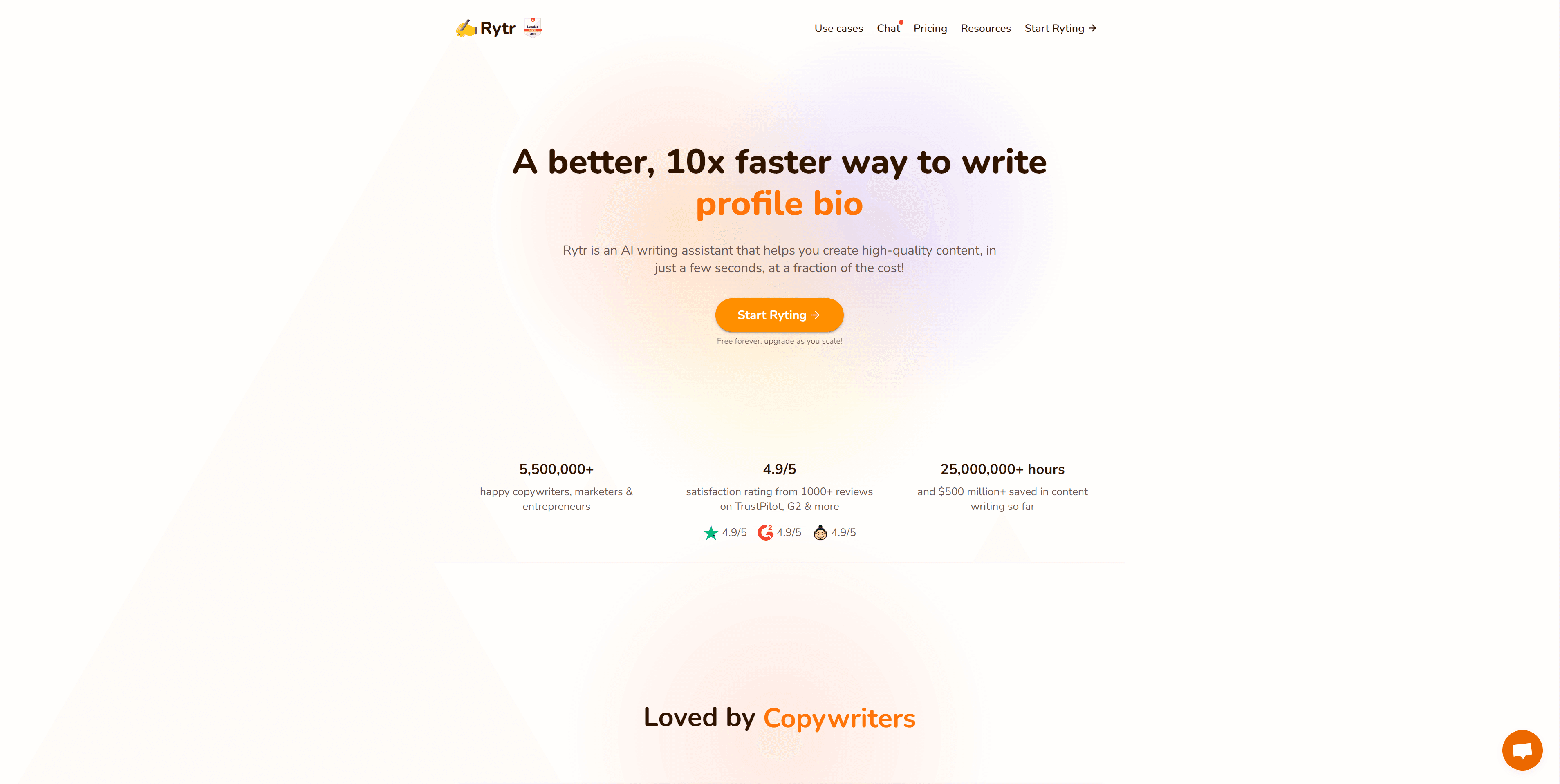 Rytr Features:
AI-Powered Content Generation: Rytr AI writer leverages state-of-the-art language to generate unique, original content for almost any vertical. With 40+ different types of use cases and templates and 30+ languages to choose from, you can create content for a diverse range of purposes and audiences.
Rich-Text Editor: Rytr's powerful editor allows you to go from generating ideas to polished pieces in seconds. You can reword, shorten, and improve essay quality, as well as check for plagiarism with the in-built checker.
Seamless Project Management: Rytr helps manage multiple projects, offering seamless collaboration, team billing, and robust project management options. You can store, organize, and navigate all your projects in one place.
Browser Extension: With Rytr's browser extension, you can create stunning copy while working on emails, social posts, or blog posts, ensuring your essays are always up to par.
All-in-One Writing Platform: Rytr offers a comprehensive essay writing platform, eliminating the need for multiple apps in your workflow. It provides powerful features like SEO analysis, responsive design, and integration with popular apps like WordPress and Shopify.
Rytr Pros:
Saving Hours: Rytr can save you hours of work by generating content quickly and efficiently.
Cost-effective: With plans starting at $9/month, Rytr offers one of the most affordable solutions on the market.
Versatile: Rytr's wide range of use cases and languages makes it suitable for various writing needs.
User-friendly: The platform's clean and super easy-to-use interface makes it the best tool for essay writing.
Collaboration: Rytr's team account feature allows you to manage members, access, and billing from one place.
Rytr Cons:
AI limitations: While Rytr's AI-generated essay is impressive, it may still require some editing to achieve the desired quality.
Fair Usage Policy (FUP) applicable: Rytr's plans have FUP, which may limit the usage for some heavy users.
Rytr Pricing:
Free: Free version is limited to 10k characters/month, 40+ use-cases, 30+ languages, and 20+ tones.
Saver Plan ($9/month): 100k characters/month, custom use-case, premium community access.
Unlimited Plan ($29/month): Unlimited characters/month, dedicated account manager, priority support. The Unlimited plan is suitable for high usage.
Rytr Conclusion:
Rytr offers a powerful and cost-effective artificial intelligence solution to generate quality content, eliminating blocks and making the process more efficient. With an extensive range of elements and a super easy-to-use interface, Rytr has the potential to revolutionize the way you approach essay writing. Its free plan makes it one of the most affordable AI essay generators. While there may be some limitations to AI content writing, the pros far outweigh the cons, making Rytr a worthy investment for all kinds of users.
Charley AI
If you're tired of struggling with writer's obstructions or facing sleepless nights trying to write essays and articles, look no further! Charley AI writer is a revolutionary essay generation tool that can turn your writing woes into a thing of the past. With over 1,000 students and 200,000 users relying on Charley to write more than 50,000 essays, this cutting-edge AI technology has proven to be a game-changer in the world of writing. Let's explore the features, pros and cons, and price of this fantastic go-to tool that is poised to change the way you write long-form content forever.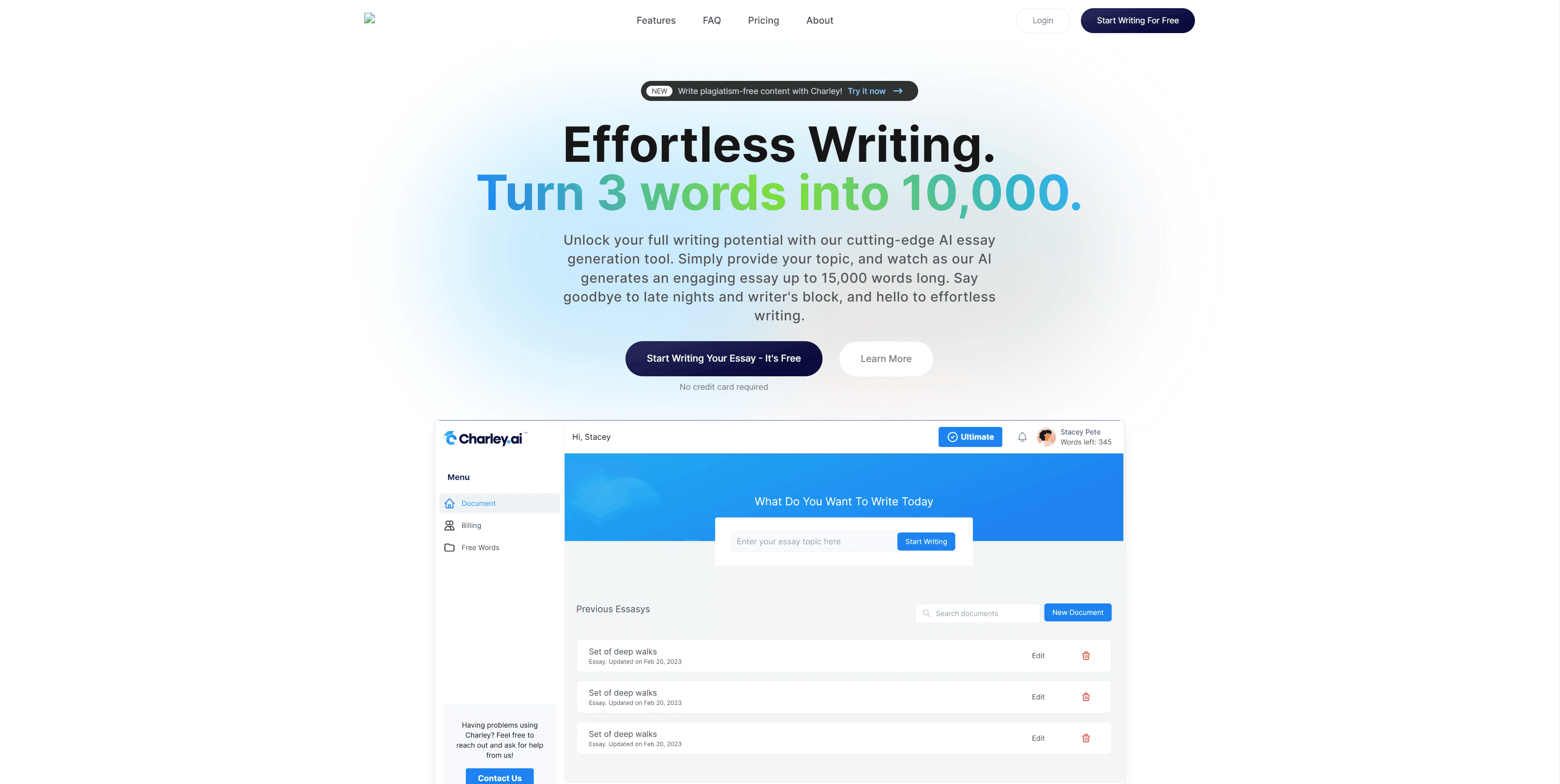 Charley AI Features:
Effortless Writing: Charley AI allows you to unlock your full essay writing potential by transforming just three words into a 10,000-word essay. The AI writes essays up to 15,000 words long, providing you with high-quality content in a matter of seconds.
Save Hours: With Charley AI, you can go from deciding on a topic to submitting your essay in seconds. This AI software identifies the ideal topics for your essay writing and provides insightful example essays to guide you along the way.
Get Inspired: Charley offers a range of sample essays to help you get inspired and hone your writing skill.
Get Better Grades: It adapts to your desired grade level, tailoring its writing tone and word choice to suit the grade you want your essay to be marked.
Intuitive Essay Generator: This tool comes with a simple text editor, making it effortless to generate essays without any hassle.
Reference Generator: The in-built reference generator helps you create in-text citations effortlessly, ensuring that your essay is well-referenced and formatted correctly.
Adaptive Writing Style: Charley AI's adaptive writing style ensures that your essay is tailored to your specific requirements and preferences that match your student's writing style.
Charley AI Pros:
Time-saving: Charley AI essay generator saves you countless hours that would have otherwise been spent on research, drafting, and editing.
Customization: You can personalize your academic writing by selecting the academic tone, essay type, word count, and desired grade. And so this tool makes it easy in terms of composing essays.
Plagiarism-free: Although you should always double-check with a plagiarism checker, Charley AI strives to generate unique long-form content output to avoid plagiarism issues.
Charley AI Cons:
Fact-checking: It's essential to fact-check the content output generated by Charley AI to ensure the accuracy and validity of academic essay writing.
Occasional similarity: While Charley AI aims to create unique essays, there may be instances where some sentences are similar to those found online. Always double-check your work to avoid any issues.
Charley AI Pricing:
Charley AI offers three plans to cater to different needs:
Mini Plan ($8.99/month): Perfect for students and personal use. Includes document export, copy/paste functionality, and 12,000 words per month.
Student Plan ($13.99/month): Ideal for high-school and graduate students. Comes with everything in the Mini Plan, plus 24/7 live chat support and 35,000 words per month.
Ultimate Plan ($18.99/month): Best for busy professionals and businesses. Offers everything in the Student Plan, plus the ability to import rubrics and task sheets and a whopping 100,000 words per month.
Charley AI Conclusion:
Charley AI Writer is an innovative and powerful AI writing tool that has the potential to transform the way students and professionals write. With its simple user interface, customizable options, and reasonable price, it's definitely worth giving a try. It's tried and tested by many students and professionals, making it one of the best AI essay writers. Say goodbye to writer's block and hello to effortless essay writing with Charley AI!
ContentBot
The digital marketing landscape is evolving at a rapid pace, and content quality is becoming more challenging than ever. As a marketer, copywriter, or content creator, you need a robust solution to stay ahead of the game. Enter ContentBot, an AI-powered content generation platform that helps you automate your essay writing, marketing, write blog posts, paraphrasing, ads, and so much more. Let's dive into the features, pros and cons, and price of this innovative tool that has already won the hearts of 122,000 marketers worldwide.
ContentBot Features:
ContentBot is packed with an extensive range of options designed to cater to all kinds of creators, including founders, content marketers, digital marketers, students, copywriters, SEO specialists, and bloggers.
Some of the key elements include of this great tool:
Blog Post: Generate ideas and content for blog posts, blog topic ideas, intros, bullet point expansion, tone changes, paraphrasing tools, and more.
Marketing: Create ad copy, brand names, slogans, product descriptions, marketing ideas, and more.
Landing Pages: Quickly generate ideas for landing page copy with the powerful landing page creator.
Automated Inspiration: Receive daily, weekly, or monthly blogs topic or full blog posts automatically.
Multilingual Support: Create content in over 110 languages to reach new markets.
45+ AI Tools: Access a wide variety of tools to write blog posts, tweets, sales emails, marketing copy, and more.
ContentBot Pros:
Increased Productivity: ContentBot significantly reduces the duration spent on creating relevant content, allowing you to focus on other aspects of your business.
Enhanced Quality: The AI-generated content is unique, original, and of high quality, which helps improve your brand image and credibility.
Cost-Effective: ContentBot offers various plans to suit different budgets, making it an affordable solution for businesses of all sizes.
Easy to Use: The platform is user-focused and intuitive, enabling users to generate essays effortlessly. And so, creating essays is an easy task.
Regular Updates: The team behind ContentBot is constantly adding new tools to enhance your essay writing experience.
ContentBot Cons:
Editing and Fact-Checking: AI-generated content might still require some editing and fact-checking to ensure it meets your specific requirements.
Limited Creativity: While AI-generated content is impressive, it might not always match the creativity and depth of human-written content.
ContentBot Pricing:
ContentBot offers four pricing plans with word limits to cater to different needs and budgets:
Prepaid ($1/1000 words): one-off payment, 15k to 5m words, unlimited seats, and access to all options. (Not suitable to generate unlimited words article writing).
Starter ($19/month): 50,000 words/mo, unlimited seats, and access to all elements.
Premium ($59/month): 150,000 words/mo, unlimited seats, and access to all options, with advanced support.
Premium+ ($99/month): 400,000 words/mo, unlimited seats, access to all features, 2 human-enhanced AI blog posts written for you per month, and advance support.
ContentBot Conclusion:
ContentBot is an innovative artificial intelligence content writing software that can help you turbo-charge your content marketing efforts. With its wide array of selections, easy-to-use interface, and competitive price, ContentBot is a valuable addition to any creator's toolkit. Its prepaid plan makes it one of the most affordable Artificial Intelligence essay composers. However, keep in mind that AI-generated content might still require some editing and fact-checking to meet your specific needs. Give ContentBot a try and see how it can revolutionize your essay composition process!
Article Forge
In today's fast-paced digital world, creating quality content has become a crucial aspect of running a successful online business. With the rise of AI and machine learning algorithms, tools like Article Forge are transforming the essay composition landscape. We will dive into the features, pros and cons, and price to help you decide if this AI writing assistant is one of the best AI writing tools.
Article Forge Features:
End-to-End Article Generation: This AI tool can write cohesive articles and better essays from start to finish, including natural sections and subsections, based on your keyword and desired length.
Customizable Instructions: By providing instructions, you can ensure that the generated data is more focused, relevant, and useful for your target audience.
Extend and Improve Articles: You can extend your articles indefinitely and add headers, subheaders, and sections as needed.
Write About Breaking Topics: Article Forge offers research as you write, allowing you to create relevant and accurate articles about current events.
Pass AI Content Detection: With the "Avoid AI Detection" feature enabled, the data will pass Artificial Intelligence content detectors as human-written.
Create in a Bulk: Generate hundreds of articles in one click using the bulk generator or integrate this tool into your content pipeline through the API, which makes it the best tool for writing.
Uniqueness You Can Trust: All articles generated by ArticleForge are completely unique, passing Copyscape with zero duplicate content.
Article Forge Pros:
Ccost-effective solution for composing high-quality, search engine optimized articles.
User-friendly interface and easy customization options.
Advanced research capability ensures up-to-date and accurate data.
Scalable solution for businesses of all sizes.
Article Forge Cons:
Some users may find the generated data lacking in depth or personal touch.
It may require proofreading and editing to match your brand's voice and style.
The AI may occasionally generate irrelevant or nonsensical sentences.
Article Forge Pricing:
This cool tool offers two options for pricing plans:
Standard Plan ($13/month): 25,000 words, 1 User, AI-powered writer, passing Copyscape, auto blog posting, bulk generation, API access.
Business Plan (Custom): 500,000+ words, All standard options, increased throughput, dedicated account manager.
Article Forge Conclusion:
Article Forge is a powerful AI-driven content generation tool that offers an efficient and cost-effective solution for businesses looking to create high-quality, unique articles. With customizable instructions, it can produce content that is both engaging and relevant to your target audience. However, it may require some editing for written text and proofreading to match your brand's voice and style.
With a 5-day free trial and a 30-day money-back guarantee, there's no risk in giving Article Forge a try. If you're looking to streamline your creative content process and save hours and money, this might just be the solution you've been searching for all your writing needs.
Writesonic
In the digital era, creating high-quality, engaging, and SEO-optimized content is crucial for businesses, students, marketers, and entrepreneurs. With the ever-evolving landscape of AI technologies, finding the perfect AI writing tool can be challenging. Enter Writesonic, a state-of-the-art AI writing assistant that promises to revolutionize how you create content. We'll take a closer look at Writesonic's pros and cons and price to help you decide if this is the right tool for you.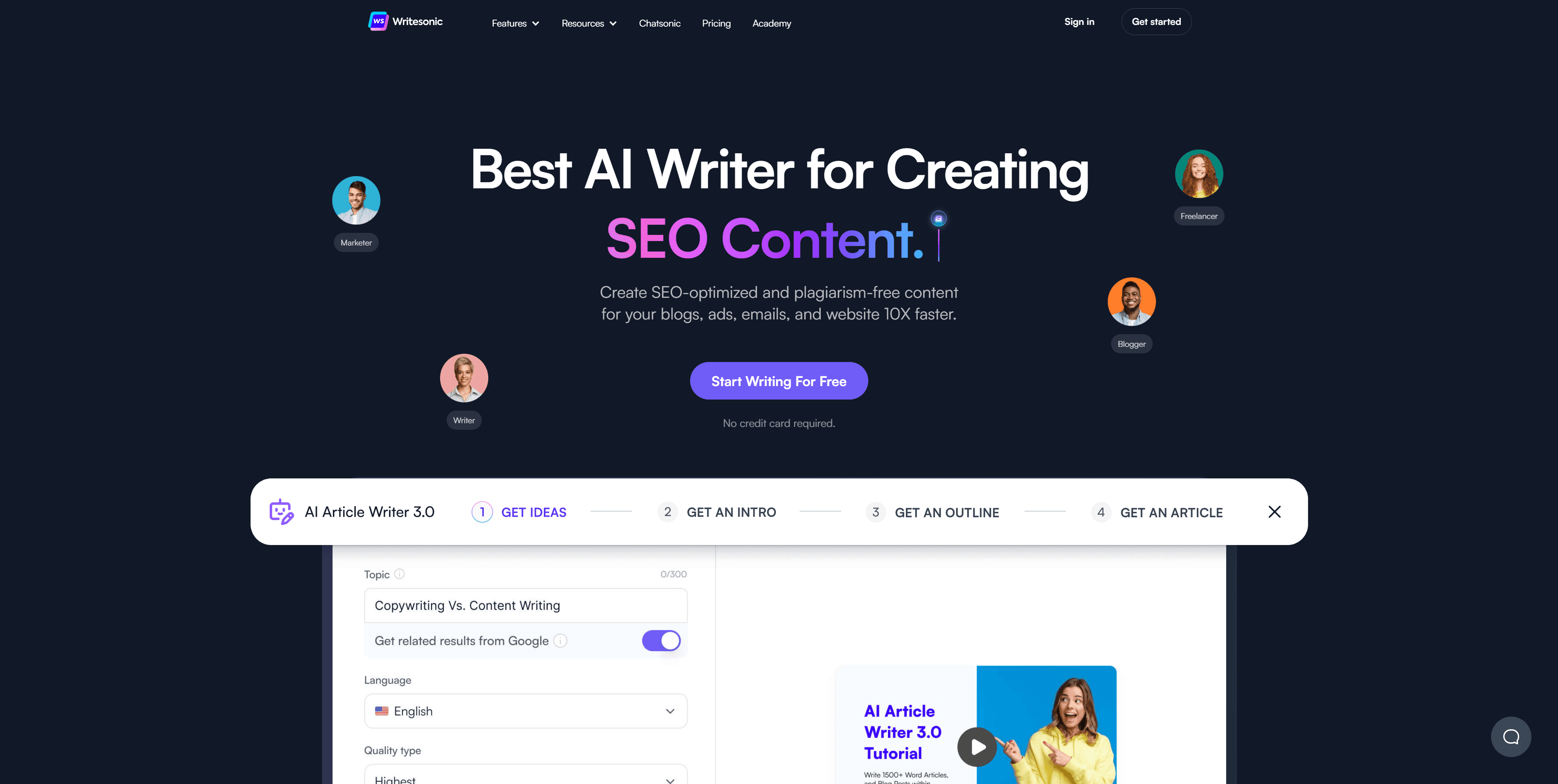 Writesonic Features:
Writesonic AI writer offers a wide array of features designed to cater to different content creation needs.
Some of the key elements include:
AI Article & Blog Post Writer: Generate long-form content such as blogs, articles, generating essays, and even ebooks with ease.
Paraphrasing Tool: Rewrite and rephrase your content with the help of Artificial Intelligence to ensure it's free from plagiarism and unique.
Sentence Expander & Content Shortener: Tailor your content's length to suit your specific needs.
Social Media Ad Copy: Create engaging ad copy for platforms like Facebook, Google, and LinkedIn to boost conversions and sales.
Product Descriptions & Benefit Bullet Points: Enhance your e-commerce store's SEO and increase sales with compelling product descriptions.
SEO Keywords: Optimize your articles with the right keywords to rank higher on Google search results.
AI Image Generator (Photosonic): Turn text prompts into stunning images for your marketing campaigns.
Integrations: Connect with popular platforms like WordPress, Shopify, Wix, and Zapier for seamless publishing.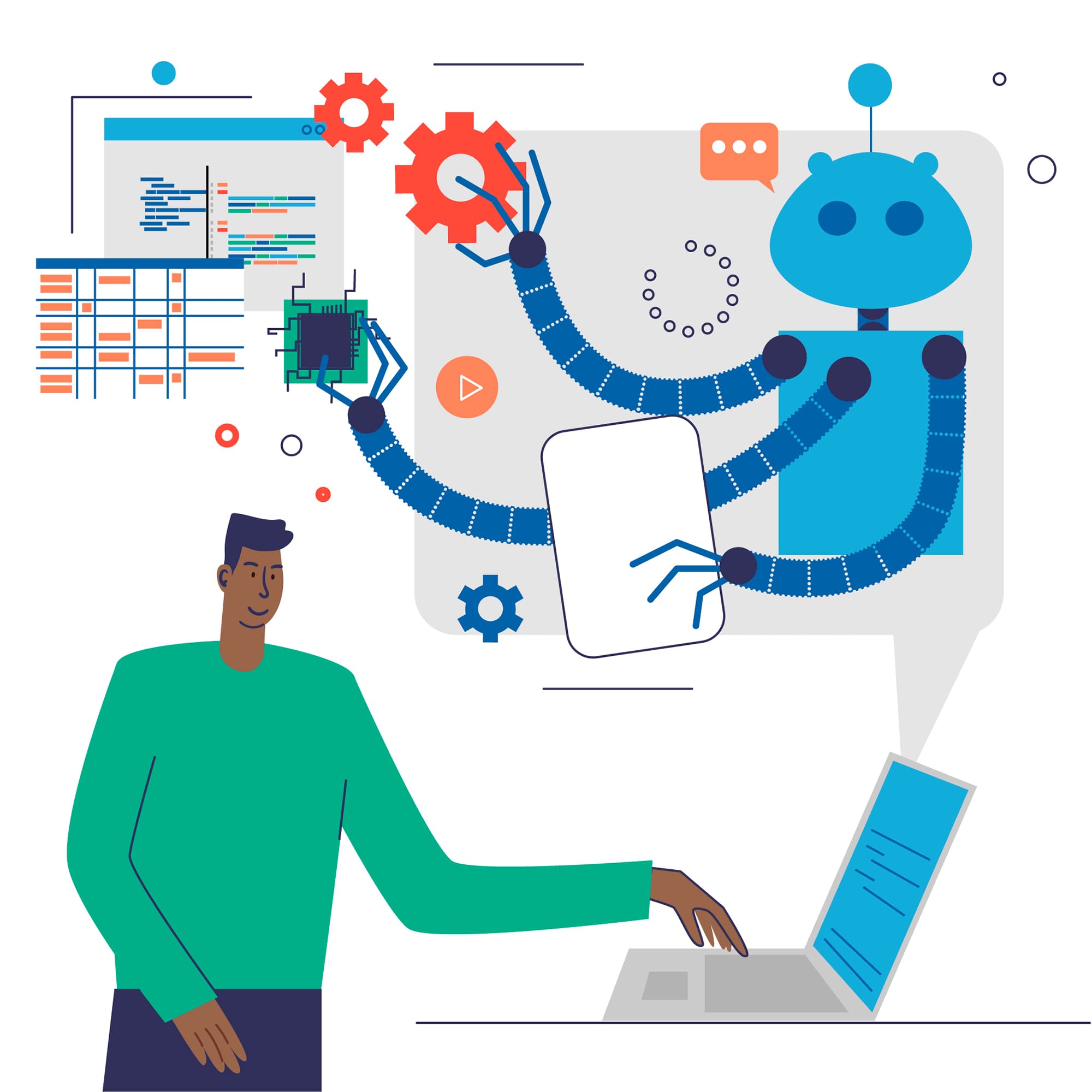 Image by Freepik
Writesonic Pros:
Comprehensive Feature Set: Writesonic offers a wide range of AI-driven content creation tools for various requirements.
SEO-Optimized Content: The AI-generated content is designed to help you rank higher on search engines.
Plagiarism-Free: This tool guarantees unique, 99% plagiarism-free content.
Multilingual Support: It supports 24 languages, allowing you to create essays in your preferred language.
Affordable: Compared to competitors like Jasper (Jarvis), Writesonic offers more options at a lower cost.
Positive Reviews: With over 10,000 reviews on reputable review sites, Writesonic is a trusted and reliable AI writing platform.
Writesonic Cons:
Limited Free Trial: The free trial offers a 10,000 Premium word count, which may not be enough for some users to evaluate the platform thoroughly. But it's worth trying for this great essay generator.
Learning Curve: Some users may require a bit to familiarize themselves with the platform's various options and capabilities.
Writesonic Pricing:
Free Trial: Includes 10,000 words, access to 100+ templates, and basic integrations.
Long-form Plan ($12.67/month): Includes 60,000 words, GPT-4 access, API access, bulk processing, Surfer SEO integration, and preferential support.
Custom Plan (Custom): Tailored for teams and businesses, this monthly plan includes custom word count and user limits, custom AI development, invoicing options, dedicated account management, and premium support.
Writesonic Conclusion:
Writesonic is a powerful AI natural language processing writing software that offers an extensive range of elements to cater to the needs of writers, social media marketers, entrepreneurs, and businesses. With its SEO-optimized, plagiarism-free content, multilingual support, and affordable plans, this app stands out as a top choice for content creators. The platform's few drawbacks, such as a limited free trial and a slight learning curve, are easily outweighed by its numerous advantages. So, if you're looking for robust and versatile AI writing tools to streamline your content creation process and boost your online presence, Writesonic is definitely worth considering to write articles, essays, blog posts, and more. Sign up for the free trial today and experience the power of AI in transforming your content strategy.
EssayAiLab
Essay writing can be a daunting task, especially when you're juggling multiple assignments and deadlines. Fear not, EssayAiLab's is here to help you craft the perfect essay without breaking a sweat. Empowered by Artificial Intelligence, this innovative platform offers numerous options that assist you in every step of writing essays. We will take a closer look at EssayAiLab to discuss its pros and cons and provide a comparison with other AI writing tools on the market for students.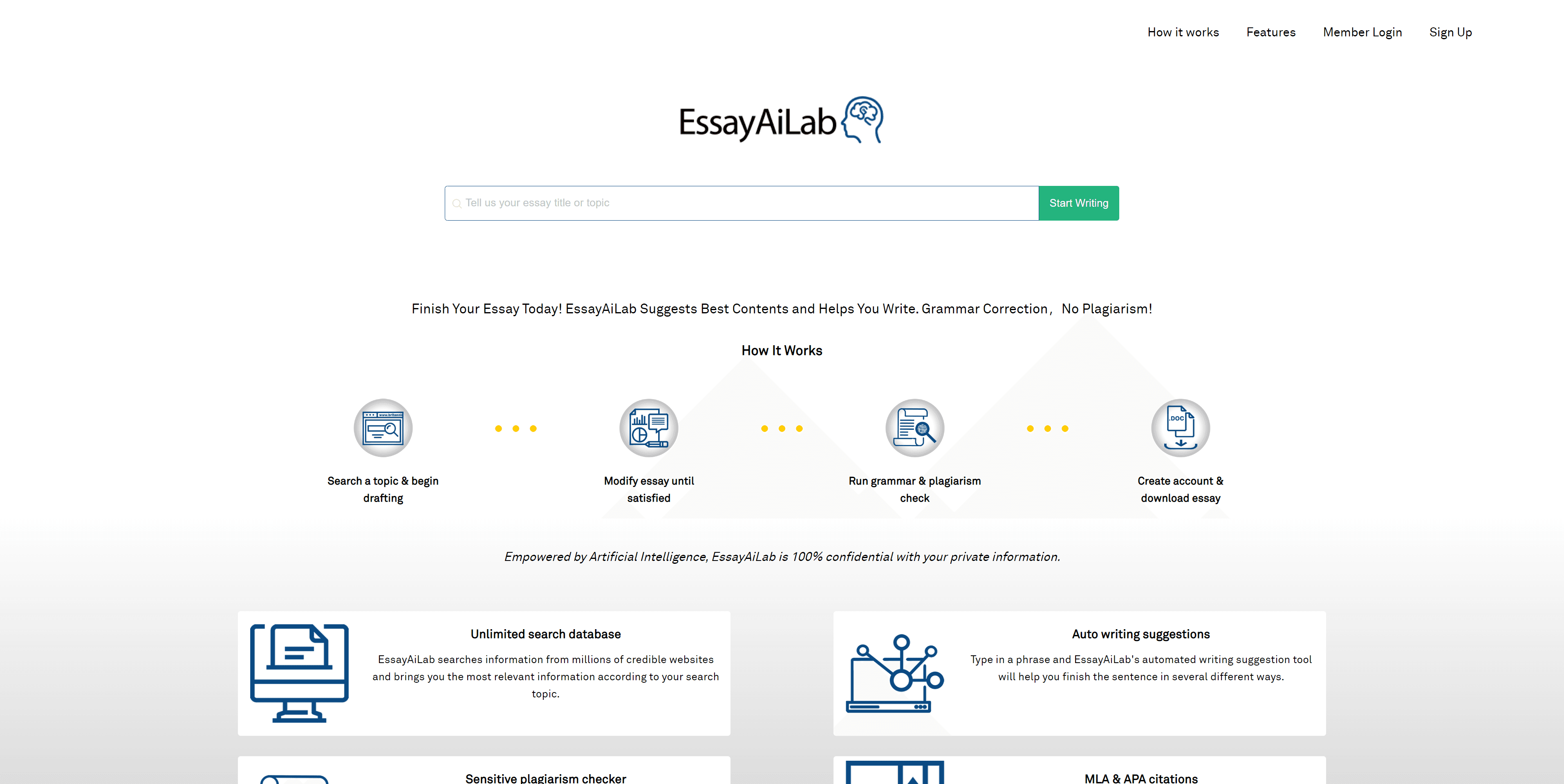 EssayAiLab AI Essay Writing Tool Features:
Unlimited search database: EssayAiLab scours millions of credible websites and research papers to provide you with the most relevant information for your topic, ensuring that your essay is well-researched and informative with this AI writing tool.
Auto writing suggestions: Stuck on a sentence? Just type in a phrase, and EssayAiLab's automated writing suggestion tool will offer several ways to complete your thought for academic writing.
Sensitive plagiarism checker: EssayAiLab's sophisticated plagiarism checker paraphrases your essay to ensure it passes Turnitin.com and other plagiarism detection tools.
MLA & APA citations: With a simple click, generate standardized MLA and APA citations to properly credit your sources.
Unlimited essay downloads: Enjoy access to unlimited essay help and downloads, making it easy to complete multiple assignments.
Top-notched grammar checker: Don't worry if the grammar isn't your strong suit. EssayAiLab's grammar mistakes checker identifies and corrects any grammatical errors in your essay. AI has a better understanding of it.
EssayAiLab Pros:
Time-saving: EssayAiLab's automated features significantly reduce the time spent on research, writing an essay, and editing.
Improved essay quality: With access to credible sources and AI-generated suggestions, the overall grade of your essay is greatly enhanced.
Confidentiality: Your private information is always secure with EssayAiLab.
User-friendly interface: The platform is easy to navigate, making it suitable for users of all ages and skill levels.
EssayAiLab Cons:
Limited to MLA & APA citations: EssayAiLab currently only supports MLA and APA citation styles, which may not cover all academic requirements.
Subscription-based: To access all the options, users must sign up for a subscription, which may not be affordable for everyone.
EssayAiLab Pricing:
FREE: EssayAiLab is a Free AI essay-writing software. You can choose an essay topic, modify it, check for grammar and plagiarism, and download it by simply signing up with EssayAiLab makes it one of the great essay-writing tools.
EssayAiLab Conclusion:
EssayAiLab stands out as a powerful and user-oriented platform that simplifies the essay writing process amongst other free AI writers. Its AI-powered elements, such as the unlimited search database, auto-writing suggestions, and grammar checker, make it an invaluable tool for students and professionals alike. While there are some limitations, such as support for only MLA and APA citation styles, the overall benefits of using EssayAiLab far outweigh its drawbacks. You can have a great essay in just a few minutes with this great essay-writing software. Considering its competitive pricing and comprehensive usability, EssayAiLab is a fantastic tool for those looking to streamline their essay-writing experience.
EssayPal
Are you tired of struggling to come up with the right phrases when writing an essay? Do you find yourself staring at a blank page for hours, unable to put your thoughts into words? If so, you may be interested in EssayPal, an AI-powered writing assistant designed to help you overcome writer's block and improve your academic writing. So let's see if EssayPal meets the needs of you.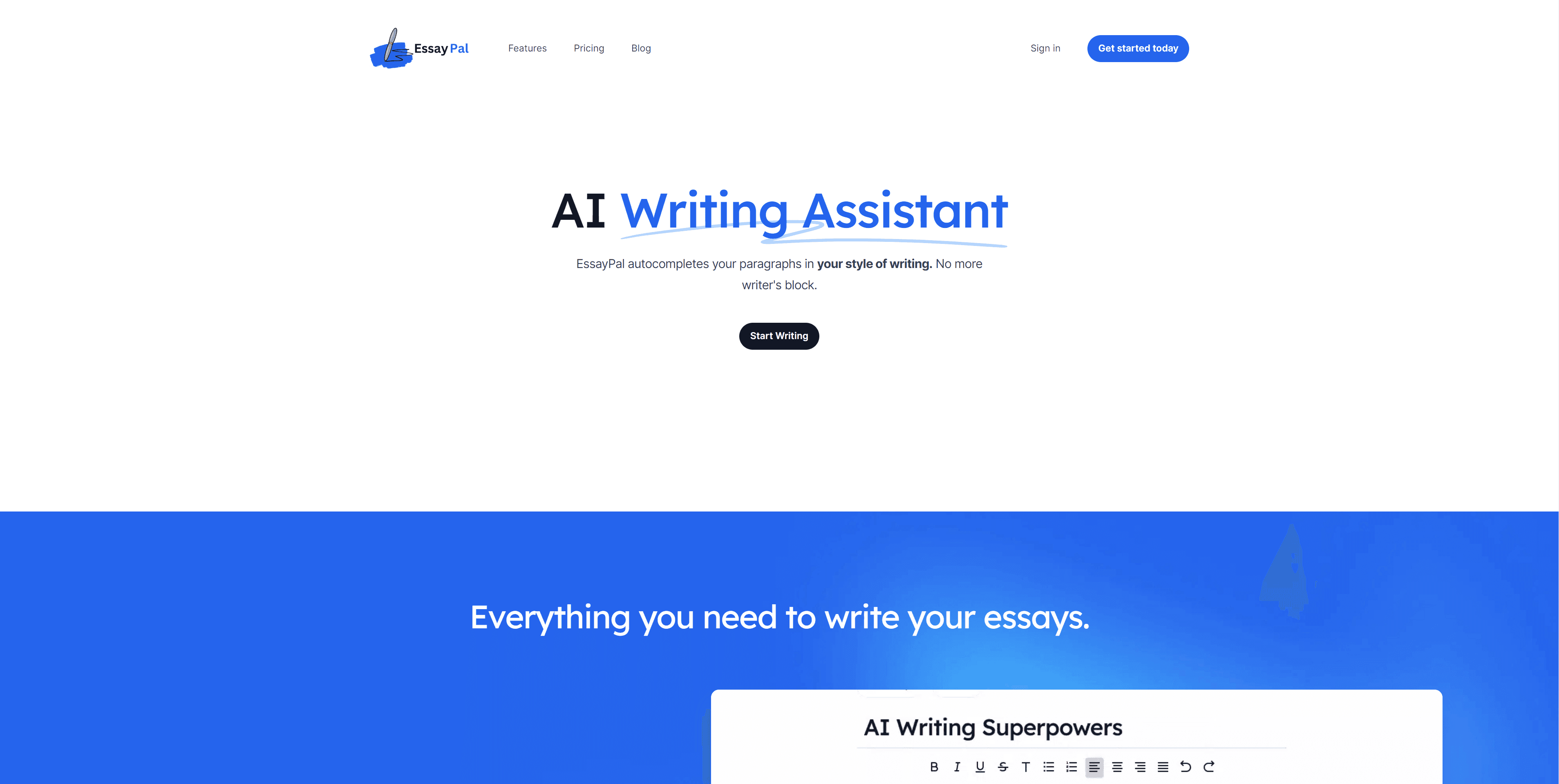 EssayPal AI Writing Tool Features:
AI-generated paragraphs that match your writing tone: EssayPal uses advanced algorithms to analyze your writing tone and generate long-form articles that match your academic tone and style.
Unlimited grammar and spelling suggestions: The software also provides unlimited grammar and spelling suggestions to help you communicate your ideas more effectively.
Continuous improvements: EssayPal is constantly learning and improving its advanced algorithms, so the more you use it, the better it becomes at generating paragraphs that match your writing tone.
EssayPal Pros:
Saves time: With EssayPal, you can quickly generate paragraphs that match your writing tone, saving you hours and reducing the stress of long-form essay writing.
Improves writing skills: By using EssayPal, you can learn from the AI-written paragraphs and improve your own writing skills over the period.
Originality: The output from EssayPal is completely original and passes all plagiarism checks so that you can use it with confidence.
EssayPal Cons:
Limited customization: Currently, EssayPal does not offer customization of the output from the AI essay writer tool.
Monthly fee: While the free essay writer version provides a limited number of AI generations, the premium plans come with a monthly fee.
EssayPal Pricing:
Free Plan: Includes 5 AI generations, 1 essay, and unlimited Grammarly suggestions.
Monthly Premium Plan ($5/month): Includes 1000 AI generations, 10 essays, and unlimited Grammarly suggestions.
Yearly Premium Plan ($3/month billed annually): Includes 1000 AI generations, 10 essays, and unlimited Grammarly suggestions. It's a great deal for a yearly plan if you don't want to pay a high monthly plan pricing.
EssayPal conclusion:
EssayPal is an AI essay writing software that can help you overcome writer's block and improve your writing skill. While this AI tool may not offer customization options and comes with a monthly fee, its skill-building elements make it one of the most valuable AI writing tools for anyone looking to improve their writing.
Overall AI Tools Usability Conclusion:
Benefits of Using AI Essay Writing Software:
Time-saving: Such tools can significantly reduce the hours spent on researching and drafting, allowing users to focus on more critical tasks. It can help you to write a few thousand-word article length in just a few minutes.
Consistent Quality: AI tools maintain a consistent level of quality throughout the content, ensuring a professional and polished final product.
Accessibility: These AI tools cater to writers of all skill levels, making it easier for beginners to create compelling essays.
Language Assistance: AI essay writer tools can translate content into multiple languages, helping users reach a broader audience.
Drawbacks of Using AI Essay Writing Tools:
Lack of Creativity: AI-generated content may lack the creativity and nuance that human writers bring to their work. So choose your AI essay writing software carefully.
Ethical Concerns: The widespread use of AI essay writer tools raises concerns about plagiarism and the potential loss of jobs for human writers.
Overdependence: Relying heavily on AI writers might hinder the development of critical thinking and writing skill.
So check for every AI tool's pros, cons, and pricing and make your selection of the best AI essay writers that can generate unique content with just a few clicks.
Frequently Asked Questions (FAQs):
What is the best AI essay writer website?
You can visit charley.ai, jasper.ai, and rytr.me if you are looking for the best AI essay writer website. These websites can write you a tailored essay for your topic, provide suggestions and save hours and effort.
What is the best AI long form writer?
Jasper, Rytr, Charley, Writesonic, and ChatGPT are the best long from writers. Some of them come with premade templates to make the writing experience extra-ordinary.
Is there an AI that generates essays free?
ChatGPT is a free AI tool to generate any kind of content. You can generate essays, blogs, marketing ideas, ads, and many other things for free. However, it does not support GPT-4 language model with the free plan.
Is there an AI app that will write for you?
There are many AI apps that write for you, but if you are looking for a specific type of content writing, like essays, Charley AI is the trusted app by over 250,000 students.
Best AI Essay Writer
AI Writing Software
AI Writing Tools
Essay Writer
Artificial Intelligence
Natural Language Processing
AI Tools
AI Essay Writers
Rishit Patel
Sun Apr 23 2023
Join thousands of AI enthusiasts in the World of AI!