9 Best AI Newsletters: Breakthroughs in AI and ML [Jul 2023]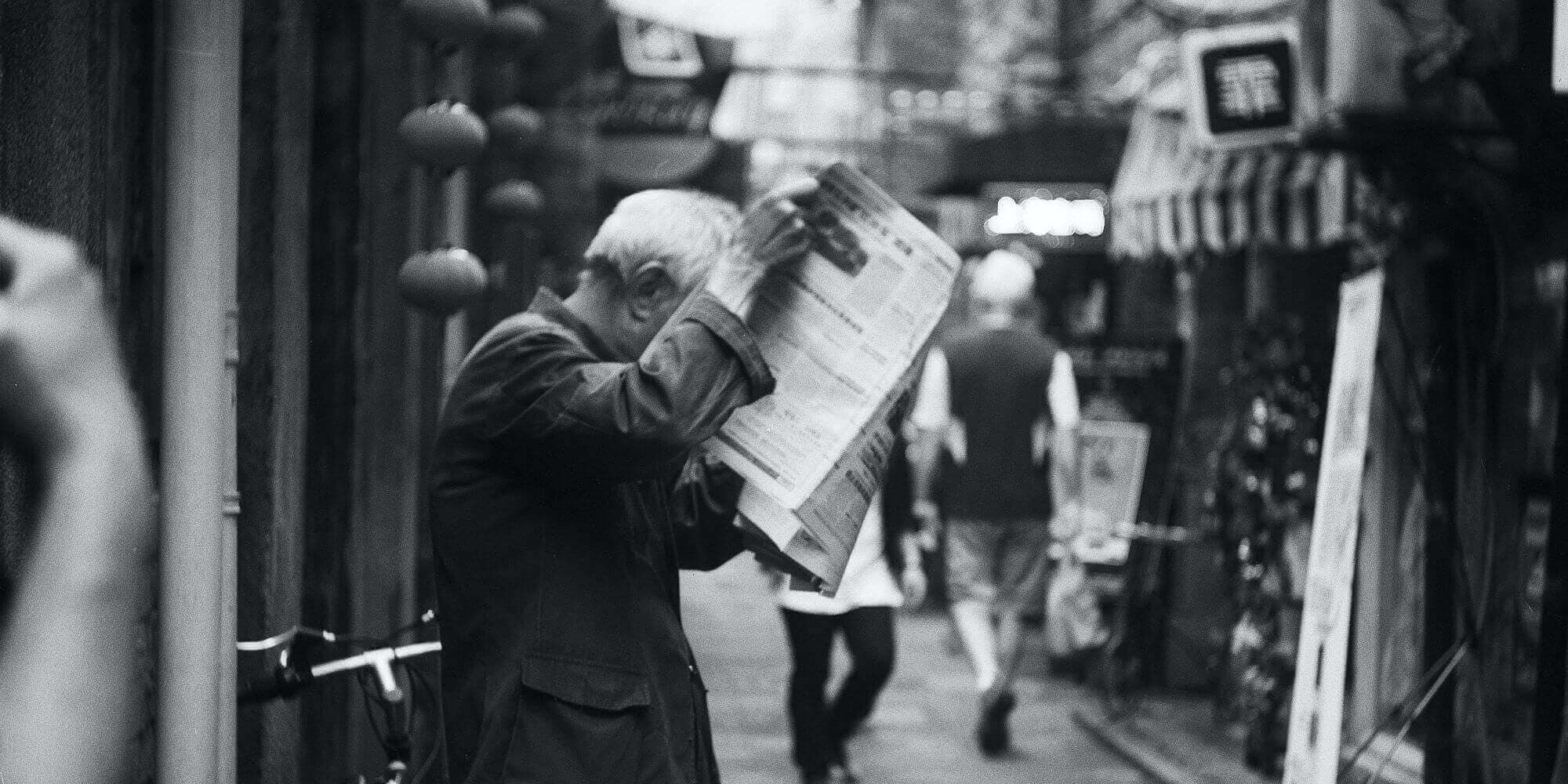 Are you curious about the latest breakthroughs in artificial intelligence? Look no further than AI newsletters. These valuable sources of information keep you updated on the ever-evolving world of AI technology. From cutting-edge trends to groundbreaking advancements, it caters to individuals who want to stay informed about this rapidly growing field.
As AI continues its ascent, staying up-to-date with industry news has become essential. That's where newsletters come in handy, as they provide a convenient way to access curated content (TLDR) and expert insights without overwhelming yourself with endless searching. So, if you're ready to dive into the exciting realm of artificial intelligence, subscribe to the top AI newsletter today and join the community at the forefront of innovation.
9 Best AI Newsletters
If you're looking for a reliable source of information on the latest developments in AI, subscribing to a curated list of newsletters is a great option. These newsletters provide valuable insights, updates, and analysis straight to your inbox.
World Of AI
World of AI is the official weekly newsletter by aitools.fyi. It covers various information related to artificial intelligence. World of AI newsletter features posts about various AI-related news, AI tools, and comparisons. Some of the featured posts include blog posts on AI battles, AI investments, AI ethics, and the impact of AI on various industries. The newsletter also provides comparisons of different AI tools.
AiTools.fyi also has various categories of AI tools to get help with content writing, video generation, audio creation, and others. The huge AI tools list can benefit students, engineers, content creators, data scientists, professionals, and formal audiences.
This newsletter covers everything, like how to use AI tools to increase productivity and save time. So if you are looking to get offers on AI tools and tech knowledge and stay up to date about AI, subscribe to the World of AI newsletter.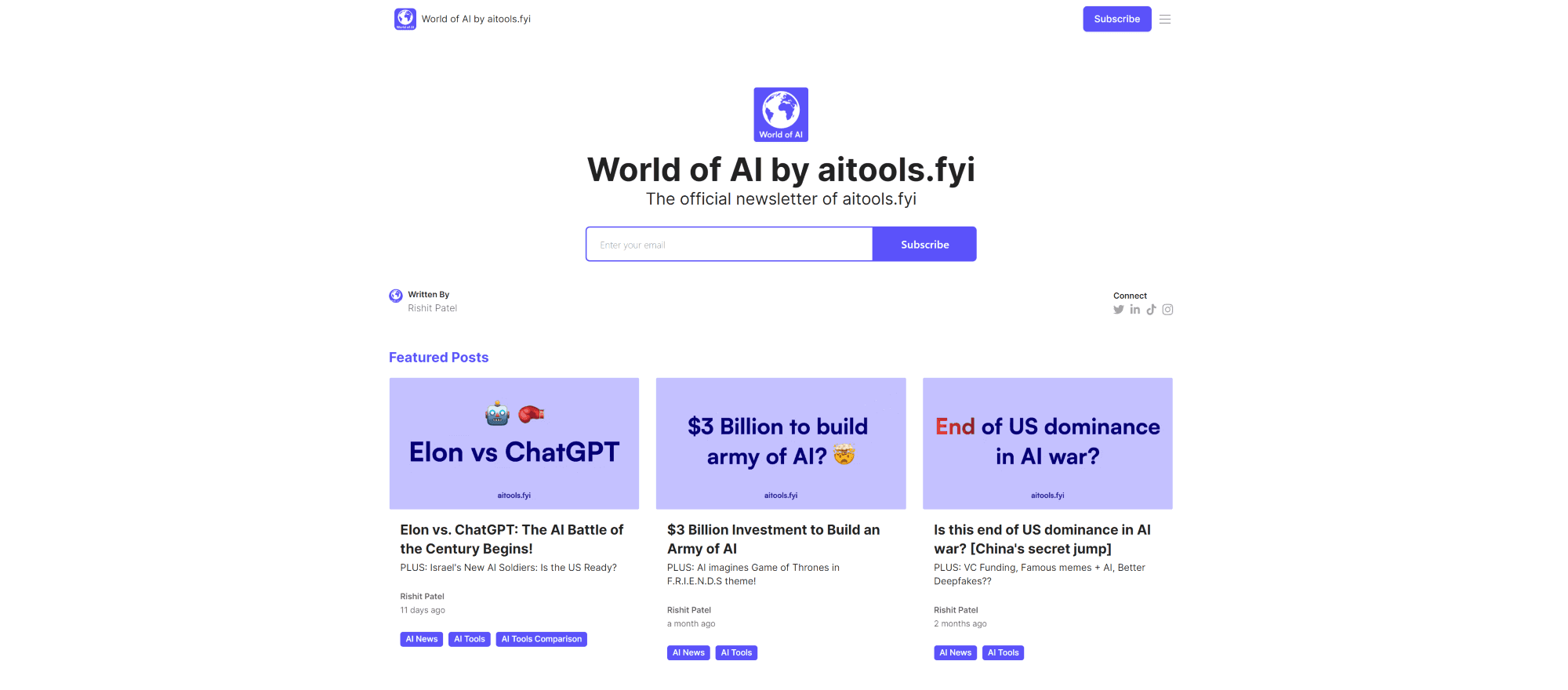 Ben's Bites
Ben's Bites is a daily digest that provides top AI product launches and stories from the past 24 hours. It serves as a platform for founders to find customers and investors by launching their products with them. The newsletter is read religiously by experts from renowned organizations such as Sequoia, a16z, Benchmark, OpenAI, NVIDIA, Deepmind, Microsoft, Google, and many more.
The content of the newsletter spans a wide range of AI-related topics, including AI product launches, AI news, and significant events in the AI industry. Some recent blog posts covered Google's Frontier Model Forum, Open AI shutting down its AI detector, Bing Chat in Chrome and Safari, and the White House's mega-deal with AI companies.
Inside
Inside offers a variety of newsletters across multiple topics. And they are designed to help subscribers get more thoughtful about their areas of interest with new articles almost every day. The frequency of publication varies depending on the topic. Some articles are covered in a daily newsletter, and some are published in a weekly newsletter.
Synthetic Mind
Synthetic Mind is a newsletter trusted by over 70,000 readers for its content on artificial intelligence. The newsletter covers many AI-related blog posts, providing insights, news, and updates about the AI industry.
Some of the articles covered in the Synthetic Mind newsletter include AI lawsuits, productivity tools powered by AI, AI app creation, AI company updates, and various other AI-related news and events. The newsletter also discusses the impact of AI on different sectors and the controversies surrounding it.
Deep Learning Weekly
Deep Learning Weekly is a newsletter that brings everything new and exciting in the world of deep learning every week, from academia to the tech industry. It covers multiple topics related to deep learning, including new research, industry news, and practical applications.
With over 22,000 subscribers, it publishes weekly new articles that typically include a summary of the latest developments in deep learning. It provides a precise overview of topics or research papers for readers who want to delve deeper into AI news and Machine Learning.
AI Breakfast
AI Breakfast is a newsletter with a curated list of weekly analyses of the latest AI projects, products, and news. The newsletter covers various topics related to artificial intelligence, including developments in AI technology, AI ethics, AI applications in multiple industries, and the latest news and events in the AI world.
AI Weekly
AI Weekly is a newsletter that offers a curated list of AI news and resources on Artificial Intelligence and Machine Learning. The newsletter is published weekly and is free to subscribe to.
The newsletter overview spans various AI-related topics, including news about AI projects and products, applied use cases, AI ethics, robotics, data science, and research. The newsletter also links to more detailed articles or research papers for readers who want to delve deeper into the topics.
TLDR AI Newsletter
TLDR AI is a daily newsletter that concisely summarizes the most interesting stories in AI, machine learning, and data science. The newsletter aims to help subscribers keep up with the latest developments in the AI world.
The newsletter articles include links and TLDRs (Too Long Didn't Read) of the most compelling AI, machine learning, and data science stories. It is designed for formal audiences who want to stay ahead on the edge of AI technologies and trends in these fields but may need more time to read lengthy articles or research papers.
Data Machina
Data Machina is a newsletter that provides deep dive into what's new in Artificial Intelligence and Machine Learning every week. The newsletter has over 14,000 subscribers, including professionals and formal audiences.
The newsletter's content includes the latest AI/ML research, projects, and repositories. Each issue typically consists of a detailed analysis of new developments in AI and ML. It does provide great help to robotics engineers, data scientists, and others with research overviews and related papers.
Benefits of AI Newsletters for Businesses
It provides valuable insights into how businesses can harness the power of artificial intelligence.

These newsletters offer practical tips, case studies, and overviews on implementing AI solutions in various industries to save effort and time.

By subscribing to relevant newsletters, businesses gain access to expert advice and thought leadership in the field of AI.

Regularly reading these newsletters helps organizations stay ahead by understanding best practices and industry trends.
Conclusion
It is crucial to stay up-to-date in evolving world of AI news and insights. By subscribing to newsletters, anyone can benefit from valuable information and expert analysis.
Finding the best AI newsletters may seem overwhelming, but with careful consideration, you can identify those that align with your niche interests and needs. Leveraging AI analytics can further optimize and ensure you receive content tailored to your preferences.
Furthermore, harnessing the power of AI provides a strategic advantage in navigating the ever-changing landscape. So subscribe today and unlock a wealth of knowledge to propel your understanding into an exciting future.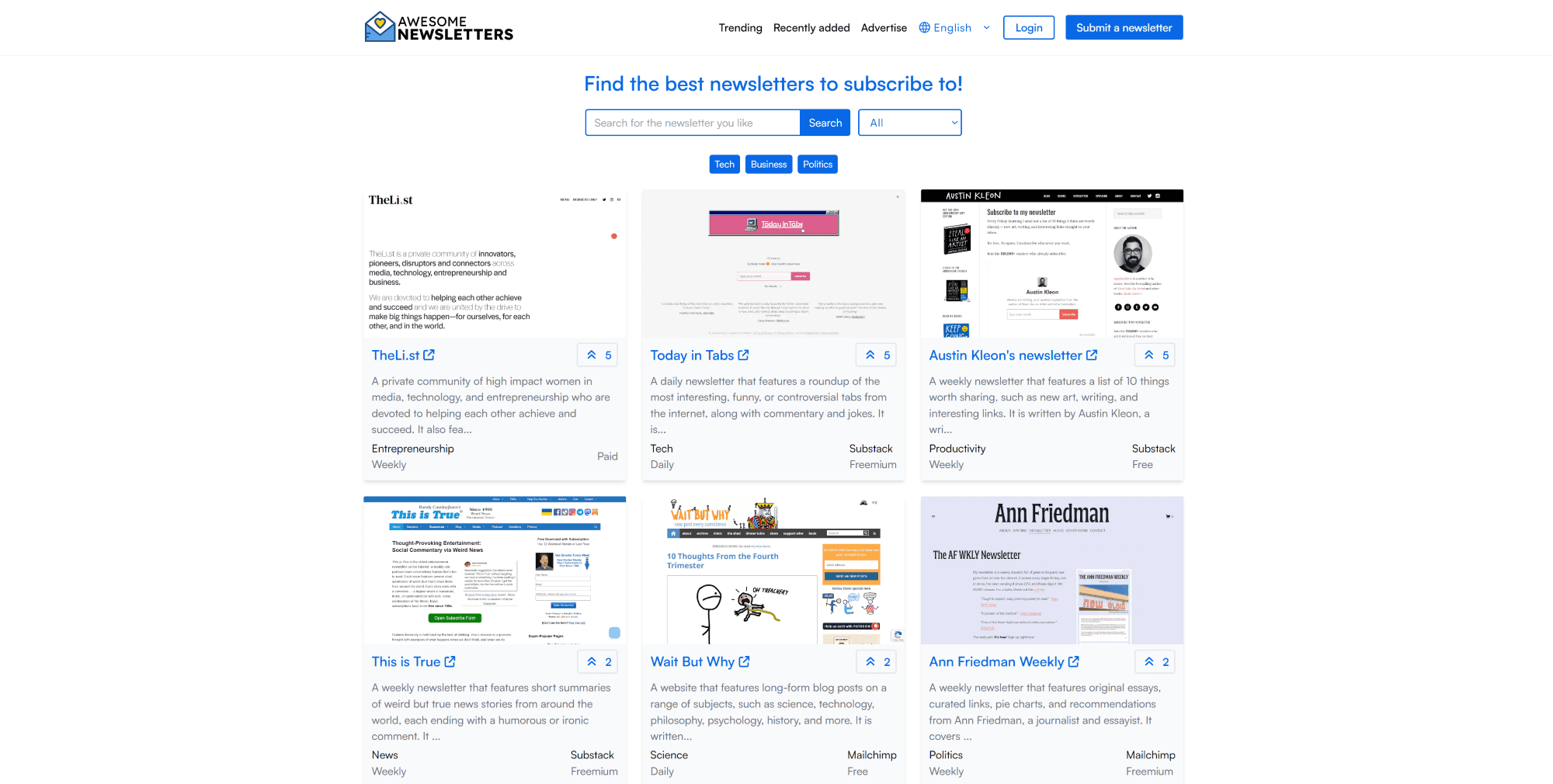 Find here some Amazing Newsletters about niche topics of your choice.
FAQs
How do I get AI news?
AiTools.fyi is a leading information source for AI tools, AI news, and valuable insights about AI. Subscribing to the World of AI newsletter by AiTools.fyi can get readers fresh AI news every week into the inbox.
Can I trust the accuracy of information provided in AI-related newsletters?
Reputable AI-related newsletters prioritize accuracy and credibility by sourcing information from reliable industry sources and experts. However, it's always wise to critically evaluate any information received and cross-reference it with other trusted sources before making decisions based on it.
Are newsletters of AI only beneficial for businesses in the tech industry?
While newsletters about AI are particularly valuable for businesses in the tech industry, they can benefit organizations across various sectors. It can help students, engineers, data scientists, content creators, and other professionals.
Best AI Newsletters
AI News
AI Blog Posts
World of AI
TLDR AI Newsletters
Rishit Patel
Sat Jul 29 2023