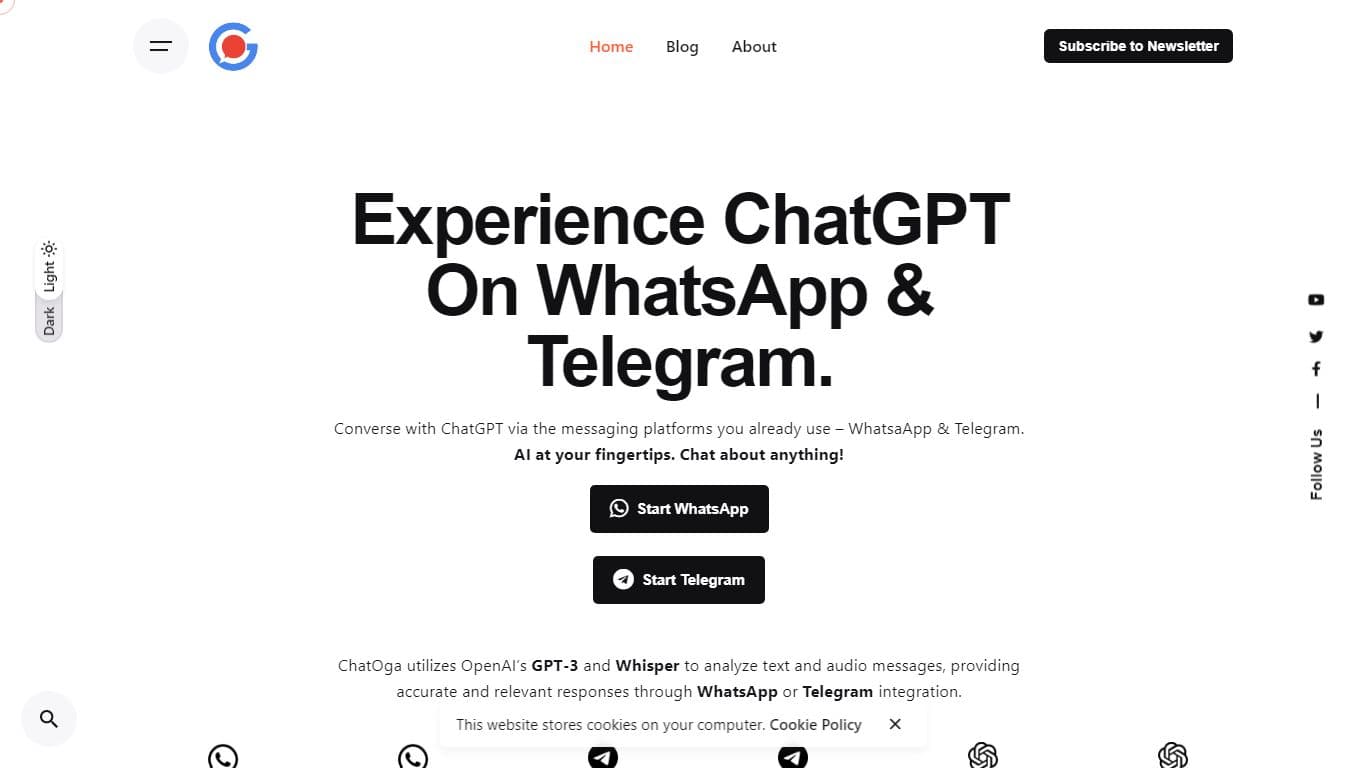 Experience ChatGPT On WhatsApp & Telegram.
Converse with ChatGPT via the messaging platforms you already use – WhatsaApp & Telegram. AI at your fingertips. Chat about anything!
ChatOga utilizes OpenAI's GPT-3 and Whisper to analyze text and audio messages, providing accurate and relevant responses through WhatsApp or Telegram integration.
ChatOga is more than just an AI-powered tool; it's an innovative way to enhance your daily communication. By integrating with popular messaging platforms like WhatsApp and Telegram, ChatOga brings the power of AI into your conversations, making them more engaging, informative, and efficient.
Whether you're a business owner looking to improve customer support or an individual seeking a smarter way to communicate, ChatOga is the answer. Get ready to revolutionize your messaging experience and explore new possibilities with ChatOga – the future of communication is here!
Top Features:
Enhanced Communication: With ChatOga's AI-powered responses, users can communicate more effectively, making their conversations more engaging and informative. This can be especially helpful for businesses, as it allows them to provide quick and accurate information to their customers.
Language Support: GPT-3's vast language capabilities allow ChatOga to understand and respond to messages in multiple languages, making it a versatile tool for users worldwide.
Time-Saving: ChatOga's real-time response generation saves time by providing relevant information or suggestions without the need for manual searching or asking multiple questions.
Continuous Learning: As ChatOga interacts with users, it continuously learns and improves, providing even more accurate and relevant responses over time.
Voice Integration: With Whisper's speech recognition capabilities, ChatOga can understand and process voice messages, making it accessible for users who prefer to speak rather than type.
FAQs:
1) How does ChatOga work?
ChatOga leverages OpenAI's GPT-3 language model for text analysis and Whisper for audio analysis. Its functionality involves examining text and voice messages to deliver precise and pertinent answers to your message. The chat interface is within WhatsApp or Telegram.
2) How to get Started with ChatOga?
To get started with ChatOga, add the chatbot of your choice by clicking on the 'Start Chatting for WhatsApp' or 'Start Chatting for Telegram'.
Top Alternative Tools to ChatOga