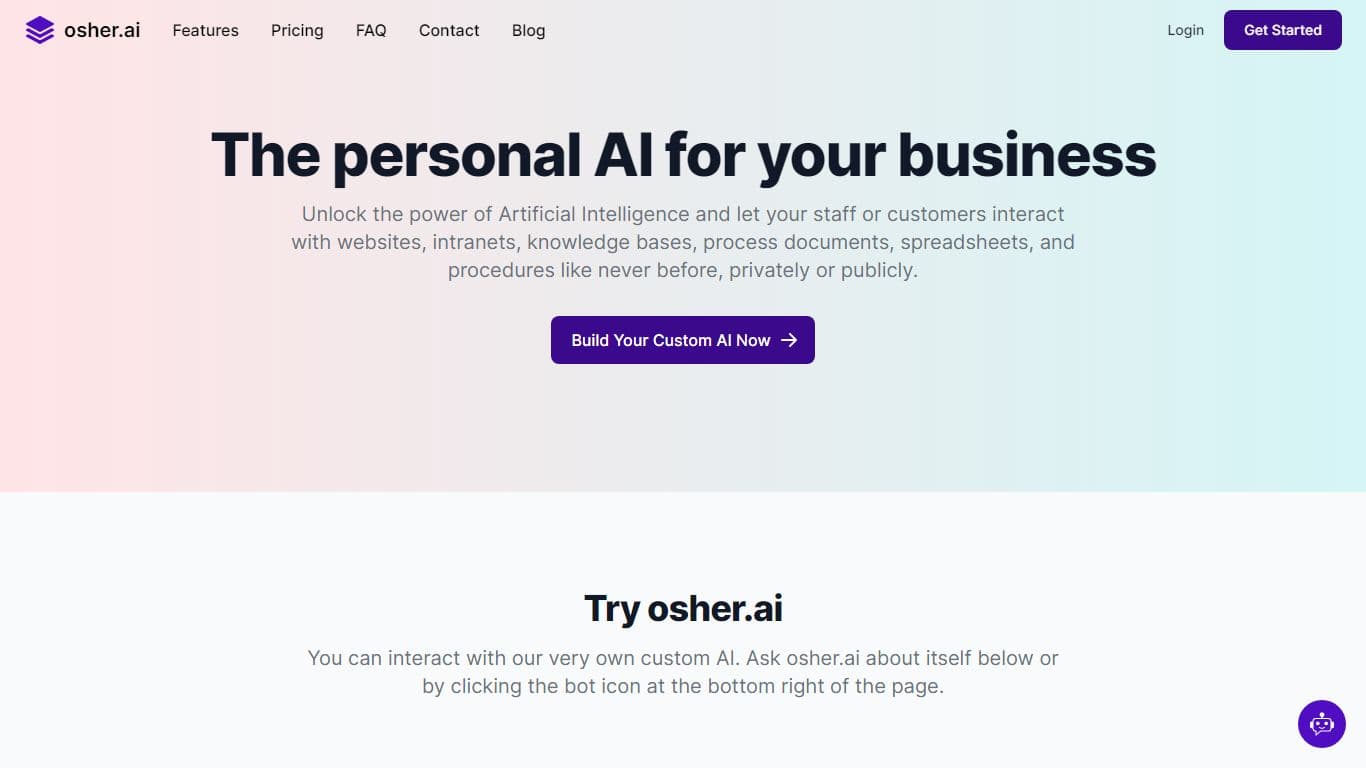 osher.ai is the personal AI for your business. Interact with your internal processes, knowledge bases, web content, and data via private or publicly accessible AIs.
Build and deploy custom AIs for your business, organization team or club with osher.ai.
Your AIs can be trained on content you upload, such as your internal knowledgebase, process documents, or spreadsheets.
Create multiple AIs with access to different content. Customize their name, personality, purpose and color to align with your brand.
Control how your AIs are accessed and limit access by domain. You can embed a chat widget on your website for public interactions, or insert the AI in an intranet for internal employee access.
Pricing starts at only $29 per month and the Enterprise plan includes API access.
Top Features:
Private AIs
Public AIs
Customize your AIs
Chat based
Upload documents
Connect websites
Secure
Enterprise ready
FAQs:
1) What content can I use to train my AI?
You can connect you AI to any website or helpdesk, and upload most document formats that are widely used in business including PDF, Word, Excel, Powerpoint, CSV, HTML, Text files and more.
2) Can I customize my AI?
Yes, you can customize your AI image, color, personality, purpose, welcome message, and, of course, the content you train it on. Enterprise subscribers will have access to more powerful customizations soon.
3) Can I restrict who accesses my AI?
Yes, you can restrict access to your AI. You can restrict access to specific documents by creating separate AIs and restricting access from certain IP addresses. For confidential information, we strongly recommend you add your AI to a secure intranet.
4) Does my AI have memory?
Yes, your custom AI has short term memory. What this means is that in any individual chat the AI can recall the chat history. This is more than just simple document QA. Importantly, your AI also remembers chats over website sessions.
Tags:
AI
business
processes
knowledge bases
web content
data
custom AIs
internal knowledgebase
process documents
spreadsheets
chat widget
API access.
Top Alternative Tools to osher.ai