7 Best Chat with PDF AI Tools for Productivity [Oct 2023]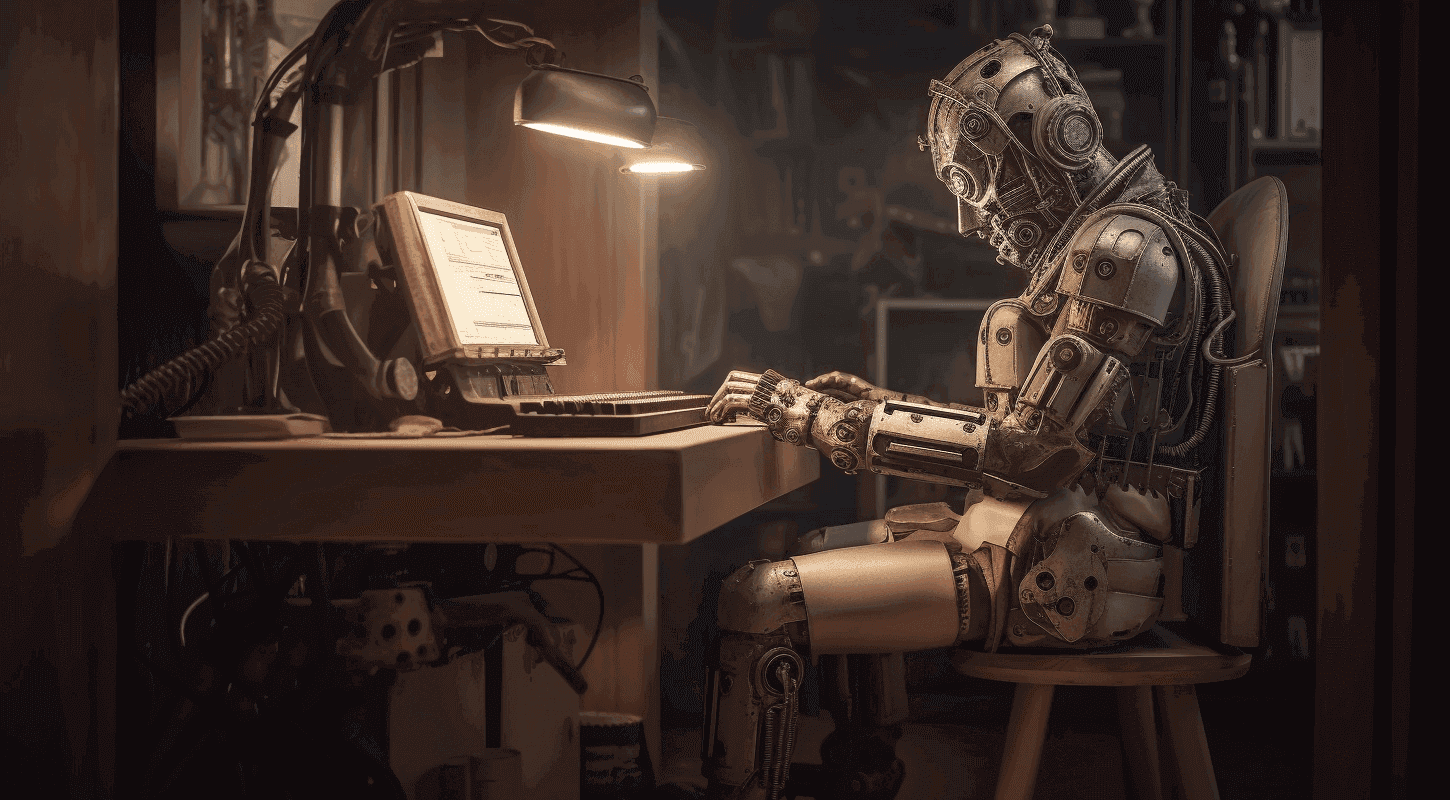 The importance of Artificial Intelligence in PDF interactions is rapidly growing. One area where AI-powered chatbots significantly impact is enhancing user experiences with PDFs. These intelligent chatbots utilize artificial intelligence to communicate efficiently and effectively with PDF files.
By leveraging these AI chat tools, users can experience seamless interactions, prompt responses, and improved productivity when working with PDF documents. To save your valuable time, we gathered these 7 best AI tools to chat with PDF to boost your productivity.
What is chat with PDF?
Chat with PDF technology allows users to interact with PDF documents conversationally, typically through a chat interface. This is achieved by leveraging Artificial Intelligence technologies such as Natural Language Processing (NLP) and Machine Learning (ML).
Chat with PDF technology is part of a broader trend towards making digital content more interactive, accessible, and user-friendly and is being adopted in various fields, including education, legal, medical, and business sectors.
1. PDFPeer
PDFPeer offers a unique platform where users can interact with PDF documents using AI. The features include chatting with PDF documents to ask questions, get summaries, and find specific information quickly with specific prompts. It caters to students and professionals, allowing them to upload study materials, business contracts, or financial reports and interact with them effortlessly. The platform emphasizes ease of use, security, and speed, ensuring users can upload PDFs without concerns. Moreover, PDFPeer provides these services for free, making it accessible for anyone looking to enhance their interaction with PDF documents.
The platform's ability to turn "PDF to Chatbot" stands out as it transforms static documents into interactive entities, making extracting and understanding information more accessible. For students, it simplifies doing homework by allowing them to upload study materials and ask anything directly to the documents. Conversely, professionals can make their work easier by chatting with business contracts and financial statements, streamlining their workflow. The testimonials on the website highlight how users from different backgrounds, like law students and web developers, find PDFPeer a game-changing tool for handling PDF documents, summarizing content, and streamlining tasks like creating business contracts or understanding customer requirements.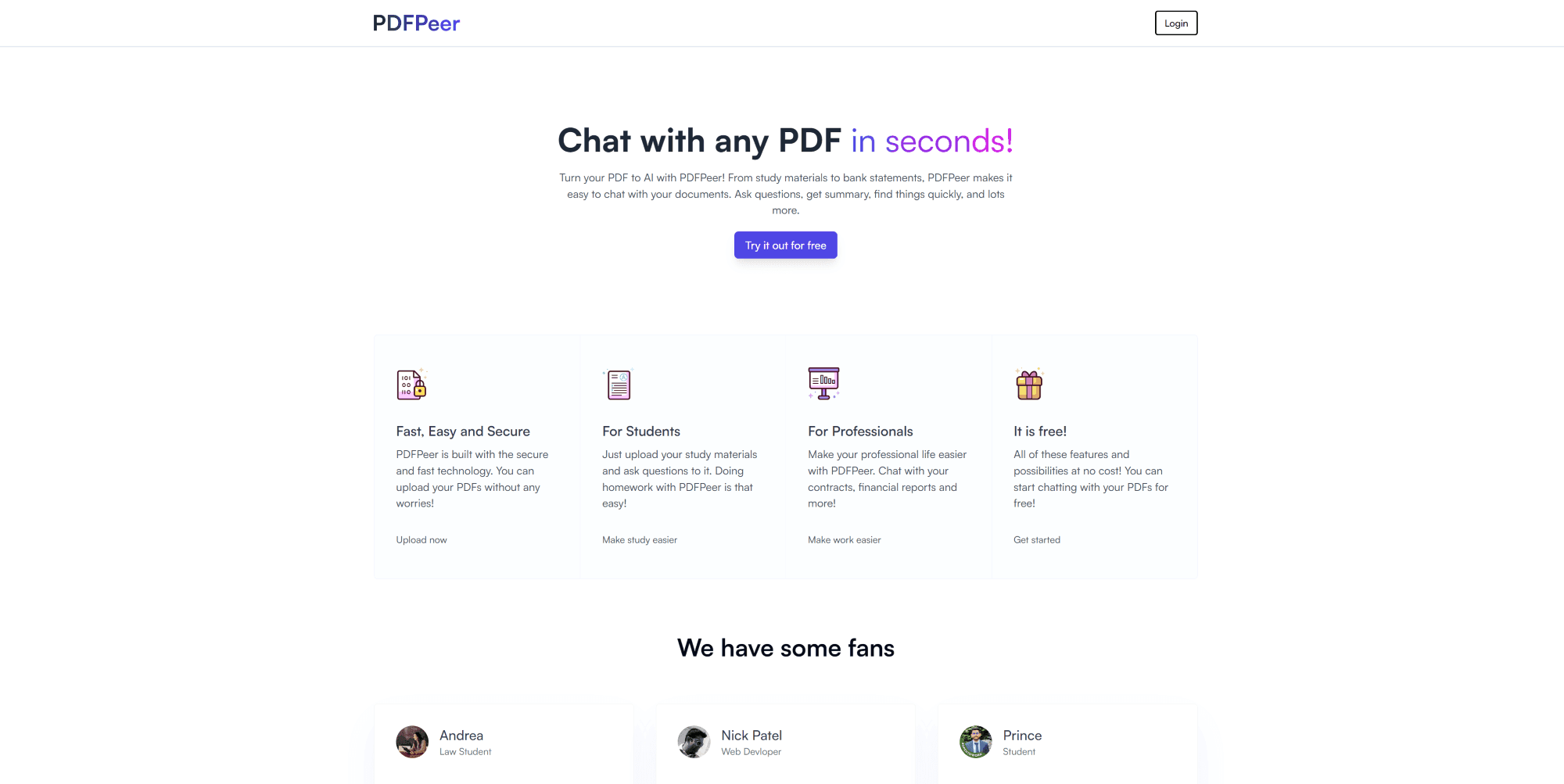 PDFPeer.com Pricing:
Free Plan ($0/m): The Free Plan on PDFPeer allows users to access 1 PDF, with a maximum of 20 MB and 500 pages per PDF and a limit of 200 questions per day. It's designed for individuals with minimal PDF interaction needs, offering a cost-free solution to explore the platform's basic elements.
Unlimited Plan ($9.99/m): The Unlimited Plan offers extensive components, including unlimited PDF uploads, unlimited queries, and no page limit per PDF, catering to individuals with higher usage needs. Additionally, subscribers to this plan receive priority support, enhancing their user experience and ensuring prompt assistance when needed.
Enterprise Plan (Tailored Pricing): The Enterprise Plan on PDFPeer provides a fully customized experience tailored to organizational needs. This plan is designed to accommodate larger entities or businesses seeking a personalized solution for interacting with PDF documents at a larger scale.
2. ChatPDF
ChatPDF is a platform that facilitates interaction with PDF documents using Artificial Intelligence, akin to conversing with the PDF. That includes summarizing content, answering queries, and aiding in exam preparation or understanding complex research papers for students, researchers, and professionals. It supports multiple languages, making it a global tool. Additionally, it provides cited sources within the answers, ensuring reference to the original PDF, and emphasizes a simple, secure, and free user experience with secure cloud storage for uploaded files.
The platform is gaining popularity worldwide as it revolutionizes how individuals interact with PDF, making extracting and understanding information easier. It's particularly beneficial for academic and professional purposes, where understanding and extracting data from documents like research papers, legal contracts, and financial statements are crucial. By providing a conversational interface to interact with PDF, ChatPDF significantly enhances the ease and speed at which users can obtain the details they need from their documents, making it a valuable app in today's fast-paced, info-driven environment.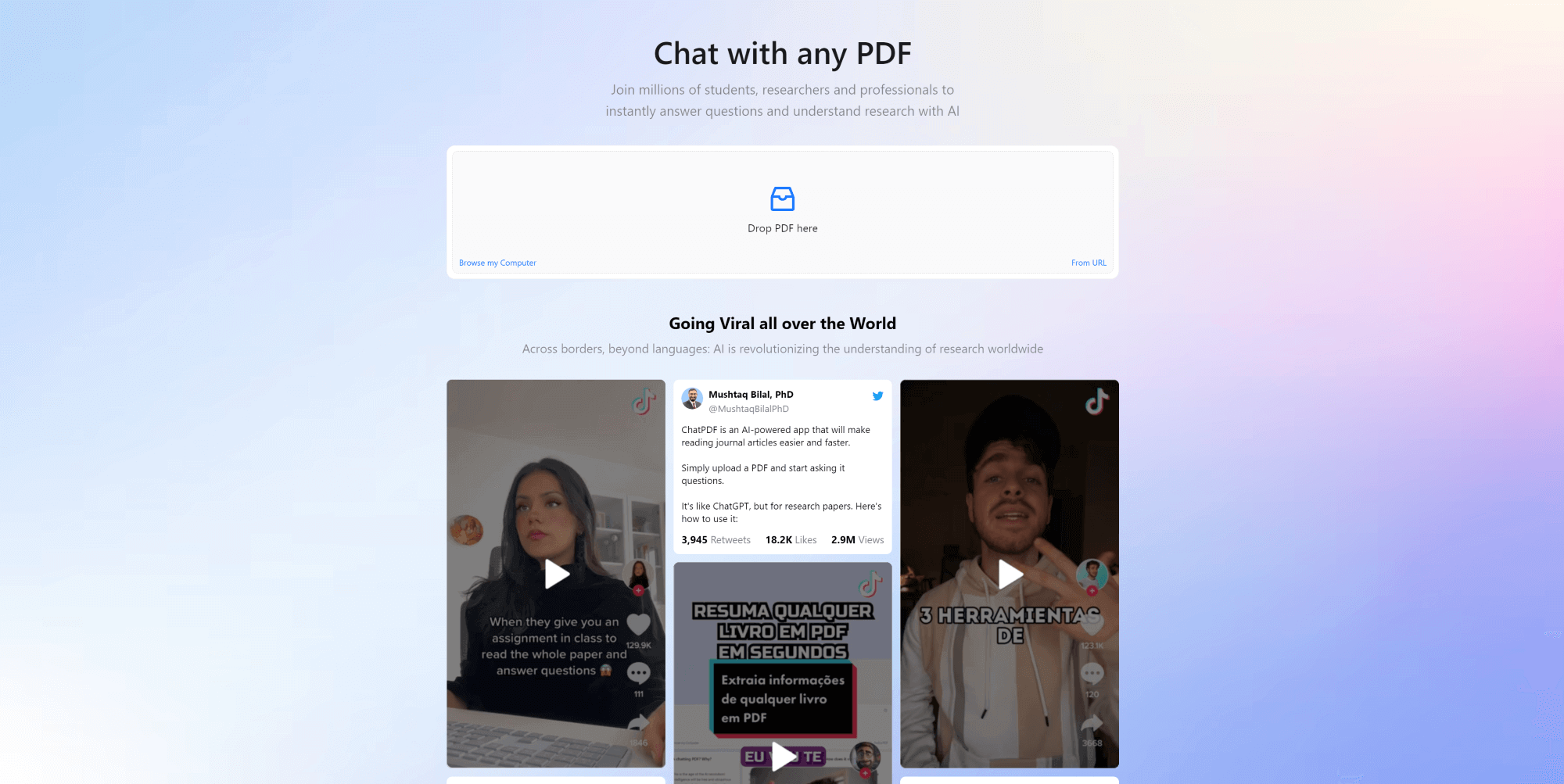 ChatPDF.com Pricing:
Free Plan ($0/m): This plan allows users to upload 2 PDFs per day, with a limit of 120 pages and 10 MB per PDF, and pose up to 20 questions daily. It's a cost-effective solution for occasional users to interact with PDF and explore the platform's basic functionalities.
Plus Plan ($17.99/m): The Plus Plan on ChatPDF significantly expands user capabilities, allowing 50 PDF uploads per day, with a limit of 2,000 pages and 32 MB per PDF and a generous allowance of 1,000 queries daily. This plan is tailored for more intensive users needing extensive interaction with PDF for in-depth data extraction or analysis.
3. PDF AI
PDF.ai offers a platform where users can conversationally interact with PDF. This includes uploading PDF quickly, obtaining instant answers by questioning, extracting data, summarizing documents with Artificial Intelligence, and having sources in every response derived from the uploaded PDF. The platform caters to various use cases, including legal documents, financial statements, books, scientific papers, user manuals, and employee training materials. It provides a Chrome extension for ease of use and boasts a user base of over 350,000 happy users, indicating high satisfaction and utility.
The platform transforms static PDFs into interactive entities, making it easier for users to extract and understand the information contained within. Providing a conversational interface significantly enhances the ease and speed at which users can obtain the details they need from their documents. This is particularly beneficial for professionals and students who frequently interact with PDFs and require a quick and efficient way to extract information. The platform's ability to cater to a wide range of use cases demonstrates its versatility and potential to be a valuable tool in various professional fields.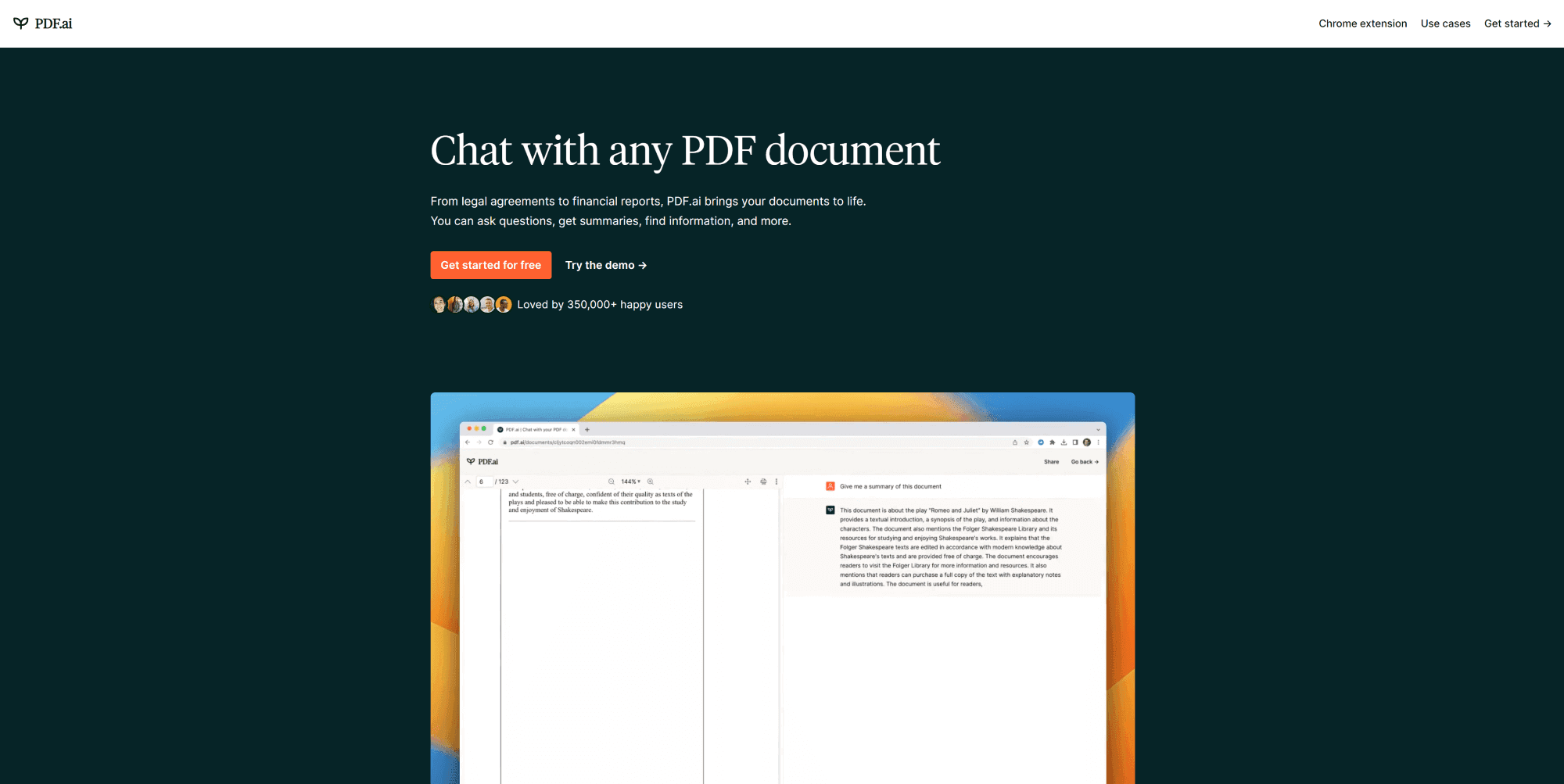 PDF.ai Pricing:
Free Plan ($0/m): The Free Plan allows users to upload 1 PDF file (max 10MB) for a trial experience of the platform functionalities.
Premium Plan ($15/m or $99/y): The Premium Plan offers unrestricted PDF pages, unlimited daily uploads, and no limitations on daily inquiries, along with access to the Chrome extension, extended reply length, and a maximum PDF size of 50MB. This plan is tailored for users seeking advanced accessibility and higher usage capabilities.
4. Ask your PDF
AskYourPDF provides a unique platform for users to interact with their documents conversationally, making the reading experience simple and enjoyable. The platform supports PDF, TXT, PPT, PPTX, EPUB, and RTF formats. Users can chat with multiple documents using the platform's knowledge base.
A Chrome extension is also available for effortless chatting with any PDF, aiming to save hours and boost productivity. The platform, powered by ChatGPT, transforms documents into interactive entities, enabling users to upload PDFs and query to uncover insights directly from the uploaded documents without endless scrolling or skimming.
AskYourPDF aims to provide a tailored experience for individuals and organizations to interact with their documents efficiently and extract valuable insights effortlessly. It also has a plugin to work directly on the ChatGPT platform.
AskyourPDF.com Pricing:
Free Plan ($0/m): The Free Plan on AskYourPDF allows users to engage with their documents through 100 chats per month, with a limit of 100 pages per PDF (max 15MB), 50 questions, 3 conversations, and 1 upload per day. It's a starter plan perfect for individuals looking to try Artificial intelligence enhanced document interactions at no cost.
Premium Plan ($9.99/m or $89.99/y): The Premium Plan offers unlimited chats, entire conversation history, and priority support, with allowances of 2500 pages per PDF (max 30MB), 1200 queries, 50 conversations, and 50 uploads per day. This plan is designed for users seeking to elevate their PDF interaction with a higher quota and additional support.
Pro Plan ($14.99/m or $119.99/y): The Pro Plan provides extensive options, including unlimited queries, conversations, and uploads per day, with a maximum of 6000 pages per PDF document (max 90MB). It also offers Chrome Extension access, OCR support, longer reply length, priority support, and access to new components, making it a comprehensive choice for advanced users seeking a robust experience.
Enterprise Plan (Custom Pricing): The Enterprise Plan offers a custom-tailored experience with unlimited pages per document, custom max upload size, and unlimited daily queries, conversations, and uploads. It also provides a customizable link, dedicated 24/7 support, priority processing, and access to new elements, catering to organizations seeking a fully personalized solution.
5. HiPDF
HiPDF offers many options to interact with PDF and other document types more innovatively powered by Artificial Intelligence. The platform provides tools like Artificial Intelligence Read for intelligent PDF reading, summarizing, rewriting, and Detector tools to identify AI-written content. Users can also crop, edit, compress, and replace text in PDF and convert PDF to Word, Excel, HTML, and vice versa. Additionally, it offers a Chrome extension for easy access to its usability and a unique chat feature powered by ChatGPT to interact with PDF, providing page links to the original file in the answers and keeping chat records for future reference.
The platform extends its functionality to image processing, allowing users to compress, crop, resize, rotate, and convert images to various formats. HiPDF emphasizes secure and convenient processing with advanced encryption to protect and process files online without downloading. It also supports multiple languages, making it a versatile tool for a global user base.
HiPDF, being a member of the PDF Association and having received international certifications like ISO 27001 and SSI SECURE, showcases its commitment to providing a secure and reliable platform for users. With a user-friendly interface and a wide range of tools, HiPDF stands as a comprehensive solution for managing and interacting with PDFs and images, catering to the needs of millions of users as claimed on their website.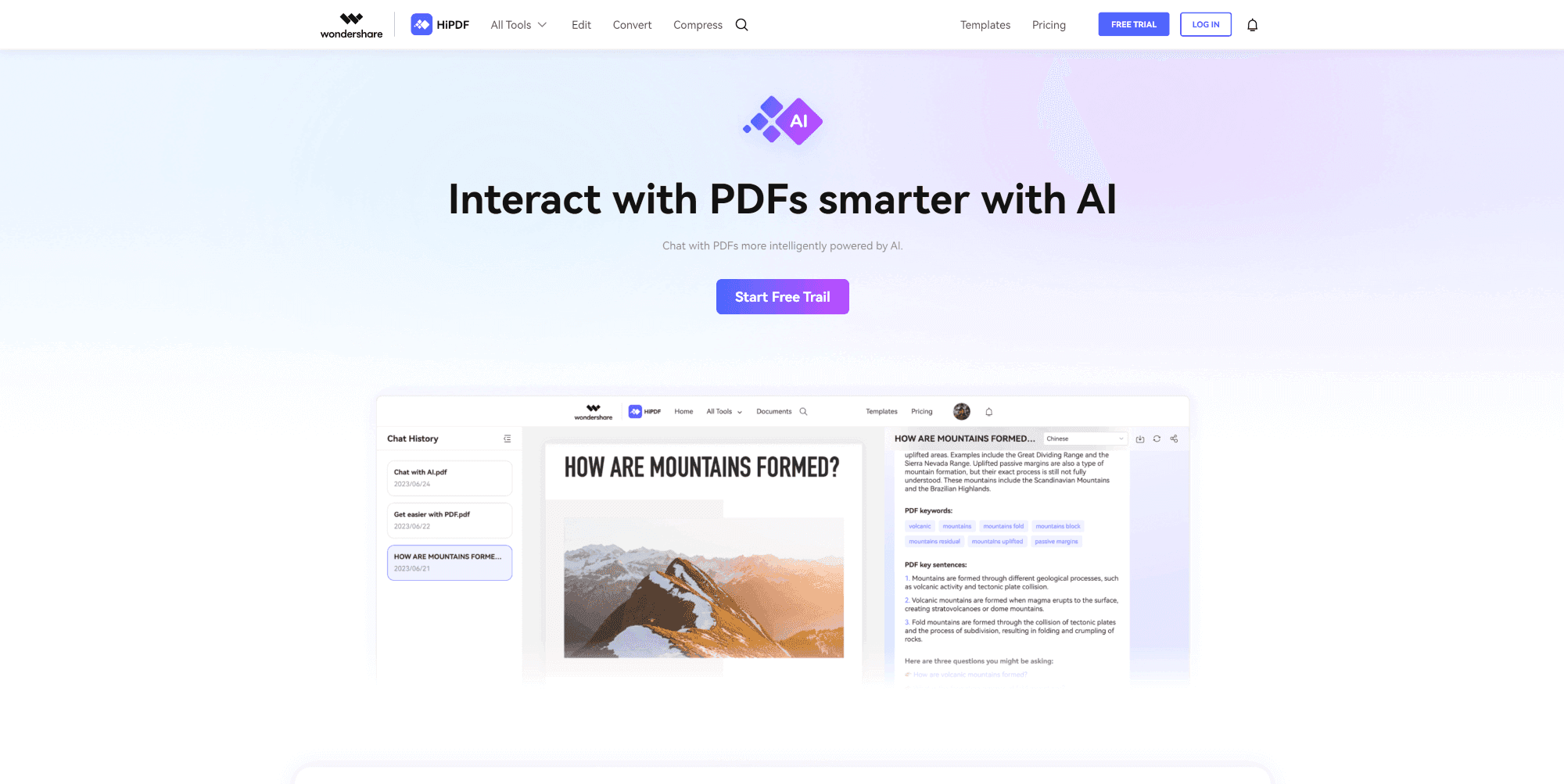 HiPDF.com Pricing:
Free Plan ($0/m): The Free Plan on HiPDF provides access to all PDF tools except the OCR feature, catering to basic processing needs. Additionally, it allows for 5 batch-processing tasks, enabling users to handle multiple documents simultaneously, thus offering a blend of functionality and efficiency without any cost.
Premium Plan ($5.99/m or $39.99/y): The Premium Plan on HiPDF allows a maximum file size of 100MB and up to 2000 pages per file, alongside a generous allowance of 50,000 tokens for Chat with PDF & Artificial Intelligence Read feature, catering up to 2,000 pages and 100M per PDF. With no limit on batch processing, it provides a robust solution for extensive document interactions and processing tasks.
6. LightPDF
LightPDF's ChatDoc feature offers a unique way to interact with documents using Artificial Intelligence. The platform supports various file formats, including PDF, Word, Excel, PPT, EPUB, TXT, and scanned files, allowing users to simultaneously upload and chat with multiple documents. The GPT-4 powered Artificial Intelligence can answer your queries, summarize content, extract data, and even generate tables from the data within the documents. Users can also follow up with additional questions, making it a dynamic app for analysis and research. The platform also supports OCR for scanned documents and webpages, ensuring a wide range of document types can be interacted with.
The platform emphasizes accurate and reliable answers with cited sources, enhancing the trust and usability of the data provided. Users can click on references/footnotes to locate the source of the answer within the PDF. The outputs can be displayed in various formats, including markdown and tables, catering to user preferences. The platform also offers a Chrome extension and a G-Suite Add-on for easy access to the ChatDoc feature, making it a versatile app for different user environments.
LightPDF's ChatDoc is designed to cater to various needs, including business analysis, learning assistance, and idea exploration. Users can quickly gain valuable insights by asking about market trends, industry news, or any topic within the uploaded documents. For learners, it organizes the structure of provided materials and lists outlines, aiding in understanding and retention. The platform also supports brainstorming and creativity by leveraging its broad general knowledge. With support for multiple platforms and languages, LightPDF's ChatDoc is a comprehensive Artificial Intelligence powered chat tool for a wide range of users.
LightPDF.com Pricing:
Free Plan ($0/m): The Free Plan, accessible only on the Web app, offers basic PDF editing and conversion tools with a file size limit of 5MB and a maximum of 50 pages per PDF file.
Premium Plan ($19.99/m or $199.99/y): The Premium Plan on LightPDF offers unlimited file size and pages, enhancing the scope of interactions, along with support for a variety of file formats, including PDF, DOC, DOCX, XLS, XLSX, PPT, PPTX, and EPUB. Additionally, it provides 20 monthly queries with GPT-4, facilitating advanced Artificial Intelligence interactions with documents to extract valuable insights.
7. PDFGPT
PDFGPT emphasizes a seamless experience in navigating and extracting information from PDF through a chat interface. The plans are designed to accommodate different levels of usage, with the Premium Plan being the most extensive in terms of pages, file size, questions per month, and support. The references on responses feature across all plans ensures that the data provided is traceable to the source documents, enhancing the reliability of the answers obtained.
PDFGPT.io's structured plans provide a clear pathway for users to choose based on their usage needs. The platform does not limit the number of PDF pages you can upload but provides a usage limit based on the number of pages you can consume each month, ensuring a fair usage policy. This setup caters to individual and organizational needs, making PDFGPT.io a versatile choice for those looking to interact with PDF documents efficiently.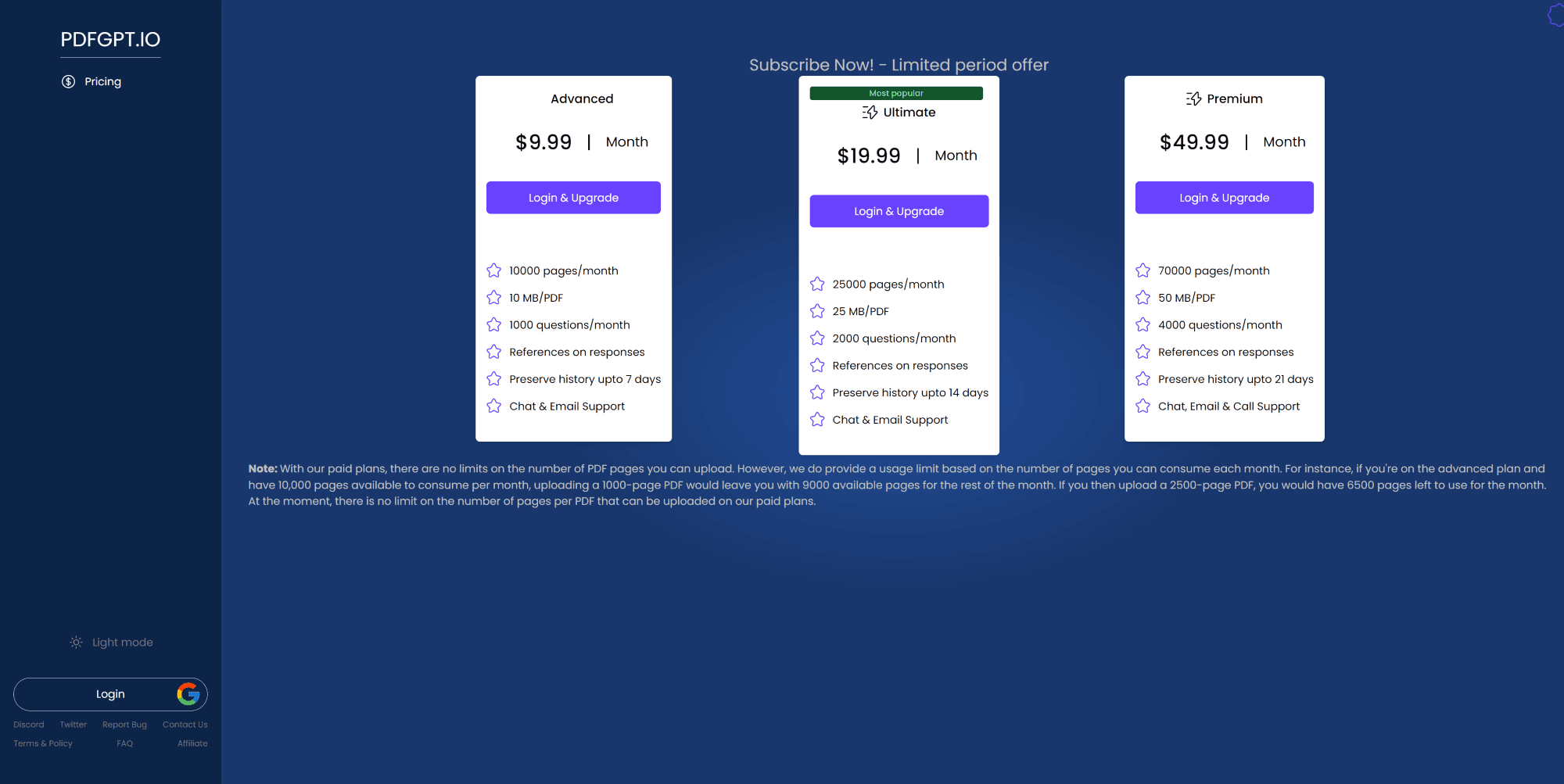 PDFGPT.io Pricing:
Advanced Plan ($9.99/m): The Advanced Plan offers users 10,000 pages per month, a file size limit of 10 MB per PDF, and 1,000 queries per month, along with references on responses, history preservation for up to 7 days, and both chat and email support. This plan is designed for moderate users who require a balanced mix of interaction with documents and support.
Ultimate Plan ($19.99/m): The Ultimate Plan provides a more extensive offering with 25,000 pages per month, a file size limit of 25 MB per PDF, and 2,000 queries per month, alongside history preservation for up to 14 days. This plan caters to users with higher interaction needs, ensuring a broader scope for extracting details and longer history retention.
Premium Plan ($49.99/m): The Premium Plan on PDFGPT.io, priced at $49.99 per month, offers the highest tier of service with 70,000 pages per month, a file size limit of 50 MB per PDF, and 4,000 queries per month, along with history preservation for up to 21 days and inclusive of chat, email, and call support. This plan is tailored for extensive users or organizations requiring robust capabilities and premium support channels.
How Chat with PDF AI Tools can Help to Improve Productivity?
Leveraging AI tools like GPT-3.5 or GPT-4 for PDF interactions significantly enhances productivity. They automate data extraction, effortlessly retrieving text and data, thus eliminating manual entry. Additionally, these tools facilitate conversion between PDF and editable formats like Word or Excel, simplifying data manipulation. Optical Character Recognition (OCR) technology further aids text recognition from scanned documents or images.
Form processing is another advantage, enabling auto-filling or data extraction from forms within PDF. The comparison to identify version changes is invaluable in legal or contractual contexts. Automated workflows, managed by intelligent bots like ChatGPT, streamline processes such as approval workflows, reducing human error and improving efficiency.
Artificial Intelligence tools also secure sensitive information through encryption or digital signatures, enhance accessibility, and customize appearance. They enable quick search and retrieval of specific data across vast volumes of PDF. Moreover, analyzing PDFs to generate insights or train machine learning models opens up new avenues for education and development, showcasing Artificial Intelligence potential in optimizing information utilization and significantly improving productivity.
Benefits of AI Tools to Chat with PDFs
Chatting with PDFs revolutionizes how users interact with documents by leveraging Artificial Intelligence to provide a conversational interface. This innovative approach simplifies information extraction, enhances understanding, saves time, and boosts overall productivity, making document handling a more engaging and efficient experience.
Information Extraction:

Chatting with a PDF allows for quick and precise extraction of information. Users can ask specific questions and get accurate instant answers without reading the entire document.

Time-Saving:

It significantly saves time as users can directly interact with the documents to find the necessary information rather than manually searching through pages.

Enhanced Productivity:

Chatting with PDFs enhances productivity by streamlining information retrieval and interaction, especially in professional or academic settings.

Enhanced Understanding:

Users can ask follow-up queries or seek clarifications, enhancing their understanding of the contents.

Summarization:

Some platforms offer summarization features, providing a concise overview of the content, which is beneficial for understanding lengthy documents quickly.

Accessibility:

Chatting with a PDF can make documents more accessible, especially for individuals who may find it challenging to navigate traditional formats.

Interactive Learning:

Interactive chatting can make learning more engaging and personalized for educational or training materials.

Multi-language Support:

Many platforms offer multi-lingual support, making interacting with documents easier for users from different linguistic backgrounds.

Reference Tracking:

When Artificial Intelligence provides instant answers, it often references the exact location in the documents from which the information gets extracted, aiding in reference tracking.

Cross-Document Interaction:

Some platforms allow for chatting with multiple documents simultaneously, enabling cross-document interactions and comparison.

Ease of Use:

The conversational interface is intuitive and user-friendly, requiring no technical expertise to interact with documents.
Final Thoughts:
Chat with PDF AI tools has emerged as a game-changer in document interaction, offering a blend of efficiency, accessibility, and enhanced understanding. These tools save significant time by transforming static documents into interactive platforms, making information extraction a breeze. The ability to ask any question directly and receive precise answers, along with summarizing contents, provides a streamlined approach to handling documents, whether for professional or educational purposes.
The various plans and features offered across platforms cater to diverse user needs, from fundamental to extensive interactions. With the added advantage of cloud storage, multi-language support, and cross-document interaction, chatting with the PDF platform paves the way for a new era of record management, making it an indispensable asset for individuals and organizations.
Check out the 7 Best Excel AI Tools to Boost Spreadsheet Productivity.
FAQs
Is chatting with PDF safe?
The safety of Chat with PDF tools largely depends on the platform and the measures they have to ensure data security and privacy. It is always recommended to check the security elements of chat with pdf tools.
What is the best chat for PDF?
PDFPeer.com is the best chat with a PDF AI tool that allows you to select whether to store your data on their encrypted platform. It also offers personalized experiences for students and professionals.
Is chat PDF free?
Yes, PDFPeer.com and some other tools offer free plans for chat with PDF with some limitations. But it's a great point to experiment with AI PDF readers.
How to use chat PDF for free?
Visit pdfpeer.com and sign up for a free account with your email. Once you are in the dashboard, upload the PDF document and chat with PDF. You can ask questions from the PDF, giving you instant answers from the uploaded PDFs.
Chat with PDF AI Tools
Document Interaction Technology
AI-Powered PDF Management
Secure PDF Chat Platforms
Enhanced Document Accessibility
Rishit Patel
Sun Oct 01 2023
Join thousands of AI enthusiasts in the World of AI!