7 Best Excel AI Tools to Boost Spreadsheet Productivity 2023
Artificial Intelligence (AI) is remodeling the world of data management and analytics, and one key area where this is particularly evident is in the use of Excel spreadsheets. With the massive amounts of data businesses generate and manage daily, Excel AI Tools can bring unprecedented efficiency, accuracy, and insights to operations.
AI spreadsheet tools can automate data entry, categorization, and error detection, turning monotonous tasks into fast, accurate processes. They can also analyze data patterns and trends, enabling predictive analytics and powerful decision-making insights. These AI capabilities save time, reduce errors, and unlock the potential for deeper analysis and more strategic data use.
Microsoft Excel: Built-in AI Tools Features
While Microsoft is a prominent investor in OpenAI, they have built-in Artificial intelligence to enhance Excel productivity. Various segments of AI spreadsheet tools can not just help with formulas knowledge only, but it has many other ways to get the most out of spreadsheets.
You can extend the functionality by adding Excel plugins to leverage the AI in Excel with security compliance.
Data Analysis
Analyze Data is an intelligent insights tool deeply ingrained in Excel. It proposes tailored recommendations depending on your ongoing tasks in Excel, recognizing the need for data visualization suggestions, trend analysis, pattern identification, and more. As you input more data into your Excel workbook and engage with the tool's recommendations, it grows more adept at providing valuable analytical reports.
Moreover, Analyze Data has natural language processing (NLP) capabilities, allowing you to pose queries about your data conversationally. In response, Excel provides high-level visual summaries, revealing patterns, and trends. If you require assistance deciding what questions to ask, the AI spreadsheet tool proposes question suggestions based on its data analysis, serving as a launchpad for in-depth analysis.
Picture to Editable Data in Excel
Excel's "Insert Data from Picture" feature can be a game-changer when handling hard-copy data. Rather than laboriously entering data by hand, this AI spreadsheet tool allows you to take a snapshot of the data with your phone and directly import it into your spreadsheet.
This function transforms your captured image into fully editable text within your spreadsheet, drastically cutting down the timeline traditionally spent on manual data entry. Moreover, it enhances data accuracy by minimizing the chances of human error, such as copying information incorrectly. This smart application of AI technology in Excel increases efficiency and optimizes the accuracy of your data management tasks.
Linked Data in Excel
Excel has a linked data reporting function provides up-to-date analytics from reputable connected sources.
It supports stock data like equity, mutual funds, ETF, index, commodities, etc. You can extract the geographic data by typing the country name, state, city, etc. It also gets you a current currency rate and more with the help of the linked data feature in Excel.
Excel Forecast Features
Given Excel's roots in financial applications, it's no surprise that it has robust forecasting capabilities. These capabilities, powered by AI algorithms and based on the data in your spreadsheets, enable you to anticipate future trends and make data-driven decisions.
For instance, predict upcoming sales trends. Excel offers a variety of tools to assist with this. One of these is trend lines, which you can add when creating a chart in Excel. These lines provide a visual representation of data trends over time.
Another helpful tool is the moving average function, along with exponential smoothing. These AI spreadsheet tools help reduce errors in data, providing a clearer view of the underlying trend. They create a forecasted value that is a weighted average of historical data, smoothing out short-term fluctuations and highlighting longer-term patterns.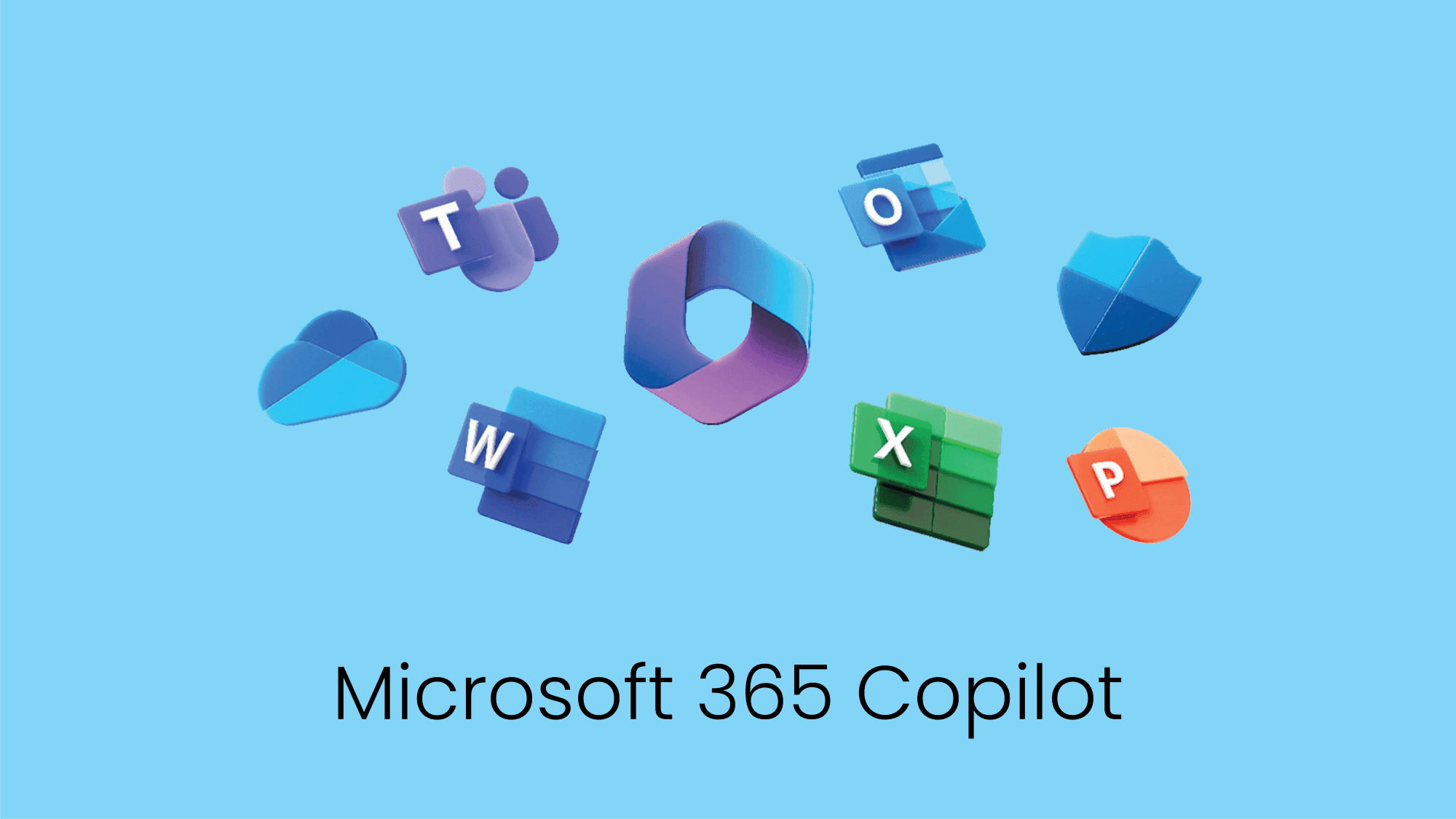 Unveiling Microsoft 365 Copilot for Excel
Introducing Microsoft 365 Copilot, an intelligent assistant for Excel. With Copilot, you can access real-time suggestions, tips, and analytics while working in Excel. It's like having a personal guide right at your fingertips with privacy and security compliance.
Unlock productivity by leveraging Copilot's smart recommendations. Whether you're creating formulas, analyzing data, or building charts, Copilot proposes helpful suggestions to streamline your workflow. Microsoft 365 Copilot understands your context and provides tailored advice to help you work more efficiently.
Enhance your skills through personalized learning with Copilot. Copilot learns from your actions as you use Excel and adapts its recommendations accordingly. It helps you discover new elements and techniques to take your spreadsheet skills to the next level.
With Microsoft 365 Copilot, you have a powerful ally in mastering Excel. Let's dive into some key features that make it a valuable tool for individuals or teams.
Real-time Suggestions:
Microsoft 365 Copilot analyzes your data and provides instant suggestions on how to improve your formulas or visualizations.
Tips and Insights:
Get valuable tips and analytics on best practices and shortcuts that work directly within the user-friendly interface with Microsoft 365 Copilot.
Tailored Recommendations:
Copilot understands your unique needs and tailors its recommendations based on your specific task.
Personalized Learning:
Through continuous interaction, Copilot learns from your usage patterns to offer customized learning content.
Increased Efficiency:
By leveraging the power of AI, Copilot helps you accomplish tasks faster and with greater accuracy in Microsoft Excel.
AI Excel Bot
Spreadsheets, especially Excel, are a cornerstone of data analysis and reporting for many organizations, playing a pivotal role in enhancing business operations. In this dynamic landscape, one innovation that stands out is the emergence of AI-powered Excel Formula Bots. These bots, such as the AI Excel Bot, have been designed to simplify the creation and understanding of complex Excel formulas.
AI Excel Bot, an impressive alternative to traditional Excel Formula Bot, offers more than simple solutions. It is a comprehensive tool for handling intricate formulas, allowing users to input text instructions and receive a customized Excel formula. This not only saves time but also minimizes potential errors in formula creation.
AI spreadsheet bot also provides a cost-effective solution with its free version. It uses AI technology to transform text instructions into Excel formulas, making it a handy tool for novice and experienced Excel users.
In essence, the advent of Excel AI tools is revolutionizing spreadsheet management. They offer innovative methods for generating Excel files, automating tasks, and crafting VBA scripts to optimize workflow. With the expanding realm of Excel Formula generators like AI Excel Bot, users now have many options to simplify their spreadsheet management and unravel complex Excel formulas. Embrace these powerful AI advancements, and unlock productivity with Excel soar.
Pricing Plan:
Free Plan: This plan comes with limited access to AI Ecxcel Bot.
Pro Plan: It's an excellent plan starting at $2.99 monthly for unlimited Excel bots.
Formula Bot
Formula Bot is an AI spreadsheet tool revolutionizes your data and spreadsheet workflow. It offers a variety of elements that can assist in increasing productivity with spreadsheets.
Data Analytics Formulas: Excel Formula Bot can write formulas or explanations for data and spreadsheet-related tasks. It can provide Excel or Google Sheets formulas, create spreadsheet templates for various situations, generate SQL queries from your database tables and text instructions, provide instructions for non-formula related tasks like creating charts and formatting, generate VBA code or Apps Script code for automating tasks in Excel or Google Spreadsheets, and create regular expressions to match, locate, and manage text.
Data Chat: This feature allows you to upload your data in natural language, ask questions, and get results in the form of data, charts, and recommendations. You can add your Excel file, type questions about your data to unlock insights and generate charts, and receive an answer in a table or data visualization format.
Data Prep Automation: This feature can automate your data prep and data collection task with the neural formula method. It can perform sentiment analysis, customize your response by typing instructions you want, classify information into multiple categories, extract specific information from a text, populate data about anything (e.g., a state's capital), and provide examples of data to infer an output for select inputs.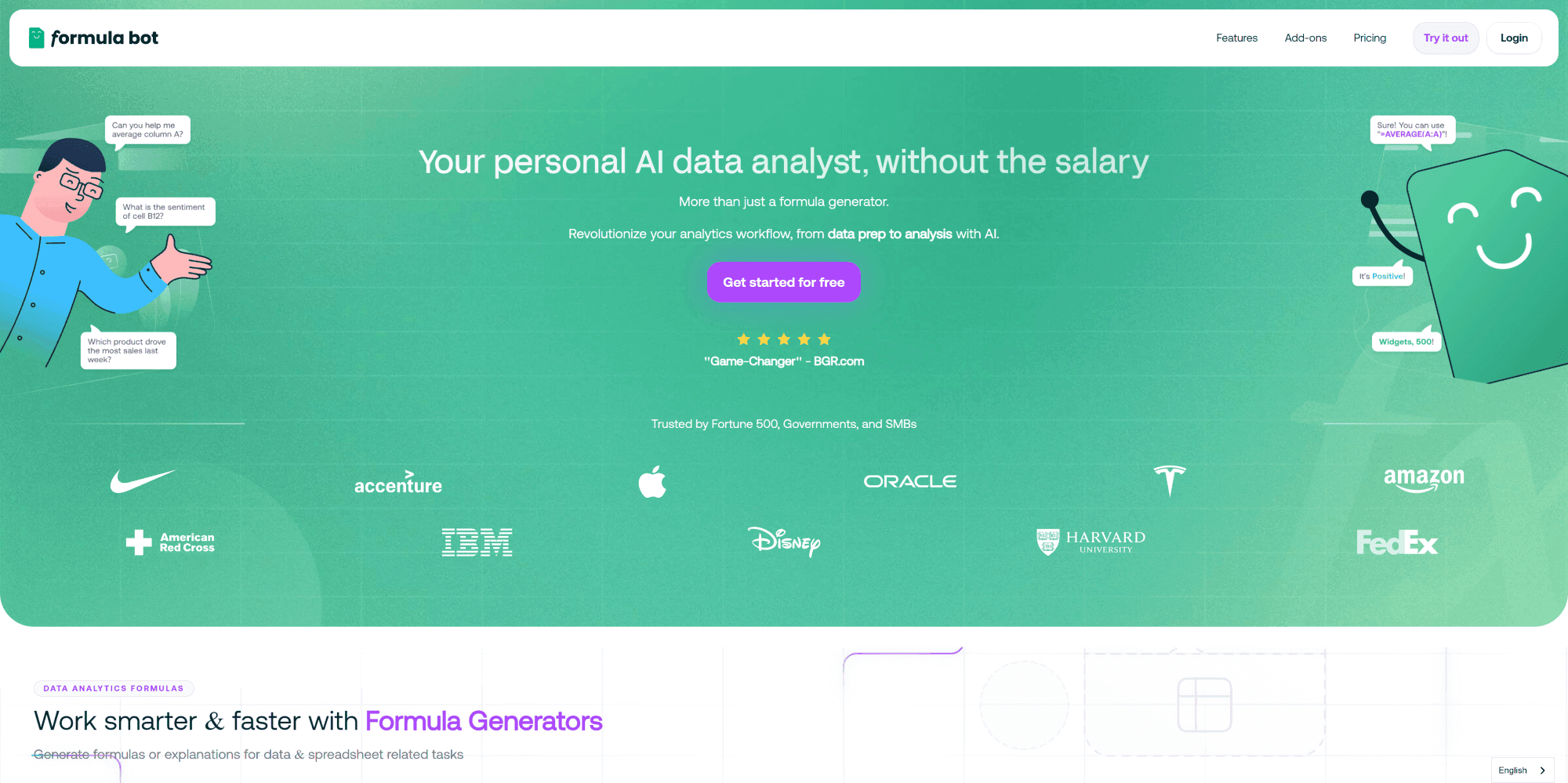 Pricing Plan:
Free Plan: Formula Bot has a free basic plan with limited access.
Premium Plan: A premium plan starts from $6.99 a month.
Business Plan: The business plan starts from $6.29 a month for teams.
* Non-profit organizations can sign up for free unlimited access.
Ajelix
Ajelix is an AI spreadsheet tool designed to enhance productivity with Excel and Google Sheets. It offers multiple features that can assist users in working more efficiently with spreadsheets.
By using Ajelix, you can write formulas and scripts ten times faster, translate spreadsheets, generate templates, and collaborate on formulas and scripts. This can significantly increase your productivity when working with spreadsheets.
AI Excel Formula Generator: This feature allows you to transform the text into Excel formulas using an AI formula bot, helping you generate formulas quickly and accurately.
Excel VBA Script Generator: This tool uses AI models to generate VBA code and regular expressions for your spreadsheets, saving you time.
Excel File Translator: This feature makes translating Excel files easier and faster using natural language. It does support up to 28 languages.
Excel Template Generator: Use of this tool allows you to generate downloadable Excel file templates from your keywords, helping you create custom templates for your needs.
Formula and Script Library: This feature allows you to save formulas and scripts in your dashboard and collaborate with others.
Excel Add-in: This feature allows you to work with AI spreadsheet tools directly in Excel.
Virtual AI Assistant: This is the world's first virtual AI assistant for spreadsheets, designed to help with various spreadsheet-related tasks.
It also offers tools specifically designed for Google Sheets, including a Google Apps Script Generator and a Google Spreadsheets Formula Generator. These AI spreadsheet tools can help you generate scripts and Google Sheets formulas.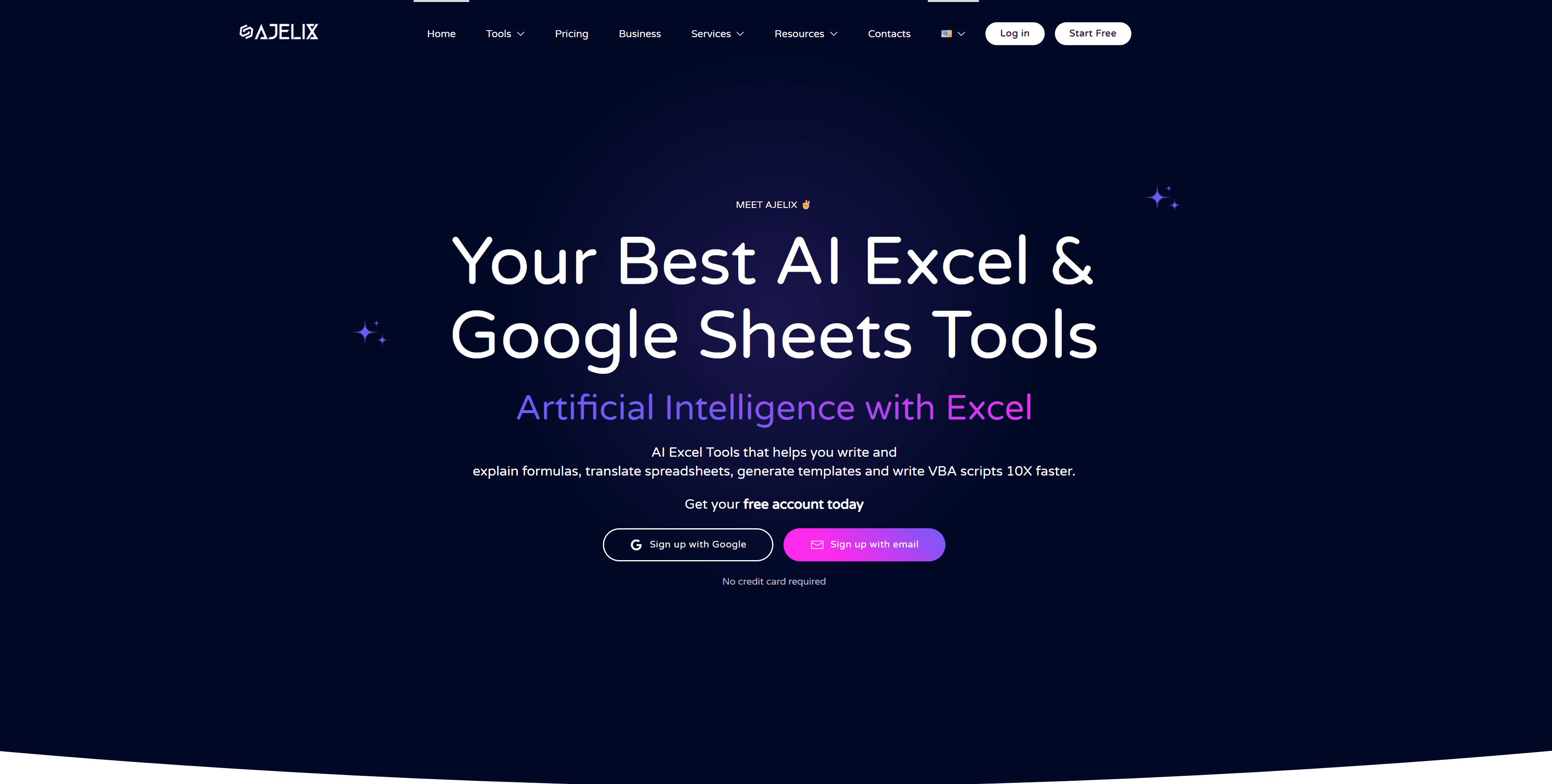 Pricing Plan:
Free Plan: Ajelix support a free account with 5 free monthly requests to use AI Excel Tools.
Premium Plan: A premium subscription starts at $5.95 for more extensive use with unlimited requests.
Sheet+
Sheet+ is an AI-powered tool designed to enhance productivity when working with Google Sheets and Excel. SheetPlus can improve your spreadsheet skills and save you time. It's a tool that can benefit individual users and teams.
Text to Formula: You can input a description of the formula answer you need, and the powerful AI models will generate it accurately within seconds. This feature eliminates the requirements to remember complex Excel formulas or spend hours trying to create them from scratch.
Formula to Explanation: This feature provides instant expert opinions for any Excel or Google Sheets formula. You input your formula use cases, and the AI assistant will provide step-by-step breakdowns and explanations of how each formula component works and what it does.
Increased Speed: You can write formulas 10x faster and generate the required formulas in seconds. This eliminates the need to create formulas from scratch or browse the web for solutions.
Enhanced Skills: Whether you're a beginner looking to learn Excel and Google Sheets or an experienced user, Sheet+ can help you become a spreadsheet expert.
Time and Effort Saving: The tool reduces the struggle to remember complex formulas or the time spent trying to create them from scratch. It allows you to complete your spreadsheet task more efficiently.
Team Empowerment: By leveraging the power of AI, your team can perform complex spreadsheet tasks and calculations quickly and more efficiently, allowing them to focus on other tasks and projects.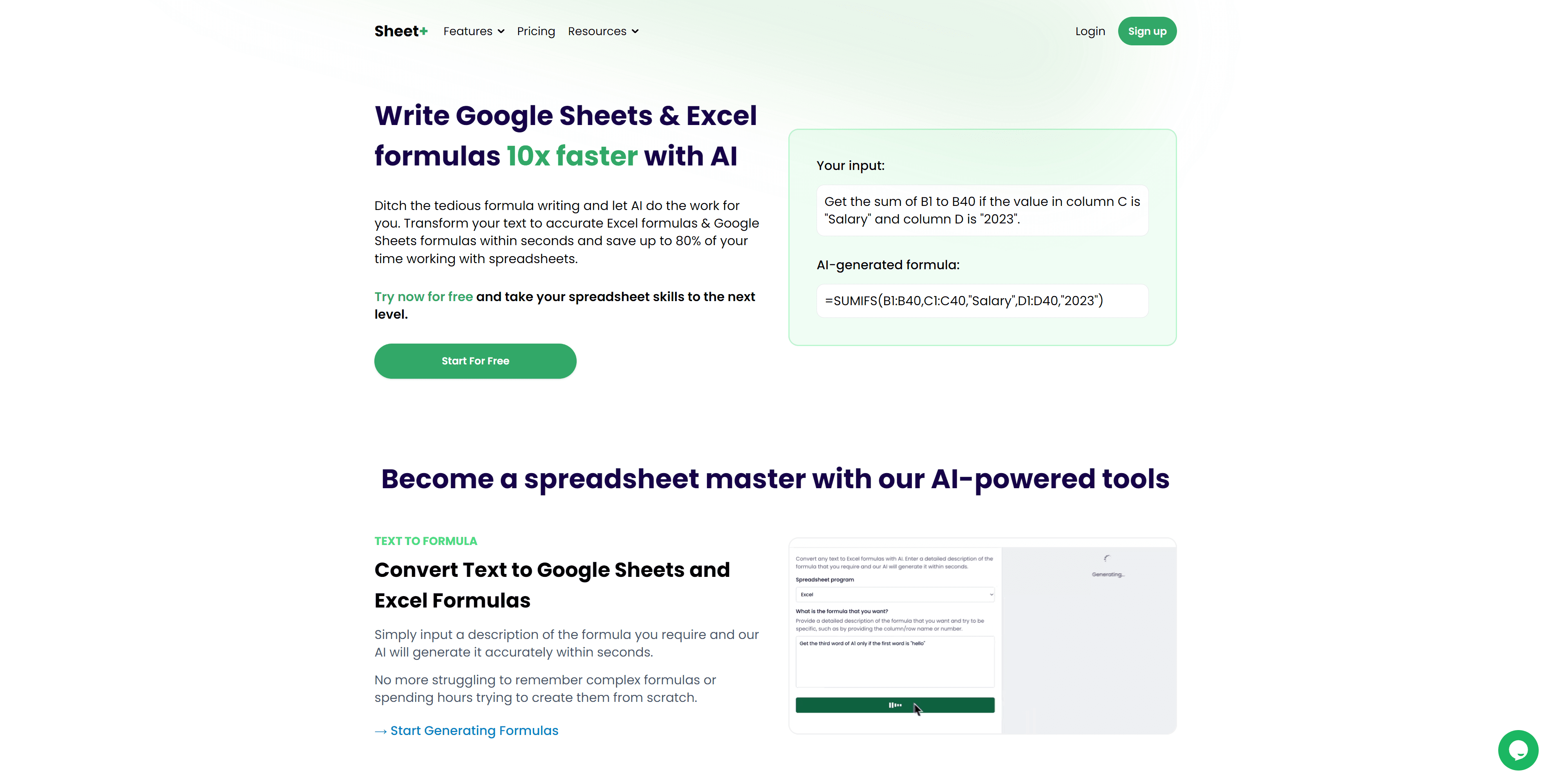 Pricing Plan:
Free Plan: This plan is limited to 5 AI credits per month.
Pro Plan: Best for pro users with unlimited AI credits per month.
Sheet AI
SheetAI is an AI-powered Google Sheets add-on that enhances your spreadsheet experience by automating tasks and generating helpful analytics. Here are some essential functions and how they can help increase productivity.
Efficient Copywriting with SHEETAI_BRAIN: This feature simplifies copywriting by storing and retrieving essential information. You can quickly craft taglines and content for any app by referencing its name while the AI fetches relevant details from your database. This can save you the time and effort of manually searching for and entering business data.
Generate Multiple Answers with SHEETAI_LIST: This function provides a variety of AI-generated answers to choose from, offering diverse solutions and perspectives. This can help you explore different possibilities and make more informed decisions.
Populate Data with SHEETAI_FILL: This feature allows you to effortlessly fill in product descriptions, clean up email lists, generate dummy data, and much more with the power of AI. This can significantly speed up business data entry and data cleaning tasks.
Sanitize Data, Generate Text, Predict Values: With SheetAI, you can sanitize large volume data, generate text, and predict values, among other things. These can help you maintain data table quality, create content, and make predictions, enhancing productivity and decision-making.
In addition to these elements, SheetAI has received positive reviews for its ability to invoke GPT-3 from within Google Spreadsheets, which users have found to be a powerful productivity hack for building quick and efficient spreadsheet-based apps. SheetAI is one of the best AI spreadsheet tools.
Pricing Plan:
Free Plan: This plan has the limitations of generating spreadsheet formulas.
Pro Plan: The best plan starts at $8/month for unlimited formula generation.
Botsheets
Botsheets is an AI spreadsheet tool that integrates with Google Sheets to automate business chat conversations and increase productivity.
Connect: It connects business messaging channels to Google Sheets, allowing you to manage your chatbot content and responses in one place.
Capture: Botsheets uses AI to automatically generate customer data from your business chat conversations. This eliminates the requirements for manual data entry and reduces the risk of errors.
Respond: It uses Google Sheets as a Content Management System (CMS) for chatbot content and automated responses. This means you can easily update and manage your chatbot's responses directly from your Google Sheets.
Generate Customer Lists On Auto-Pilot: Botsheets can automatically find the data you need from business chat conversations and write it to Google Sheets. This feature is designed to be set up in just 2 minutes and starts working immediately.
Generate Chatbot Content From Google Sheets: With Botsheets, you can build a chatbot that sends commands to search your Google Sheets and trigger automated responses. This includes text, images, and buttons. Botsheets has plugins for the most popular business chat automation solutions.
By automating these tasks, Botsheets can help increase productivity by reducing the time and effort required to manage chat context and customer data. It can have multiple use cases for businesses with a large volume of chat data and need an efficient way to organize and utilize it.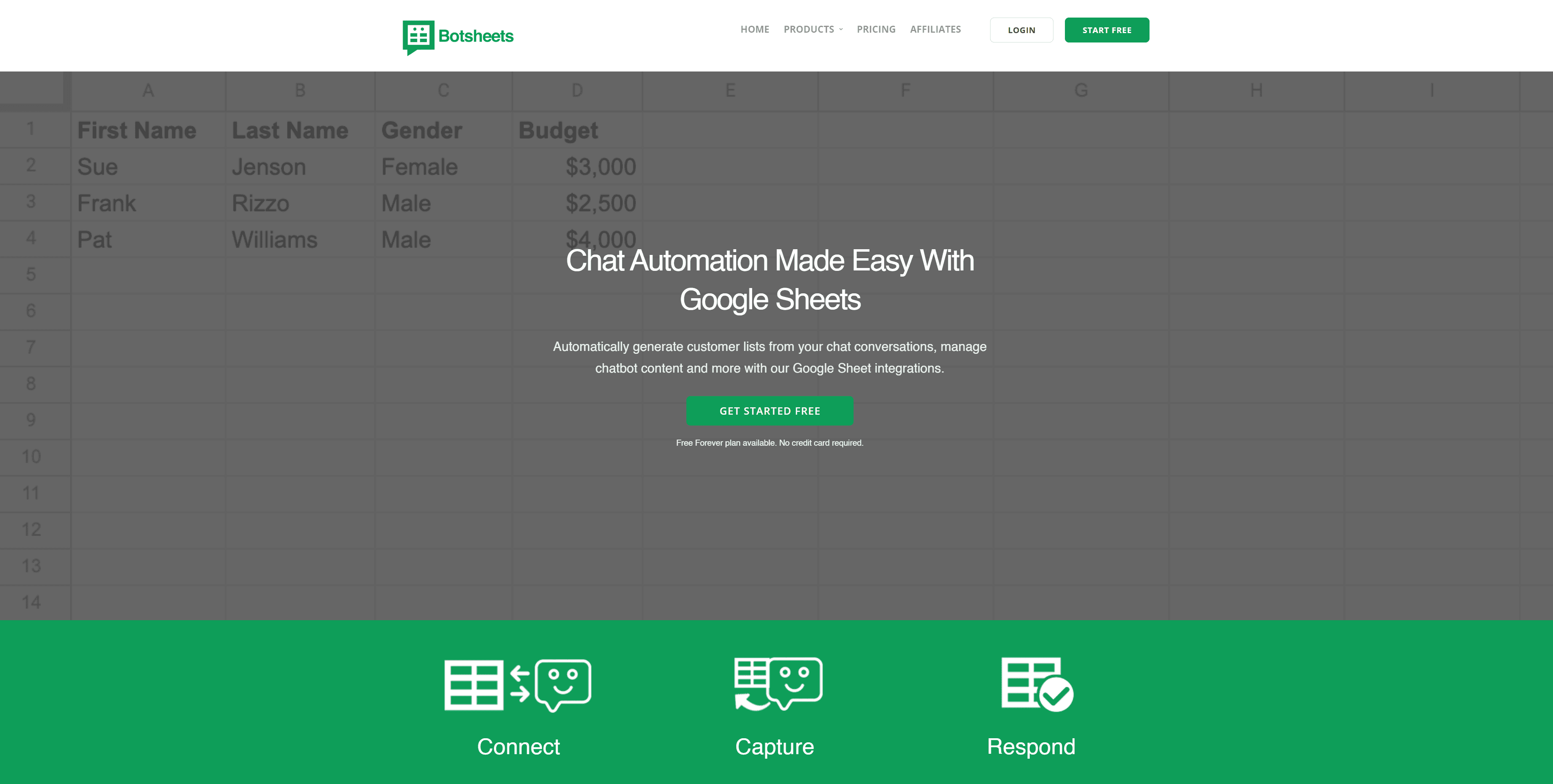 Pricing Plan:
Free Plan: Has limitations of 100 credits per month with 1 bot support.
Lite Plan: Comes with 2500 credits per month with 2 bots support for unlimited worksheets.
Pro Plan: This plan can get you 5000 monthly credits with unlimited bots.
Platinum Plan: Comes with 10,000 monthly credits with unlimited bots and Zoom support.
What are the Benefits of Using AI Spreadsheet Tools?
Increase efficiency and accuracy in large volume data analysis.

Save time by automating repetitive tasks with AI spreadsheet tools.

Improve decision-making with advanced predictive analytics.

Enhance collaboration and streamline workflows with AI-powered tools.
AI tools have revolutionized how we use Excel, providing numerous benefits that significantly improving user efficiency and effectiveness. By harnessing the power of artificial intelligence, users can unlock new possibilities and achieve better outcomes in their data analysis tasks.
With AI tools integrated into Excel, one of the key advantages is the ability to increase efficiency and accuracy in business data analysis. These AI spreadsheet tools leverage advanced algorithms to quickly process large datasets, identify patterns, and extract valuable information. Users can save significant time by automating complex calculations and data manipulations while ensuring accurate results.
Another significant benefit of using AI tools in Excel is the automation of repetitive tasks. Instead of spending hours on mundane activities like sorting or cleaning data, these tools can handle such processes automatically. This allows users to focus on more strategic aspects of their work, such as interpreting results or making informed decisions based on the analyzed data.
AI-powered predictive analytics is yet another advantage offered by these tools. They can analyze historical data trends and patterns using sophisticated algorithms to accurately predict future outcomes. This empowers businesses to make well-informed decisions based on reliable forecasts, improving performance and competitiveness.
Furthermore, integrating AI into spreadsheets enhances collaboration among team members and streamlines workflows. With qualities like real-time collaboration and intelligent suggestions for formulas or visualizations, users can work seamlessly on spreadsheets regardless of their physical location. This ensures smoother communication, faster decision-making processes, and increased overall productivity within teams.
Conclusion
Artificial Intelligence (AI) tools have significantly transformed how users interact with Excel, offering many benefits that enhance efficiency and effectiveness. By leveraging the capabilities of AI, users can process large datasets swiftly, automate repetitive tasks, and gain predictive insights from historical data trends. These tools save time and ensure accuracy, allowing users to focus on strategic decision-making based on the analyzed data.
Furthermore, the integration of AI in spreadsheets has revolutionized collaboration and workflow optimization. Features such as real-time collaboration and intelligent formula suggestions enable users to work cohesively, irrespective of their geographical location. This seamless integration ensures efficient communication, expedites decision-making processes, and boosts overall productivity within teams.
Check out 5 Best AI Homework Tools.
FAQs
Is there an AI tool for Excel?
Yes! Many of these AI tools are designed with a user-friendly interface in mind. They offer intuitive interfaces that make it easy to use for beginners to get started without any prior experience.
What is the best AI tool for Excel?
Sheet+ is a top AI spreadsheet tool for Excel and Google Sheets due to its AI-powered capabilities to generate and explain formulas swiftly, significantly unlock productivity and enhance spreadsheet skills for users of all levels.
What is the AI addon for Excel?
Add-ons or Add-ins are the additional integration to expand the Excel or Google Spreadsheets functionality. It does use native or third-party plugins that add extra features to calculate complex formulas and data analysis in spreadsheets.
What are the AI tools for sheets?
AI Excel Bot, Sheet+ (Plus), Ajelix, SheetAI, and Botsheets are the AI Tools for Excel and Google Sheets. Microsoft 365 Copilot is a great AI assistant if you are in Microsoft's ecosystem.
What does Microsoft 365 Copilot cost?
Microsoft GitHub Copilot pricing is $10 a month. But it is unclear about Microsoft 365 Copilot pricing. Microsoft may include it for free for educational purposes or will charge minimal fees.
Excel AI Tools
AI for Spreadsheets
AI for Google Sheets
AI for Excel
Spreadsheet AI
Rishit Patel
Sun Jul 02 2023