Tweet Hunter: The Best AI Tool for Twitter Growth Hack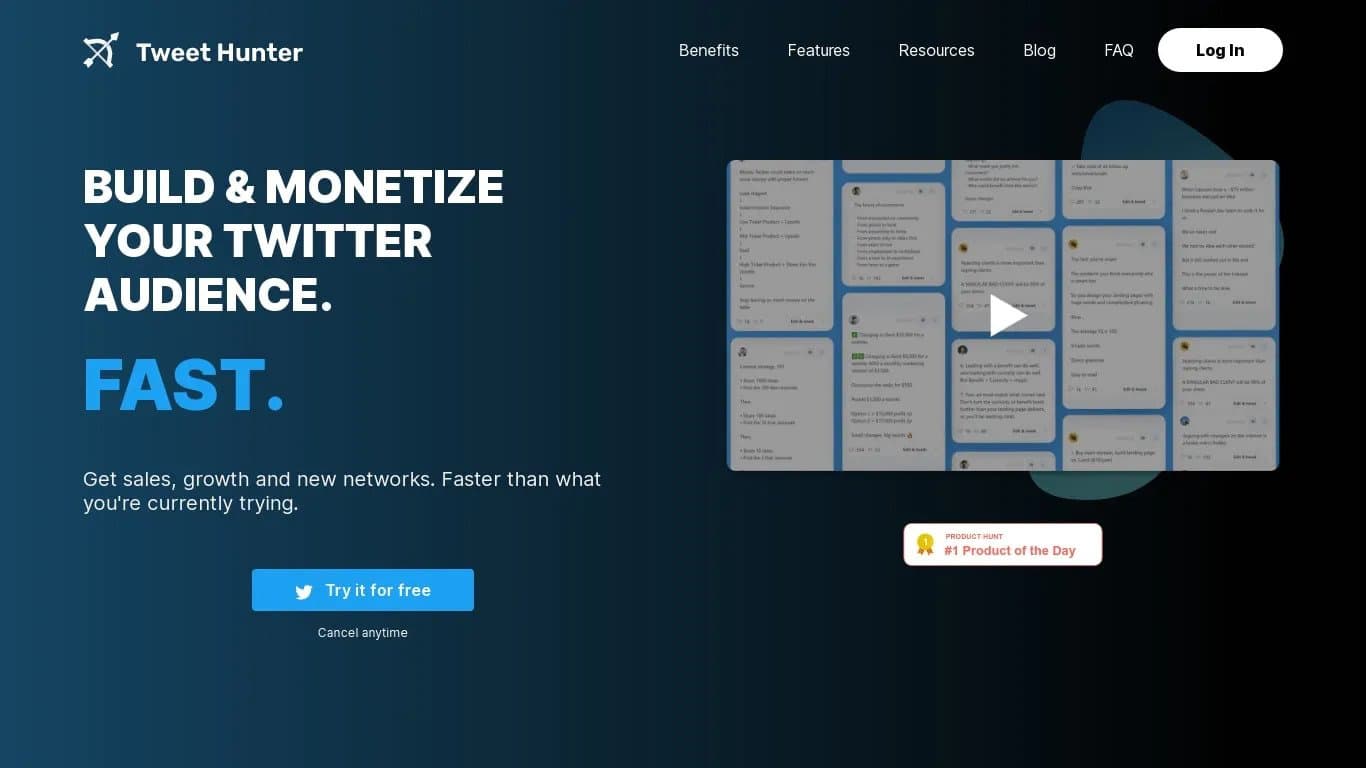 In the realm of social media marketing, Twitter stands as a powerful platform for audience engagement, brand promotion, and networking. A strong presence on Twitter is invaluable for any individual or business aiming to reach a broad audience. Enter Tweet Hunter, an all-in-one tool designed to help you navigate the Twitter-sphere with utmost ease and efficiency. Let's hunt into Tweet Hunter features, benefits, and why it might just be the game-changer you need for your Twitter growth.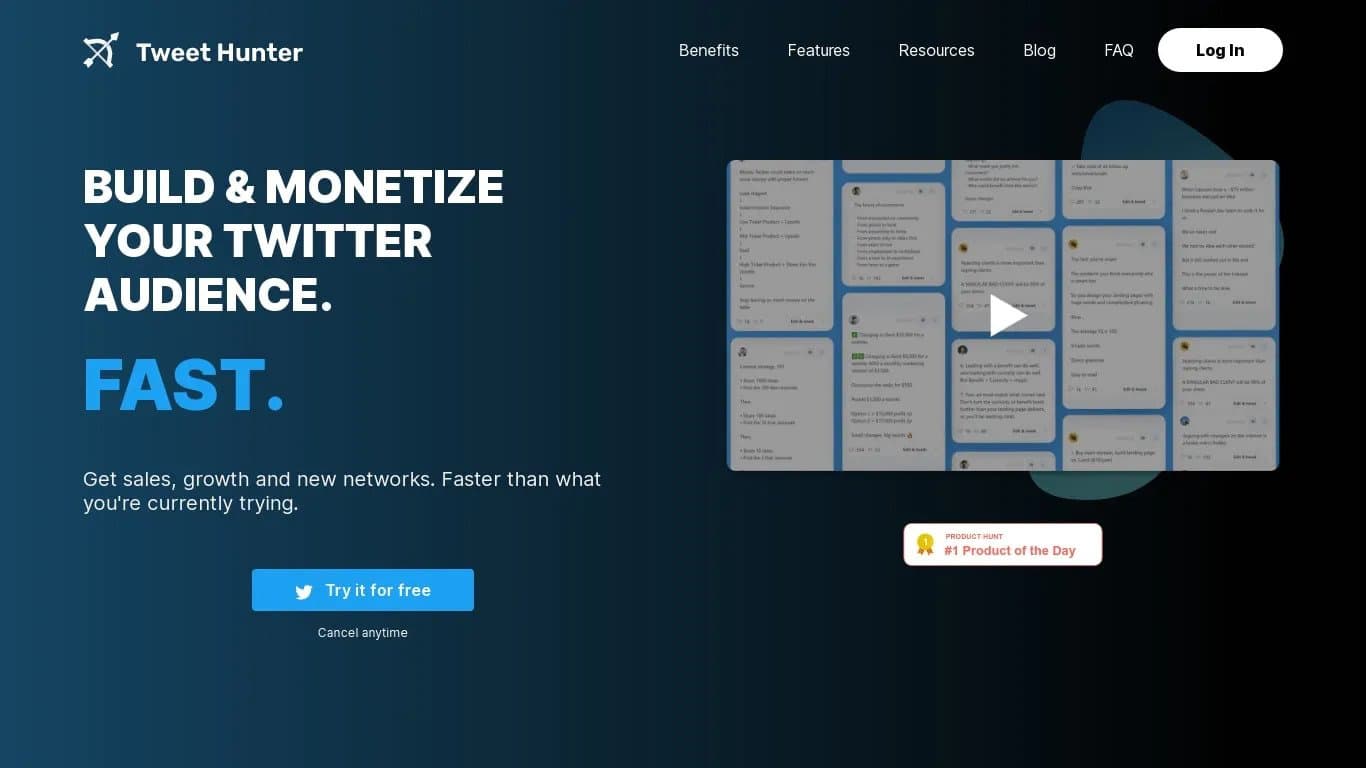 What is Tweet Hunter?
Tweet Hunter is a comprehensive Twitter growth tool designed to supercharge your Twitter audience engagement and growth. It's not just a Twitter scheduler, analytics app, or an AI writer, but rather an amalgamation of all these features and more packaged into one powerful tool. Its goal is simple: to make it as easy as possible for you to create high-performing content, build a loyal following, and monetize your Twitter presence.
Why Choose Tweet Hunter?
Tweet Hunter is not just for the big players in the Twitter world but also for those starting from scratch. Whether you have 100 followers or 50K, Tweet Hunter is equipped to handle your Twitter growth needs. It offers a myriad of features powered by advanced AI-powered technology, ensuring you stay ahead of the curve. Let's delve into some of its key features, such as AI tweet generator, scheduling tweets and thread ideas.
Content Creation
Tweet Hunter is an innovative platform that provides access to over 2 million viral tweets, allowing users to study successful content and understand what resonates with their audience with relevant tweets. Its advanced search feature enables users to explore Twitter more accurately by searching for specific topics, keywords, or people, while the option to exclude certain keywords or people helps focus on what's truly relevant.
Tweet Hunter leverages AI to offer tailored tweet inspiration and generate relevant tweets, which can be edited before posting. The platform also features a performance prediction tool, which guides content strategy by estimating the potential success of viral tweets.
Additionally, Tweet Hunter has an AI-powered Tweet Rewriter to refine your ideas into compelling tweets, and it suggests tweet threads for enhanced engagement to gain Twitter followers. It also provides a Thread Hook Generator to craft captivating thread introductions.
The platform showcases over 4,000 staff-picked tweets across ten categories to serve as content inspiration. Lastly, users can create and share their own collections of tweets for easy content management and distribution.
Scheduling & Automations
Tweet Hunter provides a variety of features designed to optimize your Twitter management. The platform allows you to schedule tweets and threads for strategic posting times and supports the addition of emojis, GIFs, images, and videos to your content, enhancing engagement and expressiveness.
The 'add to queue' feature allows for a simple one-click system to schedule tweets efficiently, while its analytics can help determine your best time to tweet based on when your audience is most active. Tweet Hunter also lets you create and save drafts, allowing you to refine your engaging tweets before posting.
The platform's Auto DM (Auto Plug Feature) enables you to send interaction-based direct messages automatically, enhancing engagement with your audience. Auto Plug feature (Auto DM) allows you to reply to your best-performing tweets with a link to your product or service, leveraging your most successful content to drive traffic to your offerings.
Tweet Hunter's Evergreen Tweets feature can automatically retweet your best content while you're not active on the platform, ensuring your profile remains engaging even when you're offline. The Thread Delay feature gives you the option to space out your thread tweets, preventing potential spamming of your follower's feeds.
The platform also offers a Hide URL previews feature that allows you to post links without showing the preview, providing a cleaner look to your own tweets. The Clean Profile feature can automatically cancel all your retweets after a few hours, maintaining a tidy, focused profile. Lastly, the Auto Retweet feature allows you to schedule retweets of your own content, maximizing the visibility of your best tweets.
Tweet Hunter's CRM Features
Tweet Hunter continues to innovate with its new Lead Finder feature, powered by advanced AI. This tool aids in identifying potential leads on Twitter, providing a significant boost to your marketing and sales efforts.
Engagement is key on Twitter, and Tweet Hunter's features facilitate this by allowing you to reply to specific people's tweets and engage with keywords relevant to your niche. This helps foster a sense of community and can aid in building relationships with influencers, customers, and potential clients.
Tweet Hunter offers you the option to hide retweets, replies, and quote retweets for a cleaner interface. In addition, the platform's AI capabilities extend to generating replies, helping you maintain engagement with your audience even when you're short on time.
The platform also allows you to create lists of people for targeted engagement. You can import accounts and Twitter lists or create lists based on past interactions, enabling more personalized and efficient communication.
Adding personal notes to each contact is another handy feature, helping you remember specific details or conversation points about your contacts. Lastly, Tweet Hunter ensures you never miss a mention by offering a comprehensive reply function, allowing you to respond to all your mentions promptly and maintain active engagement with your community.
Analytics
Tweet Hunter Analytics feature helps you monitor key metrics, enabling you to identify your top-performing tweets based on followers, engagement, and reach. The platform offers insights into daily follower growth and provides detailed tweet analytics, allowing you to make data-driven decisions for your Twitter strategy.
Sorting tweets by date and performance further assists in understanding what works best for your account. Additionally, the AI-powered "Rewrite" feature lets you revamp your best tweets for fresh, engaging content.
Tweet Hunter also presents comprehensive statistics on impressions, clicks, engagement, and profile visits, ensuring you have a complete understanding of your account's performance. Optionally, you can share your stats publicly, showcasing your success and growth to your audience.
Some More Tweet Hunter Features:
1.     Manage Multiple Twitter Accounts at No Extra Cost: Tweet Hunter allows you to add an unlimited number of Twitter accounts without any additional charges. This feature provides the flexibility to manage multiple accounts efficiently from one platform with the help of AI-generated tweets.
2.     Ghostwriting for Multiple Clients: You can manage content for various clients from a single Tweet Hunter dashboard. This makes it easier to handle ghostwriting tasks for different clients, ensuring a streamlined workflow.
3.     Shareable Tweet Preview Link: Tweet Hunter gives you the option to share a tweet preview link. When the tweet is published, this link automatically redirects to Twitter, allowing for easy sharing and increased engagement.
Tweet Hunter Pricing
Tweet Hunter offers a free 7-day trial and a 30-day refund policy, which essentially means you can test out its features for up to 37 days risk-free. Pricing plans start at $49/month, with AI-writing features available in the superior plan costing $99/month.
Is Tweet Hunter Safe?
Yes, Tweet Hunter is developed to respect Twitter's Policy and Terms of Use, ensuring your account's safety. However, using it to circumvent Twitter's terms can put your Twitter account at risk.
Nevertheless, if you choose to use Tweet Hunter to bypass these terms, you may jeopardize your account's security. Although Tweet Hunter implemented numerous safeguards to protect your Twitter account, it's crucial to understand that any actions resembling spam are against Twitter's Terms of Service. Examples of such behavior include repetitively copying and pasting other people's content, indiscriminately sending direct messages, or posting duplicated replies on a large scale for Twitter marketing.
How can Tweet Hunter help grow my Twitter audience?
Tweet Hunter's advanced AI technology helps you create more engaging viral tweets and threads, increase their reach, and improve business ROI. With custom features and constant updates, it provides value that is unmatched in the market. In short, Tweet Hunter can help you to grow your Twitter account. It will change your Twitter game.
Tweet Hunter Review: What are people saying about Tweet Hunter?
Of course, checking facts is the most important thing before you buy anything on this internet world. If you are looking for a Tweet Hunter review, over 1500+ people speak about how great a tool it is to grow your Twitter audience.
You can find the amazing posts if you go to the Tweet Hunter review section on their home page. Many people enjoy success by using this great tool for AI-generated tweets and thread ideas. So go and check Tweet Hunter review, schedule tweets and see your Twitter followers growing.
Tweet Hunter: The Verdict
Tweet Hunter offers an exceptional tool tailored for both newcomers and seasoned Twitter users aiming to amplify their Twitter influence. Its comprehensive suite of features facilitates efficient content creation, scheduling, auto retweet, audience engagement, and performance analysis, setting it apart from competitors.
For those contemplating starting their Twitter marketing journey, Tweet Hunter is your ideal companion. It allows for paced growth, offering an environment to learn and experiment, discovering what resonates best with your brand. The platform prioritizes building meaningful relationships and nurturing a community that appreciates your input, not just gaining followers.
For individuals and businesses keen on leveraging Twitter for networking and marketing, Tweet Hunter is a sound investment. Its design focuses on efficiency and effectiveness, making it a valuable aid to navigating the Twitter ecosystem. Regardless of whether you're a brand, a business owner, or an individual seeking to expand your target audience, Tweet Hunter's comprehensive tools are designed to optimize your Twitter strategy.
By streamlining and automating many of the most labor-intensive aspects of managing a Twitter account, Tweet Hunter helps you concentrate on crafting quality content and engaging with your audience in significant ways.
Tweet Hunter offers an in-depth look at the tool's capabilities, but the real testament to its effectiveness is its use. The platform offers a risk-free trial and a 30-day money-back guarantee, allowing you to test Tweet Hunter and witness how it can enhance your Twitter
influence.
If you're on the hunt to elevate your Twitter performance, Tweet Hunter makes it worth considering. It's more than a tool; it's a comprehensive solution catering to your Twitter growth needs.
In today's increasingly digital era, staying competitive is crucial. With Tweet Hunter, you gain a powerful tool that can propel your Twitter presence to new heights. It's easy to use Tweet Hunter, so give it a try today and see the transformation in your Twitter growth journey.
If you like to check Tweet Hunter alternatives, please see Top Alternative Tools to Tweet Hunter.
If you are interested in essay writing, please check this!
Tweet Hunter
AI Twitter Marketing Tools
Tweets Scheduler
Auto Tweet
Twitter Growth Hack Tool
Rishit Patel
Thu May 11 2023
Join thousands of AI enthusiasts in the World of AI!