Ready to revolutionize your content creation process? Look no further than AI writing tools like Rytr and Jasper. These cutting-edge tools use artificial intelligence to generate high-quality content in no time.
But with so many options out there, how do you choose between Rytr vs Jasper or any other AI writing tool on the market? Let's examine the strengths and weaknesses of each tool so you can make an informed decision about which one is right for your needs.
So what sets Rytr and Jasper apart from each other? Both these tools use AI technology to create content. They have different features and capabilities to cater to different types of users. Whether you're looking for the best copywriting assistant or simply want to streamline your workflow. There's an AI writing tool out there that can help.
What is Rytr?
Rytr is an AI-powered writing tool that can generate content in any niche with a single click. It provides a web-based editor and mobile editor for convenient use.
Unlike many other tools, Rytr doesn't need a draft before editing. Instead, it allows direct writing into a website or blog with real-time feedback.
It's suitable for both beginners and experts. It does offer features like efficient error detection in sentences. This makes it a useful tool for improving productivity and content quality.
How Rytr works?
Rytr is a free AI-powered writing tool that aims to enhance the writing and editing process.
Users write their articles in their preferred word processor or text editor, then upload them to Rytr or use their Chrome extension.
Rytr's AI software analyzes the text and suggests improvements. You can accept, reject, or ignore these suggestions. Regardless of the user's choices, Rytr's human editors will review the article before it's published online.
The goal of Rytr is to provide access to professional-level editing without the high costs and long waiting times. That does make it a valuable tool for writers of all levels.
What is Jasper AI?
Jasper AI is a sophisticated AI writer and content generator for teams. It allows customization of brand voice, enhances efficiency in content creation, and supports real-time collaboration.
Its AI engine utilizes top models like OpenAI's GPT-4, Anthropic, and Google's models. And combines them with recent search data, brand voice, and SEO tools.
Jasper AI prioritizes data security and privacy. Jasper can be used across various platforms with its API and offers a free trial for testing its capabilities.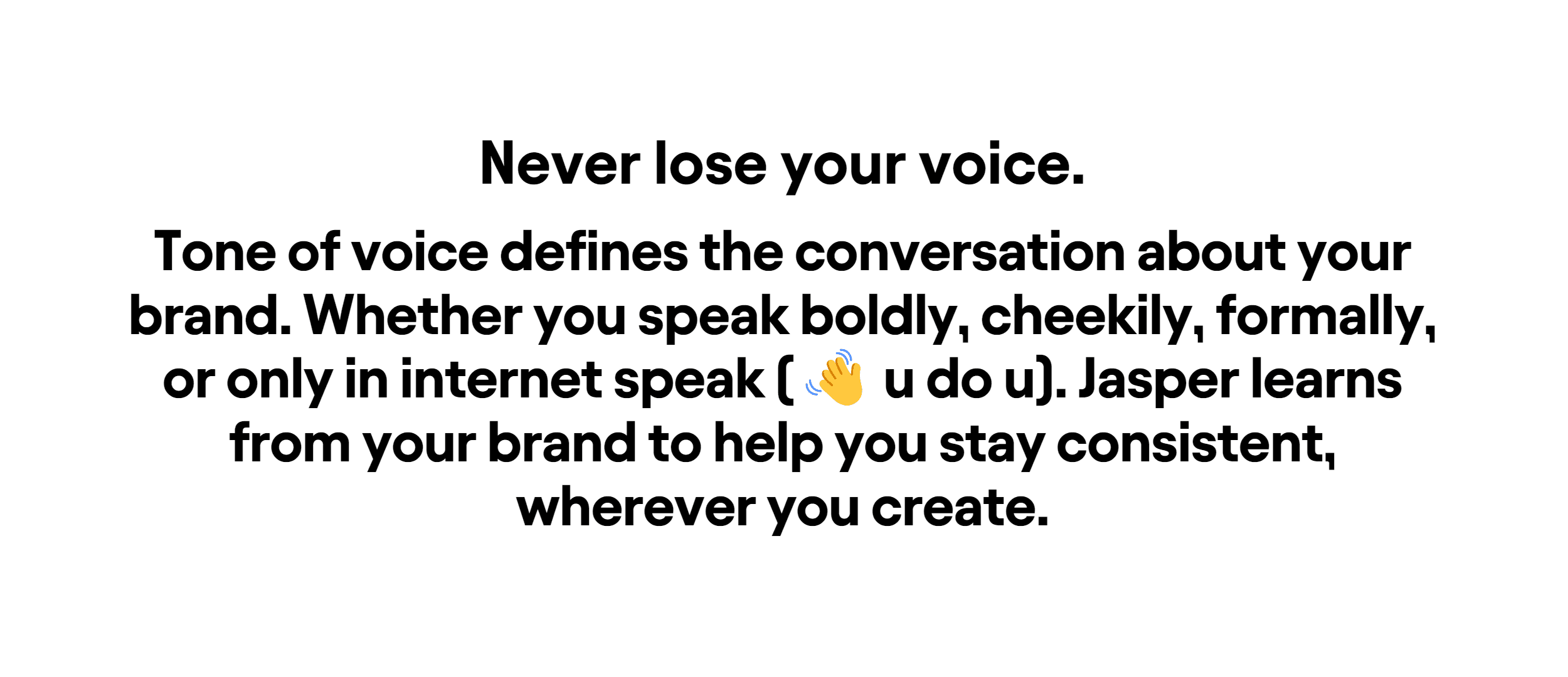 How Jasper AI works?
Jasper AI is a user-friendly artificial intelligence writing tool that revolutionizes content creation.
To use Jasper AI, you simply input your content requirements, either by typing or speaking. The tool's interface allows you to customize your content's appearance through a drag-and-drop. And also enables you to edit existing texts.
Once you've provided your input, Jasper AI uses voice recognition technology to generate content. Which can be an article or any other form of written content. It then reads back the generated text, highlighting any potential errors or areas needing more information.
After making necessary adjustments, Jasper AI finalizes the content. And it will be ready for publishing online. This process makes Jasper AI a valuable tool for anyone looking to optimize their content marketing efforts.
Rytr vs Jasper: AI Writing Features
Having the right writing tool can make all the difference. Two popular options on the market today are Rytr and Jasper AI.
Both tools offer a wide range of features that can help users create compelling content quickly and easily. Let's take a closer look at how these two tools compare in terms of their features and capabilities.
Rytr: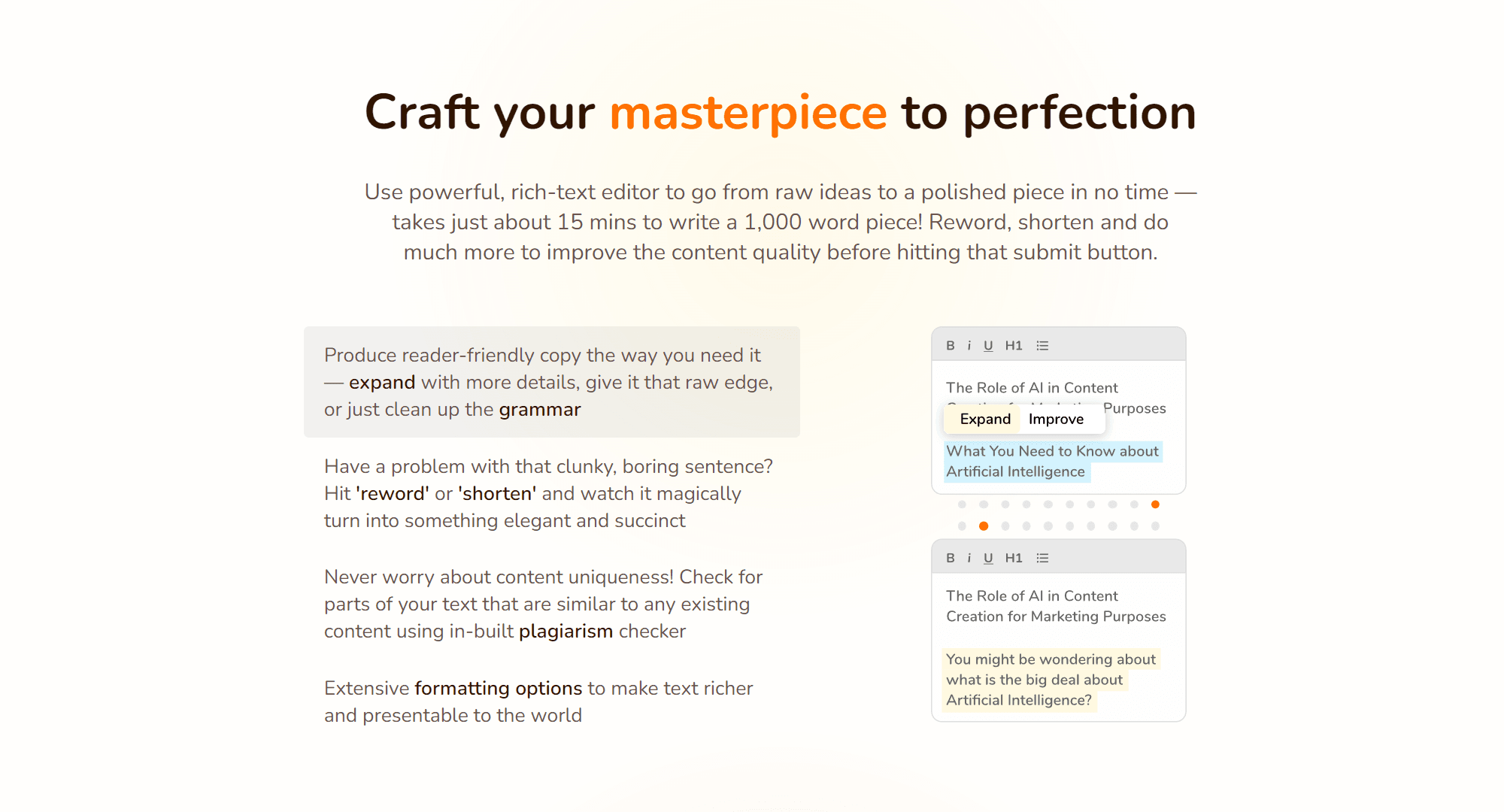 Rytr support 40+ use cases to generate content for your blogs, emails, landing pages, and more. It can write great content in 30+ languages and can use 20+ tones of voice to meet your content needs.
This great AI writer can help you to write content with scientific formulas like AIDA & PAS. So you need minimum to no editing of content.
If you are a social media manager or SEO agency, Rytr can get you great content in no time. It saves heaps of time for long or short-form copy writing.
Rytr's optimization feature helps writers improve their writing by suggesting changes based on readability, grammar, spelling errors, etc. Also, it does have a built-in plagiarism checker.
In short, Rytr focuses on providing a more user-friendly interface that makes it easy for writers to create great content quickly and easily.
Rytr uses GPT-3 model for content writing which has some limitations like speed and accuracy. But it's worth it due to its costs wide usability.
Jasper AI:
Jasper does support the AIDA & PAS copywriting formulas to get you great content. It does have 50+ templates, 30+ language support, and 50+ tones of voice to meet your content needs.
If you are promoting your brand, Jasper is the perfect AI tool to create content with maintaining the brand voice consistently. It does matter when you put your brand out in the market.
The AI behind Jasper can adapt your voice by scanning your website and generating content to have one voice for all your social media platforms.
Jasper AI's keyword research feature can help writers identify the most relevant keywords for their content, which can improve their search engine visibility.
Its plagiarism detection feature also allows creators to check if their text has been copied from elsewhere, ensuring that their work is original and unique.
Jasper AI also offers various features, such as content ideation (brainstorming ideas) and sentence rephrasing (paraphrasing sentences), which can assist creators in creating high-quality content quickly.
Jasper AI uses GPT-3 and GPT-4 models, which OpenAI recently launched. GPT-4 has more power, speed and generates more accurate data than GPT-3. Also, it does use Google models to generate great content with the help of recent data.
AI Image Generation Feature
Both Rytr and Jasper offer the AI image generation option for ads, thumbnails, and illustration purposes. But it has some limitations according to the subscription plan you choose.
The AI image generator can also help you to create engaging social media posts to get traction on various platforms.
Rytr and Jasper AI: Ease of Use
One of the most important factors to consider is the ease of use. Both platforms offer powerful AI writing tools, but they differ in terms of how user-friendly they are. In this section, we'll take a closer look at the user experience offered by each platform.
Rytr: Simple and Easy-to-Use Interface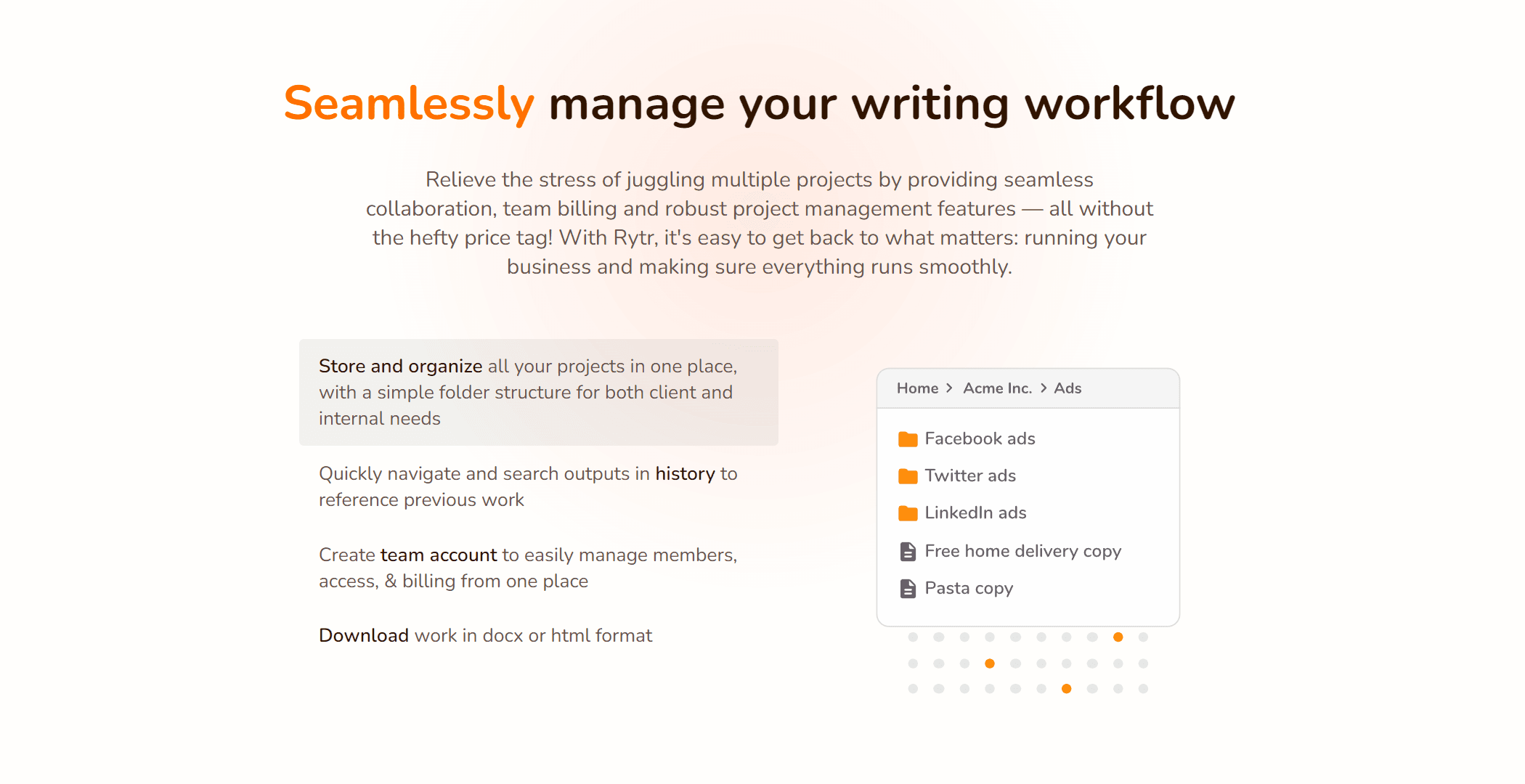 Rytr is designed to be easy to use from the start. The platform offers a simple and intuitive interface that makes it easy for users to get started right away. This makes Rytr a great option for those who are new to AI writing tools or have limited technical skills.
One of the key advantages of Rytr's user-friendly design is that it allows users to focus on their writing without getting bogged down in complicated settings or features.
The platform offers a range of helpful templates and prompts that can help users get started quickly, regardless of their level of experience.
Jasper AI: More Advanced Features with a Steeper Learning Curve
Jasper AI offers more advanced features than Rytr, but this can make it more complicated for some users. The platform has a steeper learning curve than Rytr and may require more time to get used to for some users.
However, for those who are willing to invest the time in learning how to use Jasper effectively, the platform offers a range of powerful features that can help them take their writing to the next level.
Jasper offers advanced customization options that allow users to fine-tune their output based on specific criteria such as tone, style, or audience.
Helpful Tutorials and Support Resources
Both platforms offer helpful tutorials and support resources that can help users get up and running quickly. Rytr provides detailed documentation on its website, along with video tutorials that cover everything from basic setup instructions to advanced tips and tricks.
Jasper AI also offers a range of helpful resources, including a comprehensive knowledge base and a dedicated support team that is available to answer questions and provide guidance.
Rytr vs Jasper AI: Creativity and Freestyle Commands
Rytr and Jasper AI are two popular AI writing tools that can help users generate content quickly and efficiently. While both platforms use advanced algorithms to create text based on data inputs, there are notable differences in terms of quality.
Rytr's Magic Commands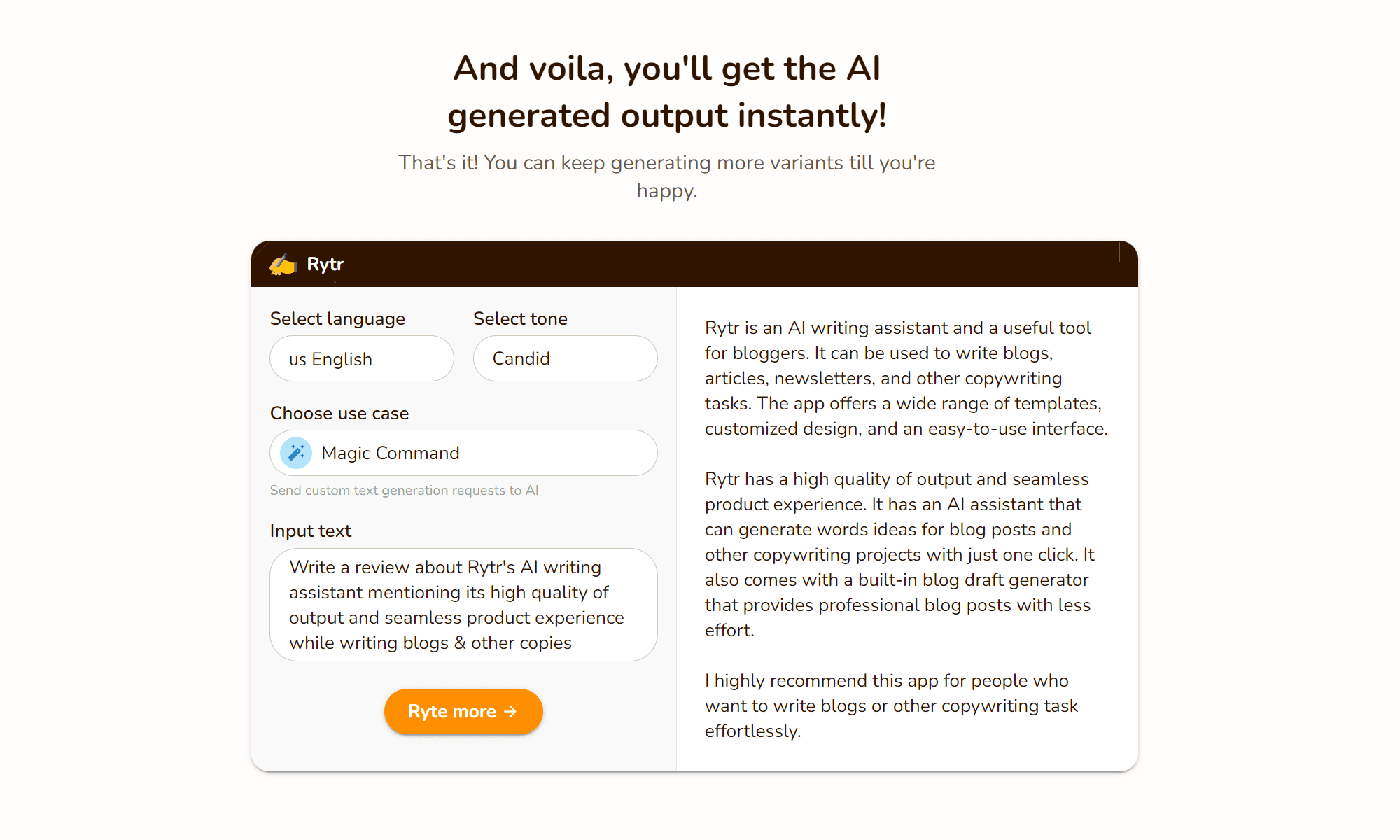 One of the main advantages of Rytr over Jasper AI is its extensive range of freestyle commands. These commands allow users to customize their content according to their preferences, making it easier to generate unique and better content.
For example, with Rytr's magic commands, users can specify the tone and style of their writing, as well as add specific keywords or phrases that they want to include in the text. This gives them more control over the output of the generated content, ensuring that it meets their needs and requirements.
Users can experiment with different tones, styles, and structures until they find something that works for them - resulting in a more creative output overall.
Jasper AI Freestyle commands
Jasper AI has limited freestyle commands available. This limits the user's ability to control the output of the generated content, which can be frustrating for those who want more flexibility in their writing.
Specifically, many users have commented that Jasper AI's content tends to be repetitive or lackluster compared to other platforms like Rytr. This is likely due in part to its limited set of freestyle commands which restricts its ability to generate truly unique or engaging text.
Future Plans and Improvements
Rytr and Jasper AI are constantly evolving and improving.
The Jasper AI team has plans to continue enhancing the user experience and adding new features to stay ahead of the competition.
Rytr is also committed to improving its edge in the market with new updates and improvements.
Both tools have great customer support, but they focus on the online community for extended support as well.
Rytr vs Jasper AI: Output Quality
The output quality is an essential aspect of any AI writing tool, and both Rytr and Jasper AI have gained a reputation for their high-quality output.
When comparing Rytr vs Jasper AI in terms of output content quality, it becomes clear that both tools offer unique strengths.
Rytr:
Rytr's output content quality is known for its ability to generate engaging and persuasive content that resonates with the target audience. The tool uses advanced algorithms to analyze data from various sources, including social media and search engines, to create content that aligns with the client's goals.
One of the key benefits of Rytr's output quality is its ability to save your time and effort in creating compelling content. With its user-friendly interface and intuitive features, Rytr allows you to focus on other aspects of their work while it generates high-quality content for them.
Rytr may be a better choice for businesses looking to increase engagement with their target audience.
Jasper AI:
Jasper AI's output content quality is highly informative and well-researched. The tool uses natural language processing (NLP) technology to analyze vast amounts of data from reliable sources such as academic journals, news articles, and industry reports.
One advantage of Jasper AI's output content quality is its ability to generate highly accurate content quickly. This makes it an ideal choice for businesses that require up-to-date information on specific topics or industries.
Jasper AI may be more suitable for those seeking a highly informative long-form copy writer.
Rytr vs Jasper: Collaboration - Integration - API
Team collaboration:
One area where both Rytr and Jasper AI shine is in their collaboration features. Both tools allow multiple users to work on the same document simultaneously, making it easy for teams to collaborate on projects no matter where they are located.
However, Rytr has a more user-friendly interface that makes it easier for teams to work together. With its intuitive design and simple navigation, Rytr allows users to share documents with team members quickly and easily.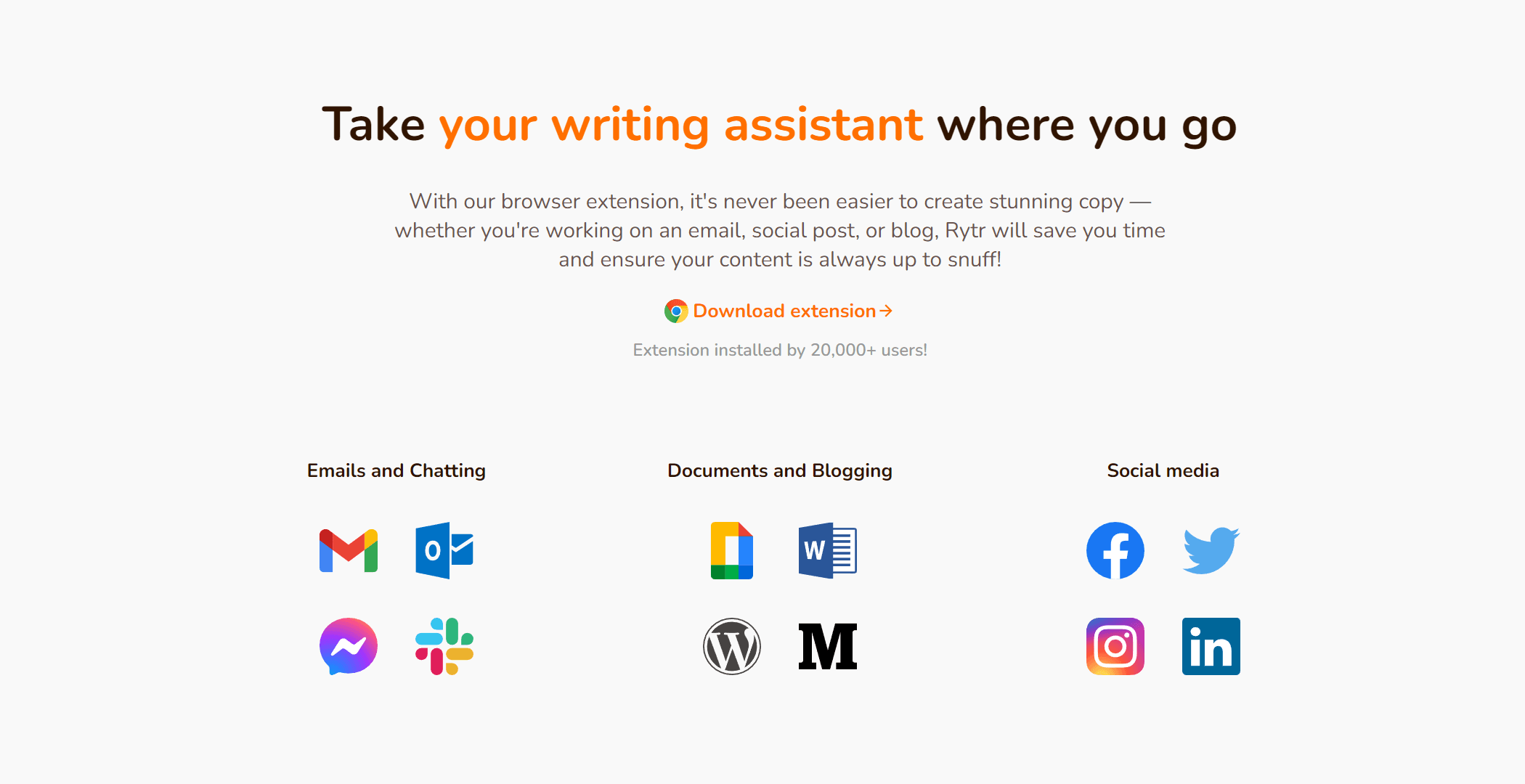 Integration:
Rytr and Jasper both seamlessly work with apps like WordPress and Shopify with its Chrome extension.
Also, it does support creating social media content, email writing assistance, writing in documents, and more.
Both AI tools can help you to generate product descriptions, meta descriptions, landing pages, YouTube title generation, blog posts, and many other types of content generation.
Grammar checker and plagiarism checker are built-in for Rytr. But Jasper has Grammarly integrated for grammar checks, and you have to pay extra to integrate plagiarism checkers like Copyscape.
Jasper can be integrated with SurferSEO to generate long-form content in multiple languages with keyword metrics.
API:
Rytr and Jasper both soes support API integration with third-party apps, so you can use in on your favorite platforms.
You can create some simple code snippets to use API if external apps don't support native integration. But you need a bit of coding knowledge to create your own solution to use Jasper and Rytr APIs.
Jasper AI vs Rytr: Security and Privacy
Jasper takes security seriously, and they do comply with best cybersecurity practices. They are SOC 2 certified and strict about their technical and organizational requirements.
Jasper also claims that they do not train 3rd party AI models with customer data, and it's safe and encrypted with them.
But we couldn't find SOC 2 certification or some serious security information about Rytr.
However, both Rytr and Jasper comply with GDPR (General Data Protection Regulation) and CCPA (California Consumer Privacy Act) privacy laws.
But they do also collect various information like email addresses, phone numbers, and more to provide the service and marketing purposes.
Rytr vs Jasper: Pros and Cons
Are you tired of spending hours writing content for your website or blog? Look no further than Rytr and Jasper, two AI-powered writing tools that can help you generate better content quickly.
Let's discuss the plus and minus of using these two tools to help you decide which one is right for your business needs.
Pros of Using Rytr: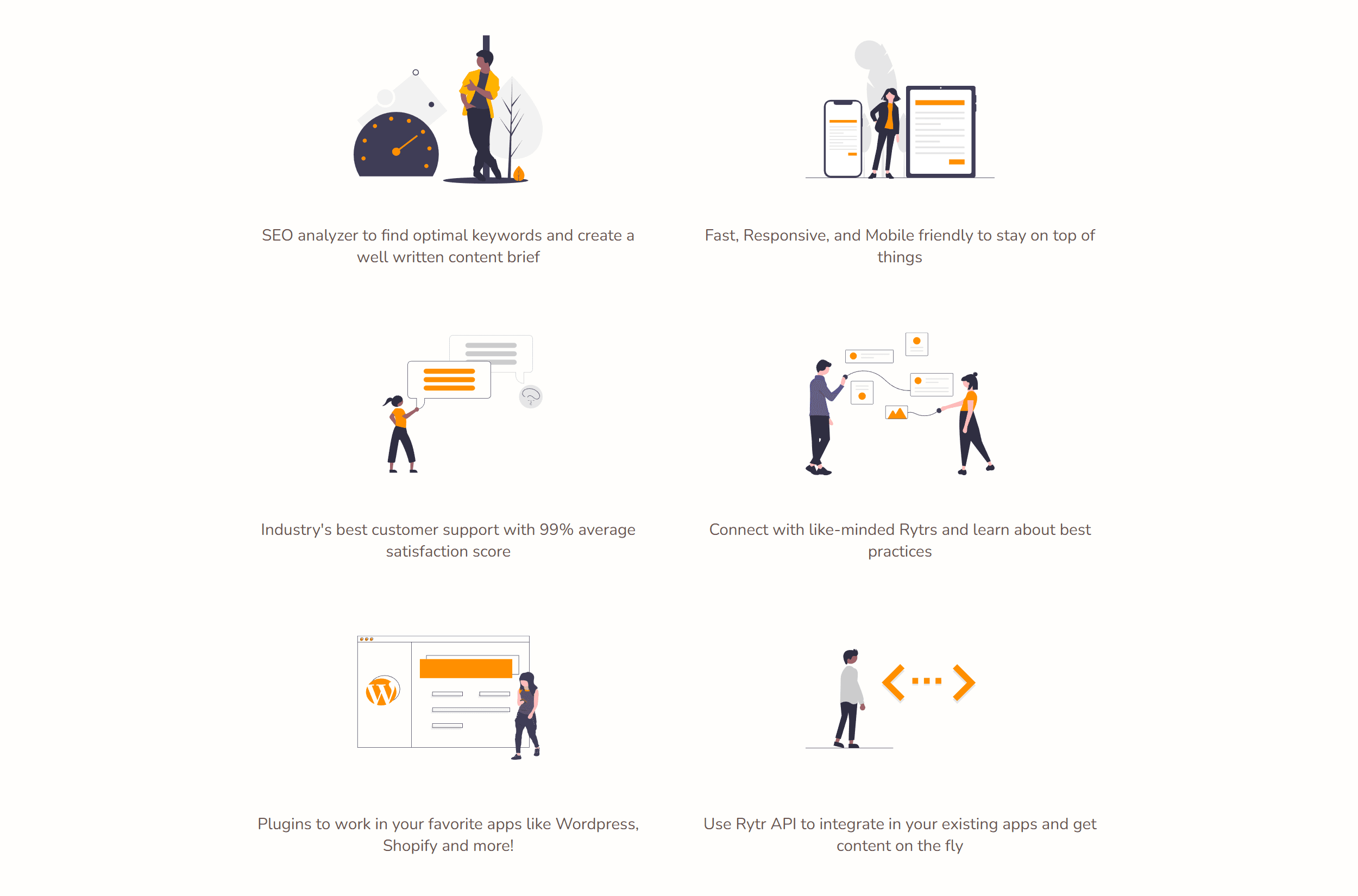 Wide range of use cases: Rytr provides a variety of use cases for different types of content, including blog posts, product descriptions, social media posts, and more. This makes it easy to create great content quickly without having to start from scratch.

User-friendly interface: The platform's interface is simple and intuitive, making it easy for anyone to use regardless of their technical expertise.

Multiple Language Support: 30+ languages supported by Rytr to write great engaging content for your international audience.

Tone of Voice: 20+ tones of voice can help you to please your audience using various types of tones like Appreciative, Formal, Joyful, and more.

AI Image Generator: Rytr can help to create high-resolution images with the help of AI for your blog post and social media posts.

In-built Plagiarism Checker: Rytr has a built-in plagiarism checker to make sure that created content doesn't breach copyright law.

Free Trial: Users can take advantage of the free trial period to test out the platform's features before committing to a paid subscription. Also, the better pricing plans make it a good choice.
Cons of Using Rytr:
Limited Customization: Rytr offers a wide range of use cases, but users have limited customization options to generate specialized content.

Lake of Brand Voice Feature: While Rytr does have the 20+ tone of voice to generate the content, it does not offer AI data scanning to enhance brand voice in content.

GPT-3 Technology: Rytr uses GPT-3 language model from OpenAI, which sometimes generates outdated content.

Lake of SEO Mode: Rytr can check grammar and plagiarism while you write the content. But lake of SEO tool integration does not provide the keyword metrics for you to identify if you are going in the right direction.

Security: Unlikely Jasper, Rytr also takes security seriously and protects customer's data. But Rytr seems not SOC 2 certified, which is one minus point in terms of security.
Pros of Using Jasper:
Advanced AI Technology: Jasper uses advanced algorithms that analyze large amounts of data to produce high-quality content in record time. It does use GPT-4 and Google's models to write the best text content.

Customization: With Jasper, users can customize their content by selecting specific keywords or phrases they want the tool to focus on. It also uses 30+ languages and numerous amount of tones to generate the content.

Brand Voice: Jasper AI analyzes the tone of voice and makes sure that it sounds consistent throughout the content. It can read data from your website or as you write the content to adapt and recognize the brand voice.

AI Image Generator: Jasper AI can create art and images in seconds for ads, thumbnails, and illustrations to use in your content.

Memories: This feature can teach Jasper about your product, services, and audience to write factual content about your business.

SEO Mode: Improve content score by integrating Jasper with Surfer SEO. It can provide you with data with keywords potentials for ranking factors on search engines.

Security: Jasper takes security seriously, and it's SOC 2 certified. So your data can be handled with the best cybersecurity practices. Furthermore, Jasper does not use your data to train AI models and keeps all data encrypted for better security.

Competitive Pricing Plans: Jasper AI's pricing is competitive in terms of features and customization it does offer.
Cons of Using Jasper:
Steep Learning Curve: Jasper's advanced features and customization options can make it challenging for new users to learn how to use the tool effectively.

Pricing Plans: Jasper offers only a 7-day free trial. And pricing plan starts from $49 per month, which might not fit someone's budget who is just starting out.
Rytr vs Jasper AI Pricing Plans
Rytr and Jasper both have various tiers of pricing plans which suites any user's needs. Despite the pricing, both AI copywriting tools offer great customer support.
Rytr Pricing: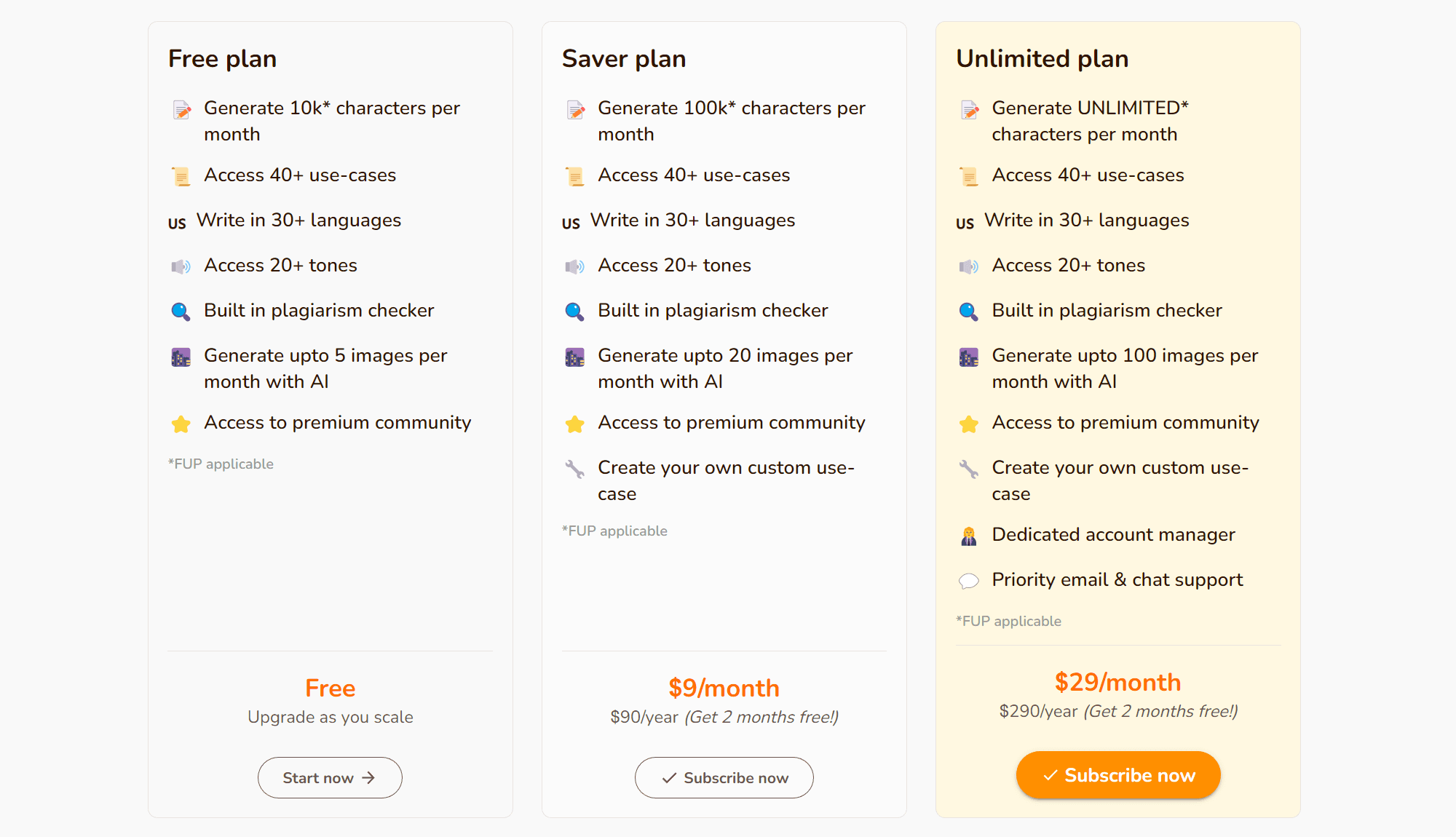 Free Plan: Rytr's free forever plan is a great choice if you would like to try out their product. It does allow 10,000 characters (not words) per month to write content. It's not enough, but great for occasional short-form copy writers.
Saver Plan ($9): This plan offers 100K characters (not words) to write plagiarism-free content per month. The Saver Plan is ideal for social media managers and medium-form copy writers.
Unlimited Plan ($29): Rytr's unlimited characters per month plan is great for short-form or long-form copy writers. This plan offers a dedicated account manager so your business can benefit from writing great content for ad copy, blog posts, and social media marketing.
Jasper Pricing:
Creator ($49): Jasper AI's Creator plan does offer unlimited words a month of content creation with 1 seat and 1 brand voice. Also, offers 50+ templates and 50 memories. It's a great plan for small business content creation or for individual writers.
Teams ($125): This plan does offer 3 seats and 3 brand voices, 150 memories, and unlimited words per month of content creation. 50+ templates included to help you to write any kind of long and short-form content.
Business (Custom Pricing): If you are looking for serious content writing business and have a big team, Business Plan is the right choice for you. You can get tailored pricing according to your needs. Great plan to write long-form content in bulk with the support of 50+ templates and memories.
The Verdict: Rytr vs Jasper AI
Both Rytr and Jasper are great AI writing tools in terms of usability, easiness, and creating content with various templates. However, both have some uniqueness that may cater to a different kind of audience.
They both offer a great pricing plan per month with multiple languages support and tones of voice. So you can write a bunch of blog posts, social media posts, business plans, and many other things every month.
If you are looking for advance AI support for content,we recommend you to go with Jasper AI. This is the great tool in terms of customization, security and multiple AI models support like GPT-4 and Google's AI models. It can write a great long-form content, maintain brand voice and integrats with SEO metrics tool like a Surfer SEO.
Signup Today for Jasper AI's Free Trial
But is you are looking for simple to use tool which is cost effective too, we recommend you to go with Rytr. It's 40+ use cases can fit to all your short or long-form content writing needs. Rytr is a good choice for social media managers, small business & e-commerce website owners.
Signup Today for Rytr's Free Plan
Alternative AI Writing Tool Options to Consider
If you are looking for alternative options to Rytr and Jasper, there are various copywriting tools available in the market that you can consider.
These tools can help you improve your writing efficiency, check plagiarism, optimize your content for search engines, and even translate your content into different languages.
ChatGPT: This is one of the best free AI writing tools if you know the right prompts to use. It does offer a paid plan as well for speed, GPT-4 support, and plugin support.
WriteSonic: It's a great alternative tool to Rytr and Jasper for AI content writing. Their Sonic editor can help you to write long-form blogs, sales emails, ebooks, and more.
Which is better Jasper or Rytr?
Rytr and Jasper both tools are very close to each other in AI content writing. But Jasper AI is a great tool in terms of customization to create topic-specific content. Whereas, Rytr is simple and budget-friendly for content like ad copy, social media posts, meta descriptions, etc.
What is similar to Rytr?
Top 5 alternatives to Rytr.
What is the best alternative to Jasper AI?
Top 5 alternatives to Jasper AI.
Check out Best AI Essay Writer for students.
Check out AI Marketing Tools for online marketers.
Rytr vs Jasper AI
Rytr Features
Jasper AI Features
Rytr Pricing Plans
Jasper Pricing Plans
Best AI Writing Tools
Rishit Patel
Mon Jun 12 2023