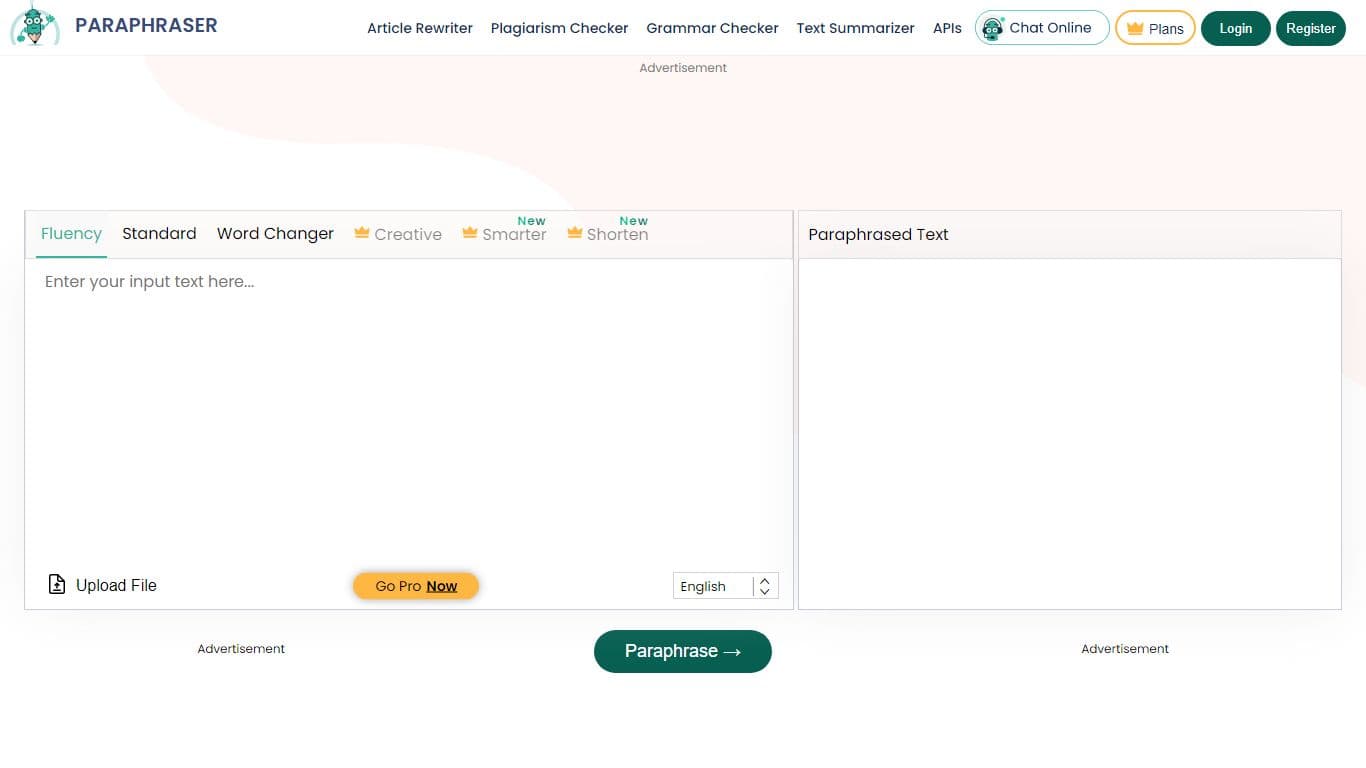 Our online paraphrasing tool uses state-of-the-art AI technology to paraphrase text accurately and instantly. Using this tool, you can rephrase sentences and articles without affecting their meaning.
The online paraphrase tool has numerous features including, rewriting essays, fixing plagiarism, and rewording articles. Our paraphrasing tool works best as a word changer and sentence rephraser.
Why is Paraphraser.io best? Our paraphrase tool has an advanced algorithm for paraphrasing content online. Accurate web-based content spinning was never possible before Paraphraser.io.
It's best because of
Quality Content Our Paraphrase tool generates more readable and grammatically correct content. It does not ruin the quality of the content after paraphrasing. Hence, our paraphrasing tool helps to improve your writing skills and provides you a different way to express your own words.
It replaces proper synonyms, rephrases like real humans, and paraphrases better than professional writers.
Plagiarism-free output Our Paraphrasing tool helps you to avoid duplication of content. Paraphraser.io is useful to increase productivity as it quickly and easily generates multiple versions of the same text.
Speed As compared to other tools, our paraphraser provides the fastest results by keeping the best quality. It processes a large text within a few seconds.
Easy to use Sentence rephraser by Paraphraser.io is easy to use and has a user-friendly interface. Do you have any suggestions to improve our interface? Please let us know.
Price We provide Fluency & Standard mode with 600 words limit at free of cost. You can rephrase unlimited text without any daily limit. You can increase the word limit to 1500, by upgrading to pro.
Paraphrasing APIs Colleges and universities can integrate our rephraser using our paraphrasing APIs.
Customer support We take care of our users. In case you have any questions or need assistance, You can contact us via chat or open a ticket on our support page.
Top Features:
Paraphraser.io has the art of rephrasing the text on the human level. The final output will be readable, sensible, and plagiarism free.
Our free paraphrasing tool is the most advanced AI rewriter based on NLP. It can paraphrase sentences and complete articles.
Unlike other online paraphrase tools, our AI-based paraphrasing tool maintains the original meaning while changing the sentence structure.
FAQs:
1) Can I use a paraphrasing tool for legal writing?
Yes, paraphrasing tools can be useful in legal writing. Make sure to use a paraphraser responsibly and ethically. Two things to remember when using the word changer tool in legal writing:Check plagiarism: Double-check the rephrased text for plagiarism.Cite Sources: Cite any sources used, even if you used a paraphraser tool to rephrase a text.
2) Is using a paraphrasing tool count as plagiarism?
No, Using a paraphrase online tool does not count as plagiarism. As mentioned above, our tool provides plagiarism-free content while keeping the original meaning of the context. Our text paraphraser helps users to rephrase text and avoid plagiarism. The content generated by our tool is completely unique.
3) Can you get in trouble for using a paraphrasing tool?
Sentence rephraser developed using advanced AI algorithms to paraphrase content like a human. You can use our different modes to check which rephrase model is the best fit for you.Pro Tips: Cite the sources to avoid any trouble.
4) Is using a paraphrasing tool is illegal?
No, using a paraphrasing tool is not illegal if used correctly. In academic writing, if you use a word rephraser to create content then it must be correctly cited. Using paraphrased content as original work could be considered academic misconduct.
Tags:
AI technology
paraphrasing tool
web-based content spinning
rewriting essays
fixing plagiarism
article rewording
word changer
sentence rephraser
quality content
grammar
professional writers
plagiarism-free output
productivity
speed
user-friendly interface
price
Fluency mode
Standard mode
paraphrasing APIs
customer support.
Top Alternative Tools to Paraphraser