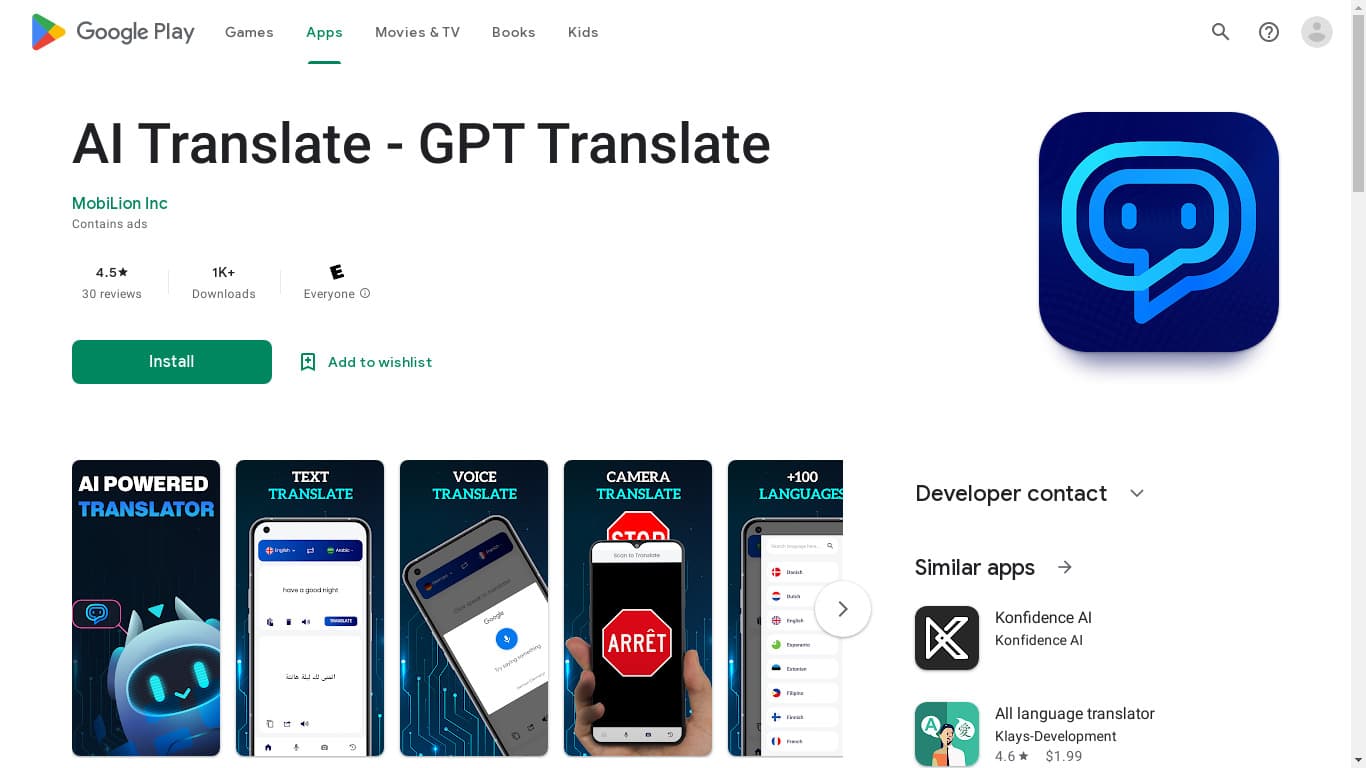 AI Translate is an advanced AI-powered free translator app that provides accurate translations in over 100 languages. With AI Translate, you can translate voice, image, and text in real-time. Our state-of-the-art AI technology, powered by ChatGPT database, ensures high-quality translations that are both accurate and natural-sounding. Say goodbye to inaccurate translations, and hello to seamless communication with AI Translate.
Translate photos and images instantly with our camera translator, or translate voice with our voice translator feature. No more manual typing, just hold your camera up to the text you want to translate, or speak into your device and let AI Translate do the rest.
Not only is AI Translate a powerful free translation app, but it's also easy to use. Simply type or speak into the app and let AI Translate provide you with a translation in your preferred language. With over 100 languages supported, you can communicate with people from all over the world with ease using our all languages translator.
AI Translate is the best choice for accurate, high-quality translations. Download Artificial Intelligence Translator app and experience the power of advanced AI technology for yourself.
Supported Languages: Afrikaans, Albanian, Amharic, Arabic, Armenian, Assamese, Aymara, Azerbaijani, Bambara, Basque, Belarusian, Bengali, Bhojpuri, Bosnian, Bulgarian, Catalan, Cebuano, Chichewa, Chinese (Simplified), Chinese (Traditional), Corsican, Croatian, Czech, Danish, Dhivehi, Dogri, Dutch, English, Esperanto, Estonian, Ewe, Filipino, Finnish, French, Frisian, Galician, Georgian, German, Greek, Guarani, Gujarati, Haitian Creole, Hausa, Hawaiian, Hebrew, Hindi, Hmong, Hungarian, Icelandic, Igbo, Ilocano, Indonesian, Irish, Italian, Japanese, Javanese, Kannada, Kazakh, Khmer, Kinyarwanda, Konkani, Korean, Krio, Kurdish (Kurmanji), Kurdish (Sorani), Kyrgyz, Lao, Latin, Latvian, Lingala, Lithuanian, Luganda, Luxembourgish, Macedonian, Maithili, Malagasy, Malay, Malayalam, Maltese, Maori, Marathi, Meiteilon (Manipuri), Mizo, Mongolian, Myanmar (Burmese), Nepali, Norwegian, Odia (Oriya), Oromo, Pashto, Persian, Polish, Portuguese, Punjabi, Quechua, Romanian, Russian, Samoan, Sanskrit, Scots Gaelic, Sepedi, Serbian, Sesotho, Shona, Sindhi, Sinhala, Slovak, Slovenian, Somali, Spanish, Sundanese, Swahili, Swedish, Tajik, Tamil, Tatar, Telugu, Thai, Tigrinya, Tsonga, Turkish, Turkmen, Twi, Ukrainian, Urdu, Uyghur, Uzbek, Vietnamese, Welsh, Xhosa, Yiddish, Yoruba, Zulu
Tags:
AI Translator
100+ Languages
Mobile APP
Top Alternative Tools to AI Translate - GPT Translate